For the lucky 68 teams selected to the NCAA tournament, Sunday was a dream come true—and a sign that it's time to hit the film room and go to work.
In a special broadcast on CBS, the NCAA revealed how the greatest showcase in basketball will play out this year. Wichita State, Arizona, Florida and Virginia are the top seeds as expected, while North Carolina State, Xavier, Iowa, Tennessee and the four No. 16 seeds will have to play their way into the round of 64 later this week.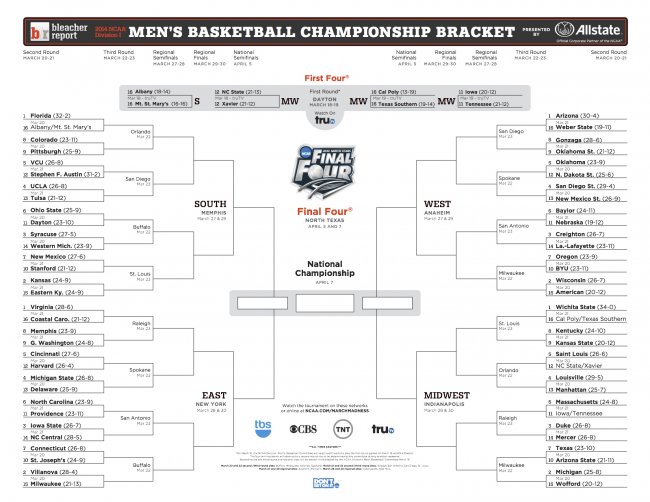 Bleacher Report
All Your Bracket Essentials:
Because of our increased understanding of the selection process, some of the surprise factor has been taken out. Guys like ESPN's Joe Lunardi often predict the bracket with such relative closeness to the final product that phrases like "they're a No. 6 seed" litter fan conversations beginning in late February.
We knew Wichita State would lead the Midwest Region and Florida would be the top overall seed, simply because this stuff is basic knowledge now. But while that information re-purposes Selection Sunday as more of an affirmation of our pre-set beliefs than an information hub, it also makes the surprises or "controversial" decisions all the more exhilarating.
And watching people go absolutely insane on social media about these things makes it even better. Rationality goes out the window when it comes to fandom. There are enough creative profanities hurled on Twitter accounts that you almost wonder whether having the medium whatsoever is a good thing.
We, in the interest of keeping this a family affair, won't be discussing any of those. Instead, here's a look at some of the more safe-for-work reactions about how the bracket played out from across the interwebs.
One of the pervading topics of conversation coming out the selection show was the depth in the South Region. Top overall seed Florida has to tend with perhaps the nation's most talented team (No. 2 Kansas) and No. 3 Syracuse—a team that spent almost its entire season inside the Top Five. Chris Herring of The Wall Street Journal perhaps put it best:
Good Lord, the South region is insane.

— Chris Herring (@HerringWSJ) March 16, 2014
That said, not everyone is sold on the high-profile teams running roughshod through the bracket. In selecting Florida to take the South, CBS Sports' Jeff Borzello also made an interesting prediction for the other team in the Elite Eight:
Florida over New Mexico in the Elite Eight.

— Jeff Borzello (@jeffborzello) March 16, 2014
Brian Hamilton of Sports Illustrated agrees, citing center Joel Embiid's looming back injury:
Hello, Kansas-New Mexico second round. Jayhawks vulnerable to Cam Bairstow and crew sans Joel Embiid.

— Brian Hamilton (@BrianHamiltonSI) March 16, 2014
Embiid has missed each of the last four games, with Kansas splitting the contests and going into overtime in one of its wins. The Jayhawks have been particularly shaky on the defensive end, giving up over 90 points in losses to Iowa State and West Virginia. Matt Murschel of the Orlando Sentinel questioned them even being a No. 2 seed without Embiid:
Kansas a No. 2 seed despite not having Joel Embiid. Interesting seeding choice.

— Matt Murschel (@osmattmurschel) March 16, 2014
Of course, Kansas isn't the only high seed that could be in danger early. Marcus Smart and Oklahoma State have been a looming potential high seed since regathering its momentum down the stretch. Chuck Carlton of The Dallas Morning News noted other No. 1 seeds have to be feeling good that they're not Arizona right now:
Right now, every other No. 1 seed is glad they won't see Marcus Smart and Co. in the second round.

— Chuck Carlton (@ChuckCarltonDMN) March 16, 2014
The West Region as a whole leaves some underwhelmed. Decisions to allow Nebraska into the field without a play-in game and having BYU as a No. 10 drew some questions. But Matt Jones of Kentucky Sports Radio simply doesn't like the region as a whole:
The West Region as now composed ensures a team I don't think is good will make Final Four

— Matt Jones (@KySportsRadio) March 16, 2014
The Midwest, on the other hand, got nearly everyone talking. Talked about as a potential No. 1 seed by some, Louisville landed as a surprising No. 4 seed—perhaps the most shocking decision of the entire selection show. Here are some of the best shocked reactions about the defending champs' lack of respect from the committee:
Louisville as a #4 seed demonstrates that the selection committee relies on ridiculous formulas rather than common sense. 12 teams better???

— Brian Zipse (@Zipseatthetrack) March 16, 2014
NCAA selection committee say it doesn't care about RPI that much but that's the ONLY reason they seeded Louisville as a 4. Ridiculous.

— Nate Silver (@NateSilver538) March 16, 2014
Louisville had an argument, not a great one, but an argument, to be a 1 seed. Them getting a 4 seed is absurd.

— nick wright (@getnickwright) March 16, 2014
Louisville got hosed.

— Dan Levy (@DanLevyThinks) March 16, 2014
The committee's dislike didn't just extend to Louisville, though, as Gregg Doyel of CBS Sports said:
Louisville a four? Cincinnati a five? Committee hated the AAC.

— Gregg Doyel (@GreggDoyelCBS) March 16, 2014
SMU's exclusion from the Dance was another factor many pointed to discussing the committee's trepidation about the AAC. USA Today's Nicole Auerbach had the conference-wide breakdown:
AAC got little respect from committee: No SMU> Louisville a 4, Cincinnati a 5, UConn a 7 & Memphis an 8.

— Nicole Auerbach (@NicoleAuerbach) March 16, 2014
Unsurprisingly, with a No. 4 seed like Louisville, the Midwest is unquestionably the most top-heavy. Top-seeded Wichita State is joined by second-seeded Michigan and third-seeded Duke to create a gauntlet any team would be lucky to get out of. Coupled with a potential matchup with Kentucky in the round of 32, CBS Sports' Matt Norlander notes the Shockers are going to have a difficult time staying undefeated:
Louisville. A four. Wichita State is getting freaking pinned against the wall here. BRACKET. OF. DOOM.

— Matt Norlander (@MattNorlander) March 16, 2014
Adam Beasley of the Miami Herald also makes a good point, though, if Wichita State can pull off the seemingly impossible:
Seriously, if Wichita State makes the Final Four, every doubter should eat every single word. That Region is bonkers.

— Adam Beasley (@AdamHBeasley) March 16, 2014
Another No. 4 seed that generated a ton of conversation was Michigan State. The Spartans were the top-ranked team in the country before faltering due to injury, and their victory in the Big Ten tournament made many believe they had recovered enough for a No. 3.
Tom Fornelli of CBS Sports pointed out Delaware drew its way out of contention for his Cinderella squad:
Well, I was gonna make Delaware my Cinderella Sweet 16 team and then they drew Michigan State.

— Tom Fornelli (@TomFornelli) March 16, 2014
For those looking for perspective about how silly these reactions are, though, the always reliable Sports Pickle made a good point:
You could make a strong case that Michigan State isn't even the best 4-seed of the past 5 minutes. But whatever ... BEST 4-SEED EVER?!?!?!

— SportsPickle (@sportspickle) March 16, 2014
In the end, perspective matters most. The great thing about the NCAA tournament is everything is decided on the floor. The teams that are playing best will make the Final Four, and about 15 minutes into Thursday's action we'll all forget the Bracket of Death talk. People remember champions—not the teams champions played before cutting down the nets.
For now, though...CAN YOU BELIEVE LOUISVILLE IS A NO. 4 SEED??
Follow Tyler Conway on Twitter: