We're only a few months into 2014, but UFC 171 likely featured what will end up being one of the top bouts of the year.
All eyes were on the main event—Johny Hendricks vs. Robbie Lawler—as the two competed to be the only person other than Georges St-Pierre since 2008 to wear the UFC welterweight title belt (although Carlos Condit did serve as interim champion in 2012). Needless to say, the implications were huge.
The main event was just part of the story, however. There were multiple compelling bouts Saturday night, and the winners of the fights have set themselves up to do great things in the coming months of 2014.
You don't have to be an actual winner from Saturday night to be in good shape for the coming months, though. Here are the real winners from UFC 171.
Johny Hendricks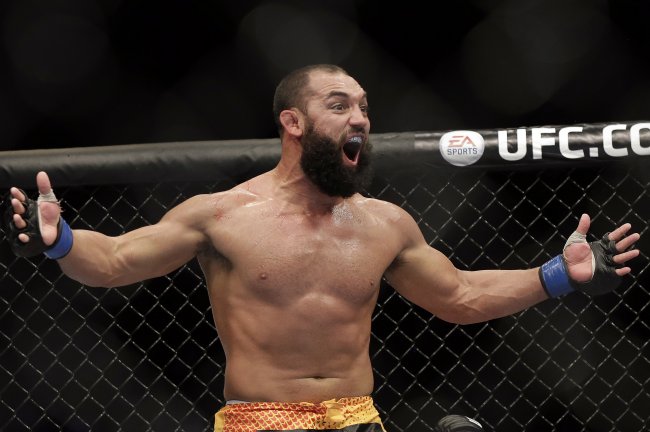 Isaac Brekken/Associated Press
It took five hard-fought rounds for the judges to decide the winner of the main event, and Johny Hendricks was awarded the UFC welterweight title belt after the scores were gathered.
The match was really a tale of two halves. Hendricks dominated the first two rounds with a flurry of strong kicks and body shots. Robbie Lawler then got into a zone in Rounds 3 and 4, executing with incredible power. After four rounds, it appeared to be anybody's match.
That's when Hendricks stepped it up. The UFC's official Twitter account had this statement from Hendricks following the bout:
"In the fifth round, I wanted to leave everything out there. 5 mins could change your world" -@JohnyHendricks #UFC171

— UFC (@ufc) March 16, 2014
Both fighters were exhausted in the round, but Hendricks was able to grit out a tough win. Hendricks is obviously a big winner because he is the first to don the welterweight title since it was surrendered by Georges St-Pierre. That's not the only reason, though.
Hendricks deserves legitimate praise for fighting back to end the strong run of Lawler. After starting strong, Hendricks faded in the middle rounds. It took serious guts to come back and win the fight.
The rest of the UFC should be on notice. Hendricks has the spirit of a fighter that might just retain this belt for a long time.
Robbie Lawler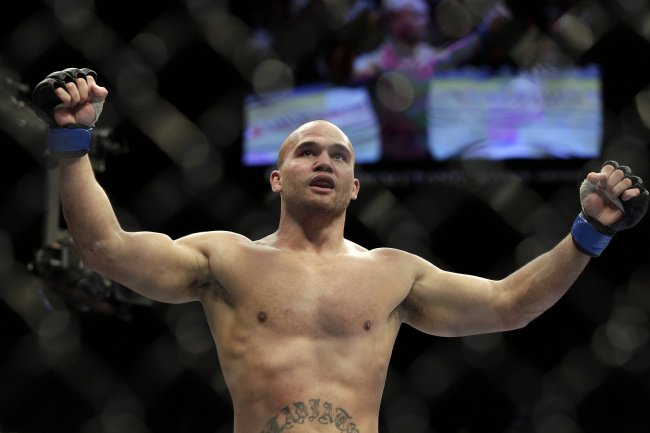 Isaac Brekken/Associated Press
Robbie Lawler was the tough-luck loser to Hendricks, but he was successful in proving himself on the big stage. After entering the UFC at 18, Lawler got beaten up pretty badly and needed to come back seasoned as a veteran. That's exactly what he was able to do here.
It took him a couple of rounds to get into his rhythm. Hendricks was the no-doubt winner of the first two rounds, as Lawler had trouble knocking Hendricks off his game. The momentum was clearly not in his favor entering Round 3, but he easily swung it his way.
Lawler is one of the strongest pure strikers in the sport. He put that on display after taking his hits early. He made Hendricks pay with a variety of uppercuts and jabs, ultimately forcing Hendricks' hand and bringing the match to what would be a deciding fifth round.
He ultimately had nothing left in the tank. Here's how Todd Martin of the Los Angeles Times broke down that final round:
Lawler was pouring it on in the third and the fourth and it looked like it was strongly going Lawler's way. Hendricks pulled it out in the second half of the final round, beating a dangerous striker at his own game.

Lawler's unbelievable striking ability makes him a fighter to watch in 2014 and beyond—even if he didn't earn the win at UFC 171.
Dennis Bermudez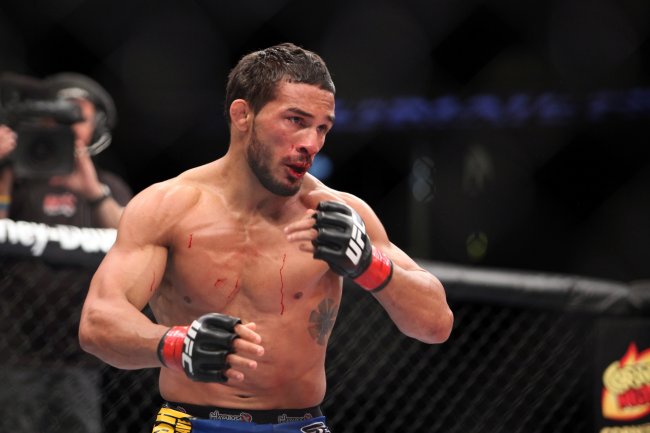 Gregory Payan/Associated Press
While the welterweights mostly stole the show, featherweight Dennis Bermudez battled through an impressive fight of his own.
Jimy Hettes was the victim of a third-round TKO because of the fantastic display from Bermudez. He was fast with his hands and on his feet. This allowed him to find openings in Hettes' defense to strike through, and boy, did he capitalize on those.
Bermudez delivered punishing blows when given the opportunity. They were blows that Hettes simply could not combat or match. When Bermudez wasn't toying with Hettes on his feet, he was dominating him on the mat.
Lost in the shuffle of Hendricks-Lawler: Kelvin Gastelum, Dennis Bermudez and Justin Scoggins are all ready for a step up in competition.

— RJ Clifford (@RJcliffordMMA) March 16, 2014
Currently on a six-fight winning streak after losing his UFC debut, Bermudez has his sights sets on big things. This is what he said after the fight about , via Mark La Monica of Newsday: "I'm looking forward to improve my spot in the rankings. Going 6-0 in the UFC is absolutely incredible."
Climbing the rankings shouldn't be difficult for Bermudez if he can keep fighting like this.