Doug Baldwin led the Seattle Seahawks in receiving yards in their Super Bowl XLVIII victory, and the team has taken steps to reward him for that effort. The Seahawks announced the deal Thursday:
Seahawks sign WR @DougBaldwinJr to a new 3-year deal. [http://t.co/pxhaIJVn6k] pic.twitter.com/xIU1mLNtxE

— Seattle Seahawks (@Seahawks) May 29, 2014
Jim Trotter of ESPN first reported the deal:
Filed to news desk: Seahawks wide receiver Doug Baldwin agrees to a two-year extension.

— Jim Trotter (@JimTrotter_NFL) May 29, 2014
ESPN's Louis Riddick had more information on the money in Baldwin's contract:
WR Doug Baldwin's deal: 2 year extension/ 3 year deal for 13M with 9M in the first two yrs.

— Louis Riddick (@LRiddickESPN) May 29, 2014
Jason La Canfora of CBSSports.com had more information on Baldwin's bonus money:
Strong deal for Baldwin, who as an RFA did not have much leverage. New $ avg/yr will be $5.45M. Can earn $1M in bonuses each of '15 and '16

— Jason La Canfora (@JasonLaCanfora) May 29, 2014
Baldwin's deal if maxed could be right there with Golden Tate, on a per year basis, with chance to get paid again in 3 yrs.

— Jason La Canfora (@JasonLaCanfora) May 29, 2014
Brian McIntyre reported on March 7 that the Seahawks had placed a second-round tender on Baldwin, which made it difficult for other suitors to acquire him:
Seahawks tendered RFA WR Doug Baldwin at a 2nd round level ($2.187M)

— Brian McIntyre (@brian_mcintyre) March 7, 2014
Curtis Crabtree of KJR Radio reported Pete Carroll's thoughts on the deal:
Pete Carroll says Baldwin was always viewed as a part of their core going forward.

— Curtis Crabtree (@Curtis_Crabtree) May 29, 2014
The wideout got congratulations from center Max Unger on Twitter:
Congrats @DougBaldwinJr on the contract extension! Perhaps today he will be slightly less angry....

— Max Unger (@MaxUnger60) May 29, 2014
Baldwin provided some incisive commentary of his own about restricted free agency and defended players against fans who believe some are being selfish by maximizing their worth on the open market. He spoke with Seattle's QFox13, and ESPN.com's Terry Blount provided the transcript, including this key excerpt:
It is not often that an NFL player reaches unrestricted free agency being highly sought after by other teams. With so much uncertainty in the game of football and life in general, is it really that bad that players want to get the most out of their short window of opportunity? An opportunity they have dreamed of and worked for their entire lives to take part in.
The tender meant Seattle could match any offer another team put in for him and that it would gain a second-round draft pick as compensation if Baldwin were to leave. It shows that the Seahawks indeed wanted to keep Baldwin in the fold—especially after they lost last year's leading receiver, Golden Tate, in free agency to the Detroit Lions.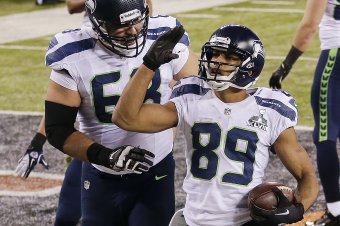 Gregory Bull/Associated Press
Now, the team has invested in him beyond a mere one-year commitment. Baldwin was a key player to retain, but the receiver position is still a question mark in Seattle. Quarterback Russell Wilson is entering his third season and has never had the benefit of a big, sure-fire No. 1 target, save for the dubious argument that could be made for oft-injured wideout Sidney Rice.
Percy Harvin is a dynamic weapon and should be a big contributor this coming season, but he's not a big-bodied target and he missed almost all of 2013 with injury issues of his own.
John Boyle of the Everett Herald provided some insight as to how the Seahawks will use Baldwin:
W/ Tate gone & Rice coming off ACL tear, don't assume Doug Baldwin is just a slot guy going forward. Played well outside late last year.

— John Boyle (@johnpboyle) May 29, 2014
Seahawks general manager John Schneider will have to work to surround Wilson with better talent. He attempted to do so by selecting wide receiver Paul Richardson in Round 2 of the 2014 draft. Richardson has good speed but also lacks ideal size.
B/R's Matt Miller and Chris Simms discussed the Richardson pick during the draft:
The way that Tate and Baldwin complemented one another was unique. Both were rather diminutive in size but scrappy and willing to high-point the ball, which allowed them to play bigger than their sizes. It remains to be seen how Baldwin will be utilized in the future, but Seattle is evidently counting on him to be a significant part of the offense, at least for the next couple of seasons.
Although it had to be a bit unsettling for Baldwin that it took a while to secure this contract with the new season on the horizon, he has continued to succeed against all odds and adversity in his NFL career. Now he's been rewarded and will have a bit more job security as he continues to play with a chip on his shoulder.