Holy Marcus Fizer.
The No. 16 Iowa State Cyclones are Big 12 tournament champions for the first time since 2000, following a 74-65 win over the Baylor Bears in Kansas City on Saturday night, per Iowa State Athletics:
Bring this trophy back to Ames!! #Big12MBB #cyclONEnation pic.twitter.com/5uRbGFejcC

— Iowa State Athletics (@CycloneATH) March 16, 2014
This win is also huge for head coach Fred Hoiberg, who's really come full circle at the school, per Sports Illustrated's Seth Davis:
Fred Hoiberg grew up in Ames, was a great player at Iowa St and just coached em to a Big 12 title. It's like he's the mayor or something.

— Seth Davis (@SethDavisHoops) March 16, 2014
Oh, and he's also $100,000 richer, per Steve Berkowitz of USA Today:
Iowa State's Big 12 tournament title & automatic NCAA tournament bid give coach Fred Hoiberg $100,000 in bonuses.

— Steve Berkowitz (@ByBerkowitz) March 16, 2014
There was also an emotional connection with the win for Hoiberg, per The Associated Press (via USA Today):
When the final buzzer sounded inside Sprint Center, Hoiberg rounded the court with his finger raised — No. 1, as in the top of the Big 12, for only the second time in school history.

"The fist pump was such an emotional feeling for me," said Hoiberg, who dedicated the win to his beloved mentor, Johnny Orr, the former Cyclones coach who died in December.

"This one is for him," Hoiberg said. "The fist pump was in honor of Coach, and also to thank the fans as well. I just wanted them to know how much we appreciated what they brought."
Hoiberg also saluted his former coach on Twitter:
Cheers coach, that one was for you. pic.twitter.com/Kyfo5RNmPw

— Fred Hoiberg (@ISUMayor32) March 16, 2014
Coming into this game, you were expecting something resembling an Old West shootout. Both teams had some of the more efficient offenses in the country. Baylor ranked sixth in Ken Pomeroy's adjusted offense, while Iowa State was a little further down at No. 17.
In short, the Cyclones and Bears knew how to score and score efficiently.
So of course defense won the day in the Big 12 final.
Iowa State and Baylor split the regular-season series, and the gulf between the two rapidly closed as the Bears continued their late-season resurgence into the Big 12 tournament.
Baylor enjoyed a healthy first-half lead after getting up 11-1 in the first seven minutes. The Bears' lead eventually shrunk to two points, 29-27, but three free throws from Kenny Chery would put Baylor up 32-27 going into halftime.
Jake Shaw of SicEmSports.com brought up what was a worrying sign for Baylor. Iowa State shot the ball terribly in the first half, but the Bears weren't much better. Sooner or later, you'd expect some regression to the mean from the Cyclones:
As bad as ISU shot, Baylor was just 2.5 percent better (34.5 to 32).

— Jake Shaw (@SicEmSports) March 16, 2014
Into the second half, Iowa State kept hanging around, but it couldn't find the breakthrough. That is, until Naz Long tied the game at 50 with 6:33 to play. Then Melvin Ejim hit a three-pointer to put the Cyclones up 53-50.
The teams would exchange the lead four more times before Iowa State went back on top for good.
The trio of Ejim, DeAndre Kane and Georges Niang combined to score only 40 points, down from the 64 they contributed in the semifinal win over Kansas. Ejim in particular struggled against the Baylor defense, shooting only 3-of-8 from the floor. Niang also had a lot of problems, going 5-of-15.
The AP brings Kane's thoughts on his Cyclones team (via ESPN):
"We play with each other. We fight with each other. We're brothers on the court," said Kane, who was dismissed from Marshall for unspecified reasons, but has made the most of his second chance with the Cyclones.

"Even when we get down," he tournament's most valuable player said, "we trust one another. We keep fighting and we find a way."
Luckily for the Cyclones, Naz Long and Dustin Hogue scored 12 points apiece on a combined 8-of-13 shooting.
After shooting 32 percent from the field in the first half, Iowa State got hot in the second, ending at 50 percent for the game. Look at this ridiculous stat below, courtesy of College Basketball Talk's Rob Dauster:
Iowa State missed their first 13 shots. They missed 11 shots the rest of the game.

— Rob Dauster (@RobDauster) March 16, 2014
Iowa State also buckled down on the defensive end, and did a great job of limiting Cory Jefferson to outside shots, per ESPN.com's Myron Medcalf:
Cory Jefferson not attacking the way he could. Settling for jumpers.

— Myron Medcalf (@MedcalfByESPN) March 16, 2014
Coming into the game, Jefferson was the Bears' leading scorer, but he finished with five points on 2-of-9 shooting.
Isaiah Austin was similarly bad, missing 11 of his 15 attempts, putting a damper on his 10 points.
As a result, Baylor will have to wait another year to get that elusive first Big 12 tournament title.
Key Player Grades
Melvin Ejim, Iowa State: B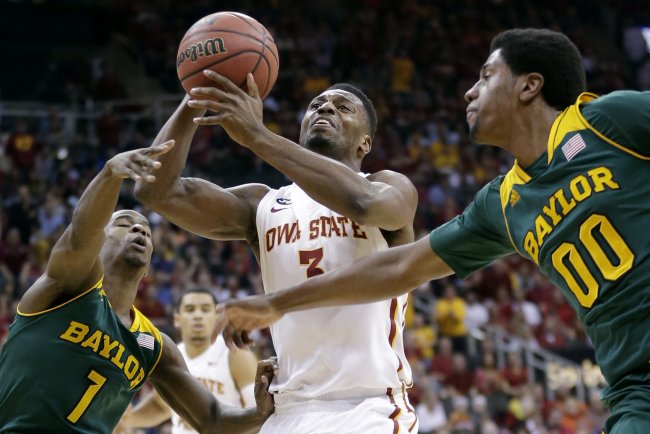 Charlie Riedel/Associated Press
Until the final six or so minutes of the game, Melvin Ejim was largely absent on the offensive end. Then the three-pointer he hit to give Iowa State the lead changed everything. His confidence seemed to grow, and that bucket sparked the run that would see the Cyclones through to victory.
What can't be overlooked, though, is how well Ejim played defensively. He didn't let his shooting woes affect his play on defense, and that has to be commended.
Naz Long, Iowa State: B+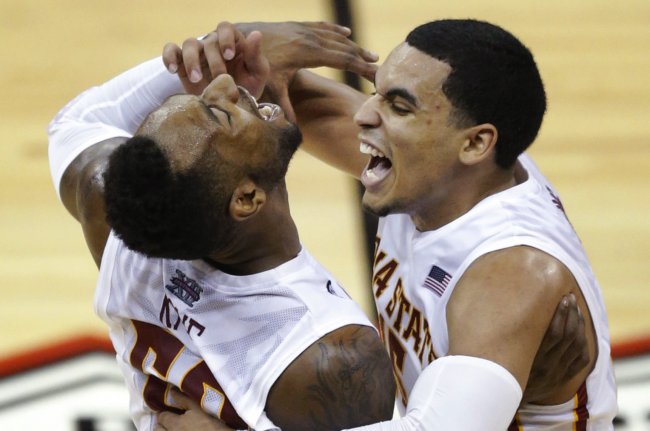 Orlin Wagner/Associated Press
For the third time in four games, Naz Long scored in double figures.
The sophomore guard made four of his six shots, all of which came from behind the arc.
You can expect that teams are going to harass Ejim, Georges Niang and DeAndre Kane all game, so Iowa State needs players like Long to step up in critical scenarios, and that's exactly what he did.
Cory Jefferson, Baylor: C-
Cory Jefferson's poor performance was not only a big reason Baylor lost this game, it also likely cost him a place on the Big-12 tournament team:
Cory Jefferson left off the all-Big 12 tournament team. Only had three double-doubles in four games. Guess he needed a fourth.

— Jake Shaw (@SicEmSports) March 16, 2014
You never would've guessed that Jefferson would have more rebounds (9) than he would have points (5). This game was very similar to the Bears' regular-season loss to Iowa State, when Jefferson scored only seven points.
What's Next?
Baylor can at least count on being in the NCAA tournament despite this loss. Winning the Big 12 tournament simply would've helped their seed. The Bears could've jumped up to a No. 5 seed, but now they'll likely drop to a No. 6 or No. 7 seed.
Iowa State should be a No. 3 or No. 4 seed in the Big Dance and could possibly move up to a No. 2. Cyclones fans might want to avoid that, though, as the last time the team was a No. 2 seed (2001), it lost to No. 15 Hampton in the first round.