Two of the premier programs in all the land faced off in the 2014 Pac-12 championship game, and it didn't disappoint. The plethora of talent and abundance of athleticism on the court made the conference title clash a competitive and thrilling encounter, with UCLA pulling out the 75-71 win over Arizona in one of the best games of the year.
UCLA came out guns blazing, connecting on six of its first 10 shots and jumping out to a 14-3 lead in the first six minutes. Arizona eventually clawed its way back into the game behind the three-ball and more intensity on the defensive end, including a six-minute stretch where it held the Bruins to 2-of-8 shooting.
The Bruins took a 43-40 lead into halftime, shocking the Wildcats defense that has been the best in the country according to Ken Pomeroy's rankings.
UCLA points per possession so far: 1.63. That's nearly twice the season average Arizona has allowed.

— Jeff Eisenberg (@JeffEisenberg) March 15, 2014
UCLA scored 43 points in the first half on Arizona. Utah and Colorado averaged 41.0 ppg in their games vs. Zona in the Pac-12 tournament.

— Rob Dauster (@RobDauster) March 15, 2014
The pace of the game certainly favored the Bruins from the get-go, as the up-and-down tempo allowed UCLA to get out in transition and create easier looks against a Wildcats defense that wasn't set.
It was a back-and-forth battle in the second half, with neither team leading by more than five points. Stars from both teams stepped up in the biggest moments, but no shot was bigger than the contested three that Jordan Adams knocked down with Nick Johnson's hand in his face to give UCLA a three-point lead with 43 seconds left in the game.
Jordan Adams with the shot of the tournament, delivering UCLA a Pac-12 tourney title and signifying the Bruins are a team to be feared.

— Jeff Eisenberg (@JeffEisenberg) March 16, 2014
Arizona failed to convert on the ensuing possession, and the Wildcats fouled Kyle Anderson, who had the chance to make it a two-possession game with 19 seconds left.
Anderson, who was 10-of-12 from the charity stripe at that point, missed the front end of a one-and-one, keeping the Wildcats' hopes of the Pac-12 crown alive.
Unfortunately for Sean Miller and Co., Arizona failed to score again—despite having two cracks at a three-pointer—and the Bruins won the conference crown in their first year under head coach Steve Alford.
The loss shouldn't affect Arizona's chance of being a No. 1 seed in the NCAA tournament, but the win is an enormous boost for UCLA's resume and its seeding.
More importantly for the Bruins, the win—and how they did it—serves as a statement to the rest of the country, as noted by Brad Evans of Yahoo Sports:
As stated last night, UCLA is an under-served team nationally that you don't want to face in the NCAA tournament. Balanced, great backcourt.

— Brad Evans (@YahooNoise) March 16, 2014
Both teams boast so much natural talent, athleticism and depth that either has the goods to make a deep run in the tournament—albeit relying on its prowess on different ends of the court.
Grades
Nick Johnson, G, Arizona: A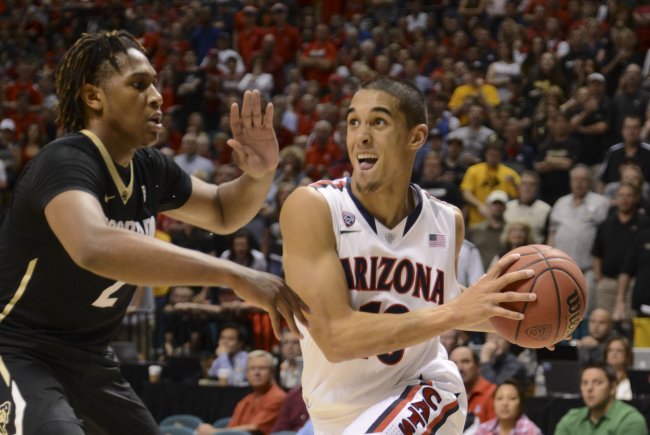 Kyle Terada-USA TODAY Sports
Stats: 22 points, five rebounds, two assists, three blocks, one steal, one turnover
Nick Johnson led all scorers with 22 points and made some eye-popping plays while steering the Arizona ship. Johnson's athleticism was on display, as he was on the receiving end of a thunderous alley-oop slam and made a couple of leaping blocks on the defensive end.
Johnson has always been an elite defender, but he carried the load offensively for the Wildcats. He only made nine of his 20 shots (including 3-of-8 from beyond the arc), but he showed why he earned Pac-12 Player of the Year honors.
Kyle Anderson, G, UCLA: A+
Stats: 21 points, 15 rebounds, five assists, one turnover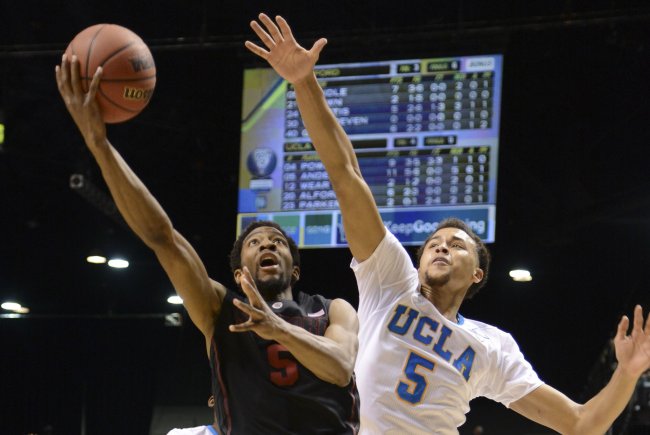 Kyle Terada-USA TODAY Sports
Kyle Anderson's all-around performance certainly earns him the highest grade of the game—as evidenced by his shiny Pac-12 Tournament Most Outstanding Player trophy.
#Pac12Tourney Most Outstanding Player: Kyle Anderson. pic.twitter.com/7LabNLoTa4

— FOX Sports: Hoops (@HoopsonFOX) March 16, 2014
For those who are new to watching the Bruins play, you would have been impressed by how extensive Anderson's impact was on the win. But those who have been watching UCLA all year know that it's become the expectation from the sophomore guard, as he turned in an amazing second year in Los Angeles.
He's basically a walking double-double, and it didn't seem to bother him at all that arguably the best defender in college basketball focused on him, as J.B. Long of the Pac-12 Network observed:
Defended by the best athlete in college basketball, it took Kyle Anderson 23 min (of game time) to get his double-double for @UCLAMBB.

— JB Long (@JB_Long) March 15, 2014
In fact, it didn't really matter who was guarding him, per Jeff Eisenberg of Yahoo Sports:
Arizona has tried three different defenders on Kyle Anderson. So far he has scored on all of them.

— Jeff Eisenberg (@JeffEisenberg) March 15, 2014
Anderson did it all, scoring from the perimeter and in the paint—all the while maintaining the aggression that earned him 13 free-throw attempts.
Aaron Gordon, F, Arizona: A-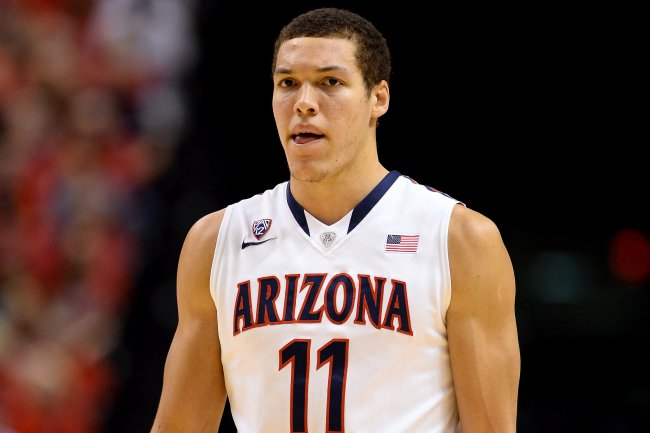 Ethan Miller/Getty Images
Stats: 11 points, eight rebounds, eight assists, two steals, one turnover
Aaron Gordon didn't score the ball very well—hence the slight deduction in his grade—but his value has always been as the "glue guy" who does everything you need on the court.
He definitely proved his worth in that regard, as Eisenberg noted:
Aaron Gordon's first 16 minutes have included a 3-pointer, leading a fast break and two beautiful pinpoint assists. NBA scouts = giddy.

— Jeff Eisenberg (@JeffEisenberg) March 15, 2014
Gordon led the Wildcats in assists and rebounds, all while expending a lot of energy harassing Kyle Anderson.
The athletic freak got a little too happy to settle for perimeter jumpers instead of using his gifts to attack the rim, but you can't complain about Gordon's all-around performance.
For more hoops talk, breaking news and analysis, follow me on Twitter.