The New Mexico Lobos are the 2014 Mountain West Conference champions after holding off a late-game surge from the No. 1 seed San Diego State Aztecs to win by a score of 64-58.
Kings of the Mountain! New Mexico knocks off San Diego State, 64-58, to claim 3rd straight tournament title. pic.twitter.com/g5rHflNkuA

— NCAA March Madness (@marchmadness) March 16, 2014
This game marked a thrilling conclusion to the MWC tournament in front of a jam-packed crowd at the Thomas and Mack Center in Las Vegas.
New Mexico's depth was on display on Saturday night, as three of its five starters posted double-digit numbers.
The Lobos offense was led by Cameron Bairstow, who scored 17 points, including going 11-of-14 from the free-throw line, and added nine rebounds, one assist and two blocks.
Guards Kendall Williams and Hugh Greenwood combined for 28 points, while center Alex Kirk dominated the boards, recording a game-high 11 rebounds.
Bruins PAC 12 Tourney Champs.. Lobos MWC Tourney Champs... Let's go dancing fellas 🎆🎉🎊🎈

— Darington Hobson (@ParkaySmooth) March 16, 2014
The Aztecs received some solid play from Winston Shepard and Xavier Thames. Both were instrumental in San Diego State's late charge, recording 13 and 15 points, respectively.
The Lobos maintained some solid shooting late, hitting 40.9 percent of their shots from the field, while the Aztecs faltered after a late charge, finishing the game making just 35.7 percent of their shots.
The Lobos were a little lackadaisical handling the ball, as they had 15 turnovers and allowed the Aztecs to come away with 11 steals. However New Mexico got the better of San Diego State in the paint, out-rebounding the Aztecs 39-32.
In what may have been the difference-maker in the game, the Lobos connected on 81.5 percent of their free throws while the Aztecs only shot 59.1 percent from the line.
New Mexico will now enter the NCAA tournament with a great head of steam, while San Diego State—despite this loss—still has the firepower necessary to do some damage entering the next phase of March Madness.
This San Diego State/New Mexico final is epic. Two teams that could do damage the next couple weeks

— Jimmy Boyd (@boydsbets) March 16, 2014
Both teams carry the potential to make a run deep into March, but a lot will depend on matchups. New Mexico's ability to beat up on people down low with Bairstow and Kirk will make it a difficult out moving forward, while the slashing style of Thames will make the Aztecs a difficult team to derail in this year's March Madness field.
Game Grades
Cameron Bairstow, F, New Mexico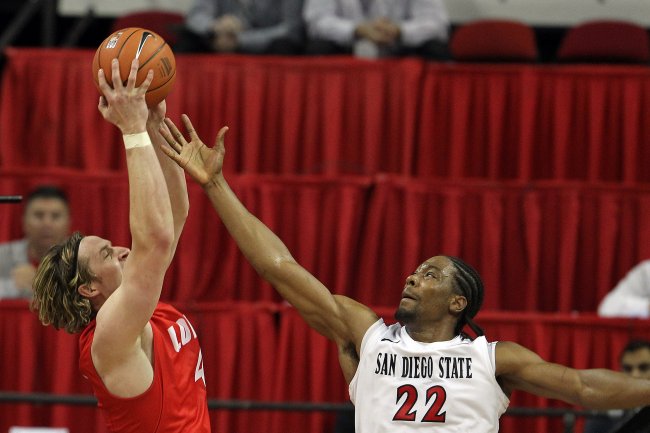 Isaac Brekken/Associated Press
Bairstow's solid free-throw shooting was one of the driving factors behind New Mexico's upset victory. Making 11 of 14 attempts from the line, he finished the game with a total of 17 points and added nine rebounds. Bairstow stepped up when it mattered most and allowed the Lobos to hang on to their lead.
MWC Tourney MVP Cam Bairstow cutting nets ... pic.twitter.com/6qbxeMdFfg

— Geoff Grammer (@GeoffGrammer) March 16, 2014
Game Grade: A
Kendall Williams, G, New Mexico
Long live the gutsy shot taking ability of Kendall Williams in the NCAA tourney. Clutch makes late in the shot clock, can't say enough.

— LOBO NATION (@WEARENEWMEXICO) March 16, 2014
Williams was one of the most efficient players on the New Mexico squad on Saturday. He made four of nine attempts from the field and all six of his shots from the line. His 16-point performance was huge for the Lobos.
Game Grade: A
Alex Kirk, C, New Mexico
Kirk did what he was supposed to do on Saturday night. He attacked the rim on offense and defense, connecting on four of six shots from the field for eight points and recording a game-high 11 rebounds.
Game Grade: A
Xavier Thames, G, San Diego State
#AztecMBB's Dwayne Polee II and Xavier Thames have been named to the MW All-Tournament Team. #GoAztecs

— Jamie McConeghy (@McConeghySDSU) March 16, 2014
Thames scored a team-high 15 points for the Aztecs on Saturday; however, he wasn't exactly efficient. He connected on just six of 16 attempts from the field and left too many points out on the floor for San Diego State.
Game Grade: B-
Winston Shepard, F, San Diego State
Shepard had the same type of performance as Thames. He did come away with 13 points; however, he only made four of 15 attempts from the field. He did come away with an impressive seven rebounds; although, the Aztecs needed a better performance from him to secure the championship.
Game Grade: B-
Skylar Spencer, F, San Diego State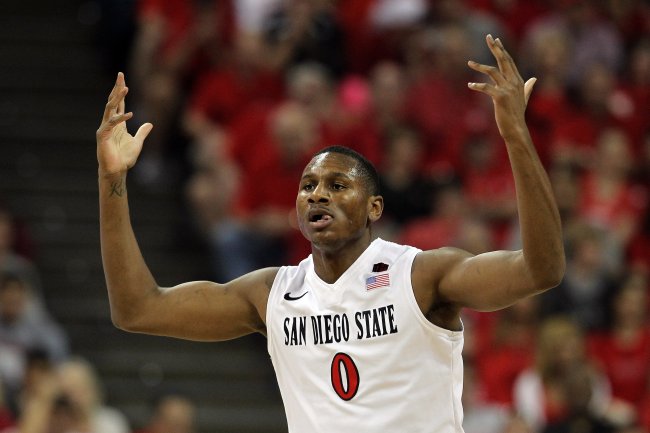 Isaac Brekken/Associated Press
Spencer didn't contribute much from a scoring perspective, coming away with just six points on the game. However, he did manage six offensive boards and four defensive boards to finish the contest with a team-high 10 rebounds.
Game Grade: B