Bubble teams can often be the most exciting teams of the NCAA tournament, but unfortunately, some teams end up getting their bubbles popped.
Not every bubble team can make the Big Dance. Some will be relegated to the NIT tournament against far lesser competition. NCAA tourney bubble teams generally have decent success in the NIT tournament as a result.
Regardless, there are multiple teams that will be disappointed after Selection Sunday. They won't have the opportunity to punch their tickets for the Big Dance. The following three teams will fall into that category.
Southern Mississippi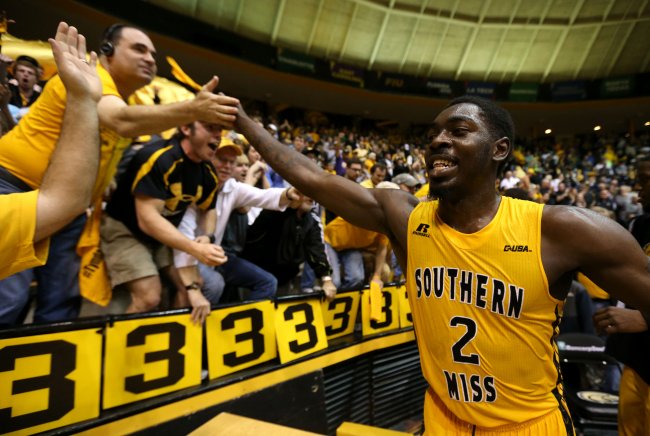 Chuck Cook-USA TODAY Sports
The Southern Mississippi Golden Eagles had a shot at making the NCAA tournament if they had beaten Louisiana Tech on Friday and made it to the Conference USA Championship game.
C-USA tournament: Southern Miss knocks off host UTEP, 64-56, to reach semifinals: Golden Eagles now 27-5 http://t.co/ZxpVa1Io4e

— Mobile AL Journal (@mobilealjournal) March 14, 2014
To be honest, they really didn't even have to win the championship game if they had made it. Getting there would have been impressive enough. But, after losing 88-70 to Louisiana Tech, the Golden Eagles really don't have a chance.
Their 27-6 record (13-3 in Conference USA) is impressive and indicative of the type of season they had. The Golden Eagles are a good offensive team that likes to distribute the ball and get high-percentage shots.
Unfortunately, their schedule didn't do them any favors. It was an extraordinarily easy schedule when compared to the bigger teams in the country, and their lone game against a ranked opponent (Louisville) resulted in a loss.
Southern Miss. doesn't have enough of a resume to go dancing. It's hard to deny a team that had such a good season, but the schedule wasn't very strong. In the end, that can dictate a whole lot.
Minnesota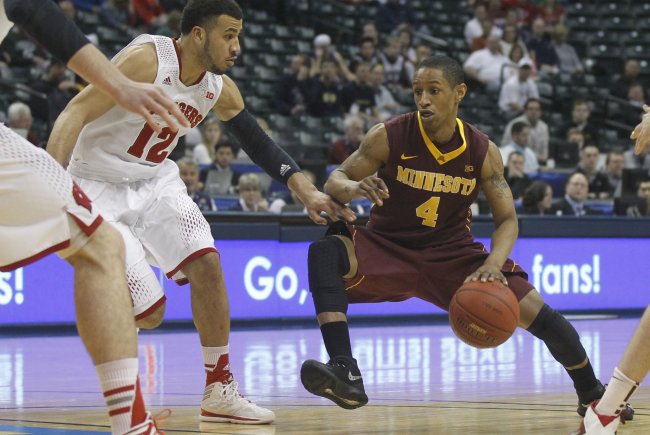 Kiichiro Sato/Associated Press
The Big Ten tournament quarterfinals are something that the Minnesota Golden Gophers are going to want to forget.
They ran into the Wisconsin Badgers in the quarters and simply could not compete at a level high enough to even share the court with the No. 12 team in the country. They lost 83-57 in the game, essentially eliminating themselves from consideration for the final 68 teams.
Junior guard DeAndre Mathieu hopes the selection committee will look past the rout in the quarterfinals. Via Marcus R. Fuller of TwinCities.com: "I hope they just don't look at this one game. We have some bad losses, but we beat some really good teams."
PG DeAndre Mathieu will be critical to extending the Gophers' season #Gophers (via the 1500 ESPN SportsWire) http://t.co/J5Aify2cWp

— 1500 ESPN (@1500ESPN) March 13, 2014
The team did beat Ohio State and Wisconsin during the regular season, but they also lost to Syracuse, Michigan State, Iowa, Michigan and twice to Wisconsin—not to mention losses to Northwestern, Purdue and Illinois.
Minnesota should be NIT-bound after Selection Sunday.
Arkansas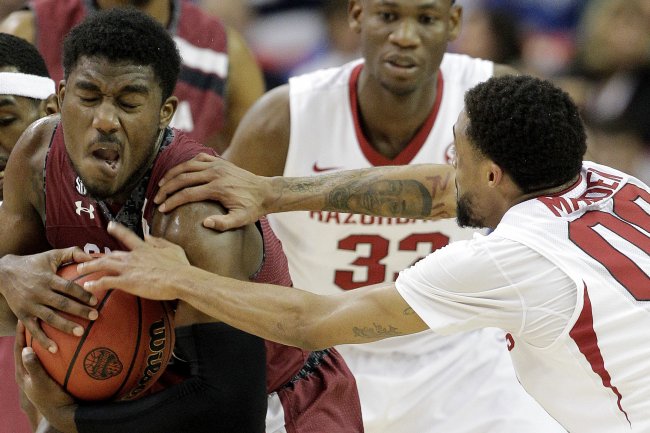 Steve Helber/Associated Press
The Arkansas Razorbacks were 21-11 (10-8 SEC) this season, and that type of regular-season record would generally earn a team consideration for the NCAA tourney. The key word there being "generally."
The Razorbacks do not deserve a tournament berth. Sure, they beat the University of Kentucky twice, but losses to Georgia, Alabama and Missouri (twice) will prove to be crippling.
They had a shot, though. If they proved themselves in the SEC tournament, the Razorbacks would be going dancing. Instead, they were largely disappointing. Scottie Bordelon of The Arkansas Traveler breaks down that disappointment:
As Rashad Madden's potential game-winning half-court heave bounded off the rim as the final buzzer sounded, Arkansas' NCAA Tournament bubble burst and its Southeastern Conference Tournament losing skid reached seven games, falling 71-69 to the 13-seed Gamecocks.
Arkansas will now look to make noise in the NIT tournament.