A quick glance at the final four of the 2014 ACC Tournament would lead you to believe that Virginia and Duke had an easy road to a title-game matchup. That was far from the case, as both Pittsburgh and North Carolina State proved their ability to hang with the "big boys." Here's how the games went down on the semifinal day of the conference tournament, as well as what awaits us on Day 5.
Day 4 Results and Bracket
Day 4 Scores

| | |
| --- | --- |
| Matchup | Score |
| No. 1 Virginia vs. No. 5 Pittsburgh | Virginia wins, 51-48 |
| No. 3 Duke vs. No. 7 NC State | Duke wins, 75-67 |
ESPN
Official tournament bracket can be found on the ACC website.
Day 4 Recaps
No. 1 Virginia 51, No. 5 Pittsburgh 48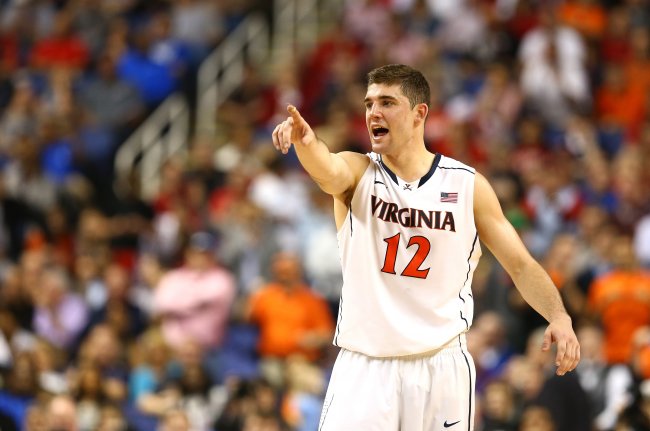 Streeter Lecka/Getty Images
If you were looking for a high-scoring, fast-paced basketball game, you were in the wrong place watching the Virginia Cavaliers take on the Pittsburgh Panthers. Both teams rely on physical, hard-nosed defense and a grind-it-out philosophy, and that was on full display for a packed house in the Greensboro Coliseum Complex.
The top-seeded Cavaliers pulled out a three-point win to boost their NCAA tournament credentials (and more importantly, seeding), but it was never easy.
The grindhouse ugliness started from the very beginning, but it was a track meet compared to their previous meeting this year, according to Norm Wood of the Daily Press:
Way ahead of scoring clip from Feb. 2 meeting of these teams. It's 8-8 w/ 13 mins. left. Didn't get to 8-8 in reg. season until 9:55 left.

— Norm Wood (@normwood) March 15, 2014
Pittsburgh's defense kept them in the game early by forcing eight turnovers in the first 22 minutes. The result was a back-and-forth battle that saw Virginia take a 26-24 lead into halftime.
The Cavaliers came out of the break with more energy and a rejuvenated offense, but their lead was never larger than eight.
It went down to the wire, with Pittsburgh's James Robinson making a crucial steal and layup to make it a one-point game with 10 seconds left. Unfortunately for the ACC, yet another questionable call in a critical situation may have affected the outcome of the game, as Norm Wood explains:
No sure how #UVA's Akil Mitchell got away w/o having fouled call on him as Pitt's James Robinson hits tough layup, #UVA 49-48, 10 secs. left

— Norm Wood (@normwood) March 15, 2014
The Panthers had a shot at the end to send it into overtime, but the Virginia defense came up in a big way, blocking that attempt to advance to the tournament finale:
Defense, defense, defense is what makes UVA a great basketball team. Big time block by Justin Anderson. @ESPNCBB

— Jay Williams (@RealJayWilliams) March 15, 2014
Final - No. 6 #UVA 51, Pittsburgh 48. UVA's Anthony Gill hits FTs 8.5 secs left,Justin Anderson blocks 3-ptr by James Robinson 1 sec left

— Norm Wood (@normwood) March 15, 2014
As per usual, Virginia relied on depth and balance to pace their offense with three players (Malcolm Brogdon, Joe Harris and Anthony Gill) hitting double-figures. Regardless of the result in the ACC Championship Game, the Cavaliers will earn a high seed, and their style of play should serve them well:
UVa's style should translate well to the tourney, too. Numbing consistency. Someone will have to beat them, they won't give one away.

— Mark Armstrong (@ArmstrongABC11) March 15, 2014
For head coach Jamie Dixon and his Panthers, it was another disappointingly close loss, but Pittsburgh won't be an easy out for anybody in the NCAA tournament.
Considering that Pittsburgh has lost one-possession games against some of the nation's best teams (twice to Virginia and once to Syracuse), the selection committee is sure to factor in their level of play against tough competition and reward them with a higher seed than their 25-9 record indicates.
Both these teams figure to make some noise in the tournament, but Virginia will look to make their case for a No. 1 or No. 2 seed by winning the conference championship on Sunday.
No. 3 Duke 75, No. 7 NC State 67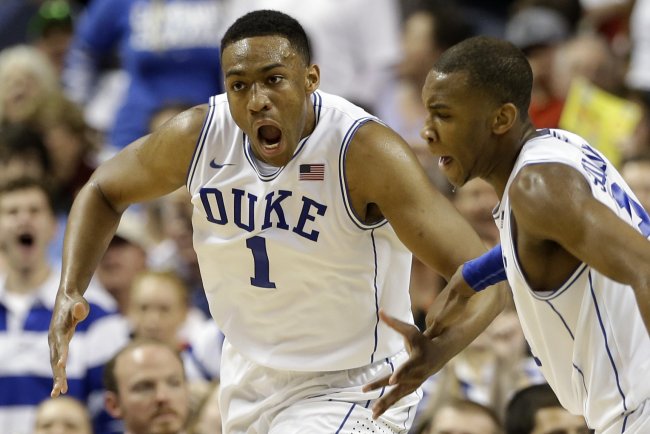 Gerry Broome/Associated Press
In a matchup of two of the best players in the ACC (and the country), the two superstars didn't disappoint. Jabari Parker and his Duke team pulled out the win and advanced to the conference title game, but T.J. Warren was no slouch and the Wolfpack left a good impression in the minds of the selection committee as they are hoping to earn a place in the NCAA tournament.
"NC State belongs in the dance." - @DickieV

— ESPN College BBall (@ESPNCBB) March 15, 2014
NC State looked like a high seed in the first 20 minutes, heading into halftime trailing by one and shooting 67 percent from the floor.
Most of that impressive offensive performance was due to the superb play of Warren, who scored 13 points in the first half.
Rodney Hood played tough, physical defense on Warren initially, but it didn't matter as the NC State star displayed his array of scoring moves. Duke switched it up, unleashing a more aggressive defense against Warren in the second half and double-teaming him constantly.
It worked for the most part, dragging down NC State's efficiency and forcing them to shoot 35 percent for the last 20 minutes of action.
Warren still finished with 21 points and eight rebounds, but he shot below 50 percent on the game and didn't have any easy scoring opportunities.
The loss stings even more considering that it may have cost the Wolfpack a shot at the tournament:
I think NC State is heading to the NIT. A win over Duke would have made it very interesting, but I have them out: http://t.co/Hbv55DlGgE

— Jeff Borzello (@jeffborzello) March 15, 2014
Jabari Parker matched Warren with 20 points of his own and eight rebounds, making some tremendous highlight plays to carry Duke to the eight-point win.
With the victory, we'll watch the Blue Devils take on Virginia in the ACC Championship game—although seeing Coach K and the Blue Devils in the conference title bout is nothing new:
Duke headed to ACC Championship Game for 13th time in 17 years. Next most is 8 by UNC-CH in that time period.

— Duke Basketball (@dukeblueplanet) March 15, 2014
Day 5 Schedule
Day 5 Schedule

| | | |
| --- | --- | --- |
| Date & Time (ET) | Matchup | TV |
| Sunday Mar. 16, 1 p.m. | Virginia vs. Duke | ESPN |
ESPN
There is only one game on the schedule and it figures to be an exciting one between a phenomenal defense and an outstanding offense—Virginia rank as the third-best defense while Duke boast the second-best defense according to Ken Pomeroy's college basketball ratings.
Not only is it an intriguing matchup, but it is also the first time these two teams will meet in this setting:
Duke and Virginia have never met in an ACC tournament final. Have met in four semifinals (55-86-89-94). Virginia is 3-15 in ACCT vs. Duke.

— Patrick Stevens (@D1scourse) March 15, 2014
When the two sides met earlier in the year, Duke escaped with a 69-65 victory behind Rasheed Sulaimon's late (and fortuitous) three-pointer.
The battle between two evenly matched teams means that the ACC Championship Game will be must-watch basketball as you try to get a better handle on the teams that can make a deep tournament run.
For more hoops news and analysis, follow me on Twitter: