The Florida Gators survived a scare against the Tennessee Volunteers, 56-49, in the semifinals of the SEC tournament.
FINAL: No. 1 Florida #Gators Basketball defeats Tennessee 56-49. #GoGators #GatorNation

— FloridaGatorSports (@FLGatorSports) March 15, 2014
UF fought back from a seven-point deficit going into the locker room, clamping down on defense and showing once again that it is a much stronger second-half team.
The Gators held their opponent to just 14 points in the final 20 minutes, a dominant performance that Evan Doherty of Yahoo Sports noted included keeping Tennessee from knocking down a shot for nine minutes:
9-minute stretch without bucket hurts #Tennessee upset bid - #Florida survives 56-49, #Gators advance to #SEC tournament final.

— Evan Doherty (@YSportsEvan) March 15, 2014
Eugene Frenette of The Florida Times-Union pointed out that this defensive stand was a bigger story than some poor calls from the officials:
Lost in all this officiating controversy is that #Volunteers have only 14 second-half points.

— Eugene Frenette (@GeneFrenette) March 15, 2014
However, fouls were a major story in this contest, as the Volunteers were whistled for 18 and Florida for 16. Many of the key possessions down the stretch were decided by the referee's whistle, which disappointed fans like R.T. McBride:
The refs played a bigger part in this game than they should have. Final score from Atlanta: Florida 56 Tennessee 49

— R.T. McBride (@R_T_3_) March 15, 2014
Tennessee seemed to lose its way after Jeronne Maymon, one of the team's top players, fouled out with 4:39 to go in the game. Ben Fredrickson of the Knoxville News Sentinel noted how devastating it was for the squad:
#Vols have to play the rest of the game without Maymon (10 points, nine rebounds). Team's best post defender, too.

— Ben Frederickson (@Ben_Fred) March 15, 2014
Maymon picked up two fouls in moments, the second being a technical when he approached a referee to dispute a call, which you can see here courtesy of Gage Arnold of the Knoxville News Sentinel:
Florida head coach Billy Donovan tried to keep his team's run through the conference in perspective, telling reporters before the game that the Gators aren't as dominant as their record appears and seemed to predict that this would be a close contest, as per STATS LLC (via CBS Sports):
I think when a team's ranked No. 1 in the country, goes 18-0 in the SEC regular season and you have not laid eyes on us, you would sit there and say, "Geez, they must be blowing everybody out. No one must come close to these guys. But if you want to go through the scores of our games in the SEC, they have all been right there."

Sometimes if you watched our team play, we maybe don't play or look as dominant as our record does.
Despite those close calls, the Gators have now recorded victories in 20 straight games against SEC opponents this season.
Saturday's showdown also represented the 31st overall victory and 25th in a row for Florida, as NCAA March Madness noted:
25 in a row! No. 1 Florida marches into @SEC final with 56-49 win over Tennessee. #ChampWeek pic.twitter.com/OEatwE5lkf

— NCAA March Madness (@marchmadness) March 15, 2014
Let's take a look at some game grades and what is next for each team.
Game Grades
Patric Young, C, Florida: A-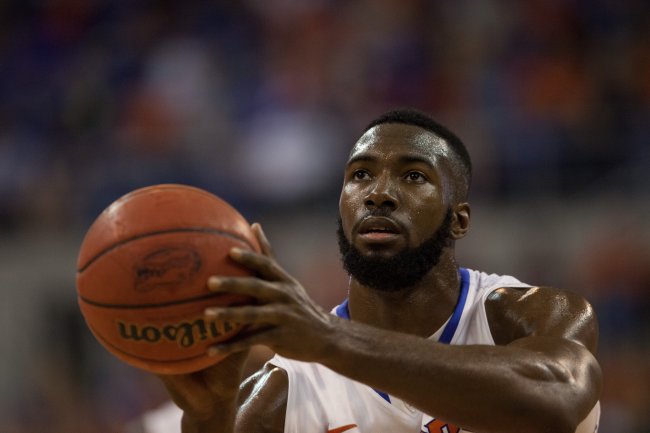 Rob Foldy/Getty Images
Young has been a steady presence for Florida all season and he continued his great play with a 16-point, eight-rebound outing against Tennessee.
The big man even addressed his biggest weakness in this matchup, hitting two clutch foul shots in the final moments to seal the victory for the Gators.
Young connected on all four of his attempts from the stripe, a bit surprising considering his 58.7 percent average on the season.
If the senior center can continue knocking down his foul shots, Florida is going to be that much tougher to eliminate during March Madness.
Jordan McRae, G, Tennessee: B-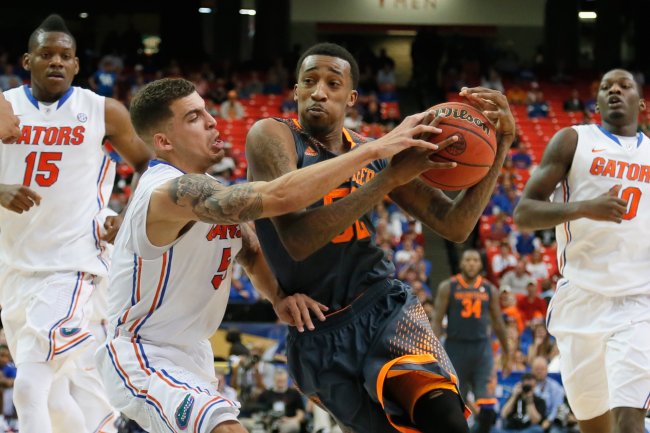 Kevin C. Cox/Getty Images
McRae tried to put the Vols on his back and will them to victory but wound up falling short and was effectively shut down in the second half.
The senior guard put up a team-high 15 points and also added three rebounds, two blocks and a steal, but only hit on one of his five three-point attempts and turned the ball over four times.
The Gators focused on shutting him down coming out of the locker room, and it clearly worked. He took a physical beating and was not able to keep it going in the second half.
Scottie Wilbekin, G, Florida: B+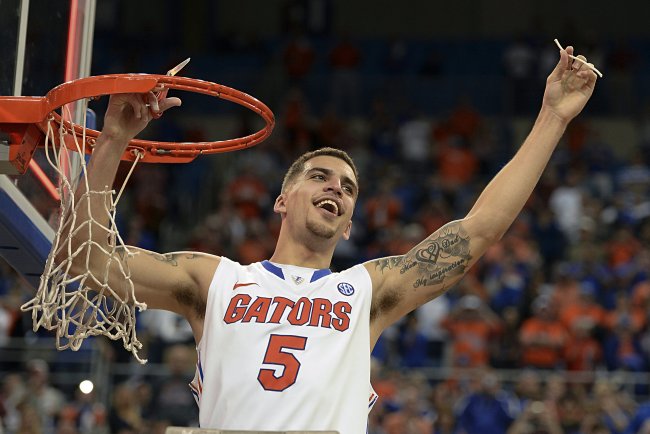 Phil Sandlin/Associated Press
Wilbekin was instrumental in Florida's win on Saturday, as the senior guard chipped in 14 points, four steals, one rebound and one assist while playing rock-solid defense on the perimeter.
He was involved in one of the biggest plays of the game, too, having hit Antonio Barton with his elbow in the waning moments.
According to Yahoo Sports' Jeff Eisenberg, Wilbekin admitted as much after the game:
Wilbekin to ESPN on the elbow to Barton: "He sold it but I nicked him a little bit."

— Jeff Eisenberg (@JeffEisenberg) March 15, 2014
Unfortunately for Tennessee, the refs decided not to call it a flagrant, hurting the Vols' chances.
What's Next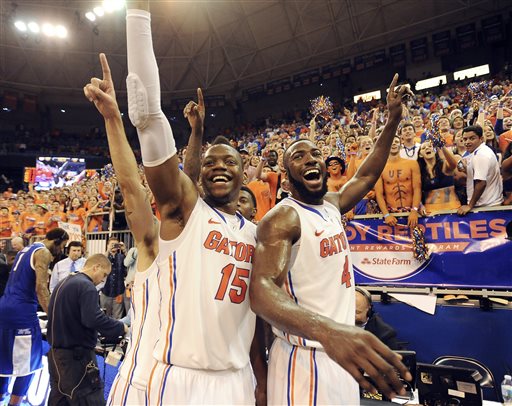 Phil Sandlin/Associated Press
The finals of the SEC tournament are tomorrow, with the conference's championship and automatic berth to the NCAA tournament on the line.
Not that Florida needs it, however, as the team has all but locked up a No. 1 overall seed in the Big Dance after an amazing regular season and sterling resume.
The Gators have a chance to cap off their historically dominant run in the championship matchup against either Kentucky or Georgia.
Despite the tough loss, Tennessee has likely secured a place among the 68-team field in the NCAA tourney. The team dominated South Carolina in the quarterfinals and hung tough against UF for much of Saturday's contest.
Will Florida win the SEC championship?
The Vols will have to sweat it out until the committee announces its decision tomorrow night during the Selection Sunday show, which will be aired live at 6 p.m. ET.
Make sure you tune in to see if the Gators get a No. 1 seed that they undoubtedly deserve, if Tennessee is deemed worthy of appearing in the field and much, much more.