It was raining threes at Bankers Life Fieldhouse in Indianapolis during the Big 10 semifinal bout between Ohio State and Michigan.
A 15-2 run by the Wolverines to begin the game led everyone in the building to believe that the Buckeyes were already finished, but a late run at the end of the first half and strong play in the second brought the No. 5 seed in the tournament all the way back from the grave.
Their comeback wasn't enough, though, as Michigan won by a score of 72-69.
Big Ten Player of the Year Nik Stauskas played like he deserved the title, as he was formidable from beyond the arc. Whether it was in transition, off the dribble or off a pass, Stauskas knocked down shots from deep with ease.
Let's take a deeper look at the action.
Recap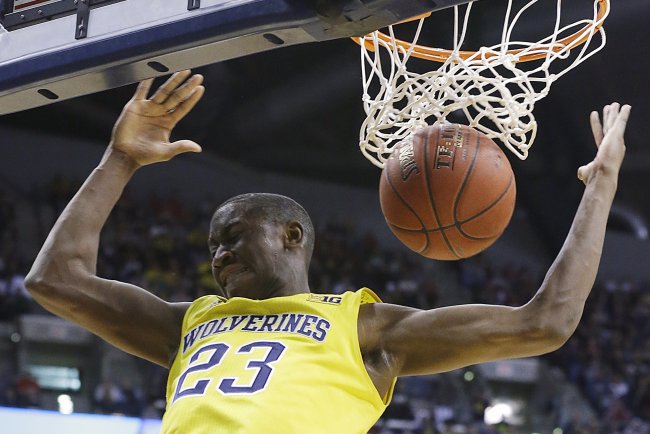 Michael Conroy/Associated Press
The Wolverines' 15-2 run to start the game was evidence of the team's mentality entering play. Head coach John Beilein had his team prepared to fire on all cylinders from the start.
Stauskas started the scoring with a three. Then Glenn Robinson III and Caris LeVert both connected from three, and Robinson converted on a layup and a jumper. Jordan Morgan dunked emphatically to end the 15-2 run.
This is what a bewildered coaching staff looks like... pic.twitter.com/byYCE2gBlB

— Benjamin Worgull (@TheBadgerNation) March 15, 2014
The story early on was Michigan's ability to hit from deep. The Wolverines hit eight threes in the opening half, constantly putting the pressure on OSU.
The Buckeyes did their best to maintain that torrid pace. They hit four threes in the half, and three straight buckets from Marc Loving, Shannon Scott and Aaron Craft closed the gap to four (41-37) at halftime.
Stauskas again opened the half with a three, and Michigan followed with two more threes from Derrick Walton Jr. and Stauskas.
LeVert took over for Michigan in the half. He scored nine points to keep the Wolverines afloat against a surging OSU team led by Scott, LaQuinton Ross and Sam Thompson.
In the end, OSU's surge simply wasn't enough. With a chance to tie the game with seconds remaining, Craft had the ball slip out of his hands. At least, that's what he said post-game (via Brian Hamilton of Sports Illustrated):
Ohio State guard Aaron Craft: "It slipped out of my hands." So there's that.

— Brian Hamilton (@BrianHamiltonSI) March 15, 2014
Stauskas was credited with a steal, and he dribbled the final moments off the clock.
Pat Forde of Yahoo Sports talked about the Wolverines' penchant for close wins:
Michigan has survived two last-second games to advance to Big Ten final. Wolverines' weekend of living dangerously continues.

— Pat Forde (@YahooForde) March 15, 2014
Grades
Aaron Craft, OSU: C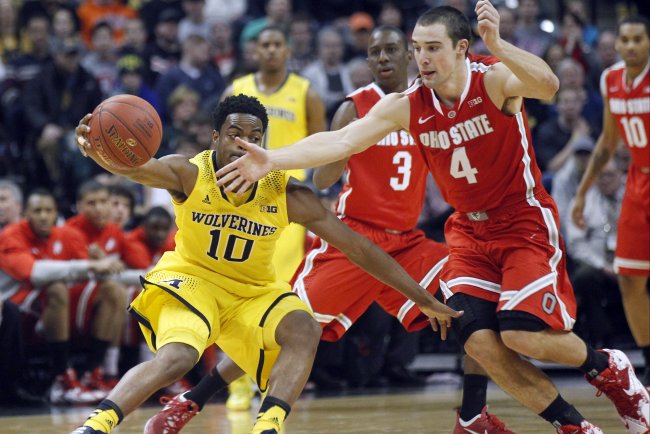 Kiichiro Sato/Associated Press
Craft did not play as well in this one as OSU would have hoped.
He was in foul trouble for most of the second half, and ended with just nine points on 4-of-7 shooting. His seven rebounds and six assists did help his team start transition scoring and get good looks near the basket, however.
Known as the Big Ten leader in career steals, Craft had just one steal in this one. He impacted the game defensively in other ways, but his inability to start a push down the floor with consistency hurt the Buckeyes.
Turning the ball over generally isn't a part of Craft's game. He coughed it up four times in this one, however.
Nik Stauskas, Michigan: B+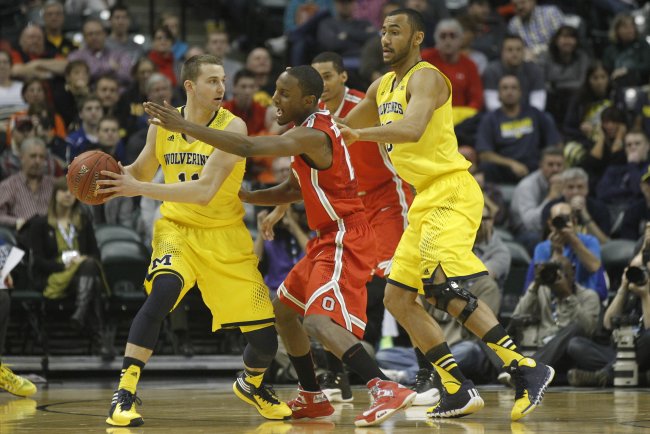 Kiichiro Sato/Associated Press
As the Big Ten Player of the Year, much was expected from Stauskas in the tournament. He didn't disappoint in his team's biggest rivalry.
Stauskas dropped 18 points on 6-of-12 shooting, making four of his eight attempts from deep. His ability to hit from anywhere beyond the arc is impressive.
Michigan hangs on! Wolverines prevail over rival Ohio State in Big Ten tournament semis, 72-69. Nik Stauskas leads UM with 18 Pts.

— SportsCenter (@SportsCenter) March 15, 2014
No. 11 also recorded one rebound, one assist and one steal in the contest. Because he didn't do much more in those statistical categories, Stauskas did not receive an A.
Perhaps the play of the game was Stauskas' up-and-under layup with 2:08 left in the action. He went up hard, and when he was contested, went under the basket and spun the ball off the glass for the pretty finish.
He'll be looking to make noise as his team makes a run in the NCAA tournament.
Shannon Scott, OSU: A-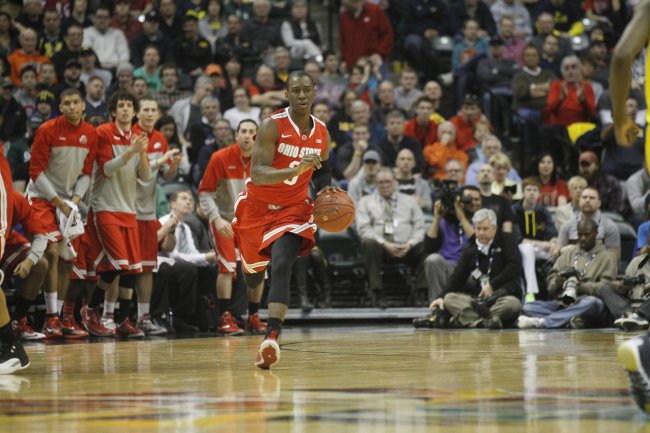 Kiichiro Sato/Associated Press
Coming off the bench isn't easy, but Scott was able to drop 18 off the pine. He did so very efficiently, as he missed just three times on 10 shots.
#Buckeyes Shannon Scott with four 3-pointers today, the same number he had in last nine games.

— Brent Yarina (@BTNBrentYarina) March 15, 2014
Scott was a key component in the team's second-half push after being named to the 2014 All Big-Ten team.
Without Scott, OSU would not have been able to hold tough against the Wolverines and their offense. Michigan has had championship-caliber talent in recent years, and Scott's contributions off the bench were enough to keep up with that talent. He's a player to watch in March.
What it All Means for the NCAA Tournament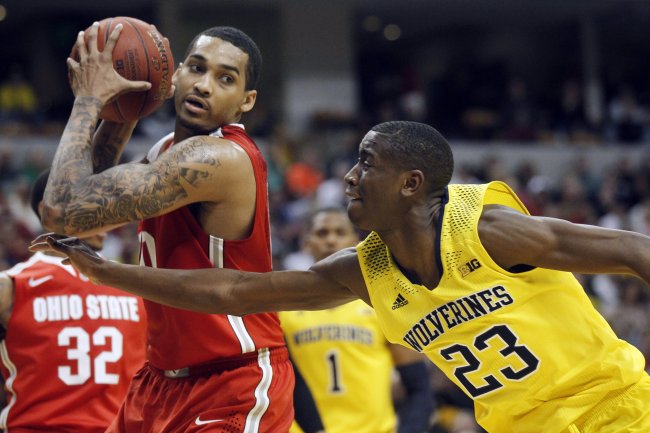 Kiichiro Sato/Associated Press
The nail-biter of a game will likely impact NCAA tournament seedings come Selection Sunday.
The Buckeyes stood to fall quite a bit in terms of seeding had they not made such a valiant comeback, though they'll likely still see a small drop. The Buckeyes previously could have been a No. 4 or No. 5 seed, but don't be surprised if they drop to the No. 6 seed following the loss.
That shouldn't really affect them too much. This team is still talented enough to make a deep run in the tournament.
Michigan probably won't see much of a change in terms of seeding. They were probably already a No. 2 or No. 3 seed to begin with. Even if they win the Big Ten tournament, Michigan will likely be a No. 2 seed.
Both teams stand to make noise in the NCAA tournament.