Day 4 of the SEC tournament featured two semifinal clashes with huge NCAA tournament implications, as all four teams involved aspire to achieve March Madness glory.
All four top seeds were able to advance Friday, which led to a pair of intriguing matchups. The odds-on favorite in No. 1 Florida took on No. 4 Tennessee in the early game, and No. 2 Kentucky against No. 3 Georgia was slated to take place soon after.
Due to their undefeated record in SEC play during the regular season, the Gators entered the tourney as the measuring stick that all other SEC teams wanted to live up to. Although the Volunteers fell short in their upset bid, they proved that the SEC may be a little deeper this year than initially thought.
Here are the results for Saturday's SEC tournament action along with a look ahead at Sunday's championship final.
SEC Tournament Day 4 Results

| | | | |
| --- | --- | --- | --- |
| Game No. | Team 1 | Score | Team 2 |
| 11 | Florida | 56-49 | Tennessee |
| 12 | Georgia | 58-70 | Kentucky |
SEC.com
SEC Tournament Day 5 Schedule

| | | | | |
| --- | --- | --- | --- | --- |
| Game No. | Date | Time (ET) | School | School |
| 13 | Sunday, March 16 | 3:15 p.m. | Florida | Kentucky |
SEC.com
Bracket
SECDigitalNetwork.com provides a live bracket of the SEC Tournament.
Recap
Florida 56, Tennessee 49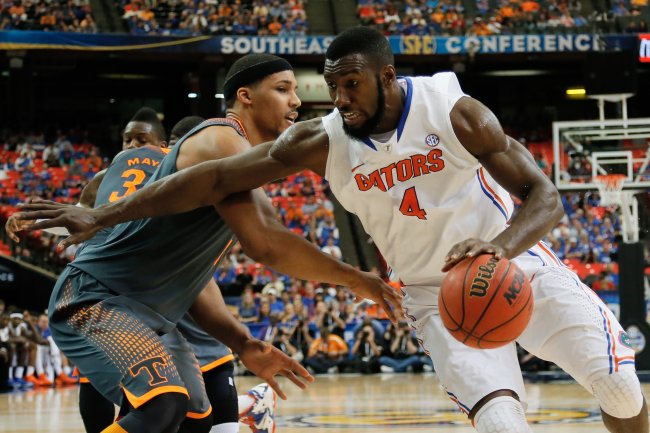 Kevin C. Cox/Getty Images
The SEC tournament semifinal between Florida and Tennessee wasn't a walk in the park for the Gators as many expected, but Florida was able to maintain its perfect SEC mark with a gutsy 56-49 triumph.
Although the Vols lost twice to Florida during the regular season, they come out of the gates firing and didn't seem intimidated by the nation's top-ranked team. Tennessee jumped out to an early lead, and it continued to build upon it as the first half progressed.
Senior guard Jordan McRae fueled Tennessee on both ends of the floor. Not only did he rack up 10 points, but the 6'6" athletic freak sparkled on defense as well. McRae turned Florida guard Scottie Wilbekin away with an emphatic block and showed a ton of emotion afterward, as noted by Ben Frederickson of the Knoxville News Sentinel:
Jordan McRae is, um, fired up after blocking that Wilbekin layup. Replay showed it was clean.

— Ben Frederickson (@Ben_Fred) March 15, 2014
Tennessee held a 10-point lead as the latter seconds of the first half ticked away, but Wilbekin sent Florida into the locker room on a high note. Per Thomas Goldkamp of 247Sports, he nailed a huge three at the buzzer to pull to within seven:
Scottie freaking Wilbekin. Three at buzzer makes it 35-28 Tennessee at half.

— Thomas Goldkamp (@Goldkamp247) March 15, 2014
If not for Wilbekin, Florida would have been in even more dire straits entering the second half. He scored nearly half of the Gators' points in the first half, and set the stage for a potential comeback, according to Pat Dooley of GatorSports.com:
Wilbekin has 13 after that bomb. Gators trail by seven at half. They've been a second half team all season but we'll see.

— Pat Dooley (@pat_dooley) March 15, 2014
While Florida actually shot the ball very well in the first half, Tennessee came away with a solid lead and had to be feeling good about what it accomplished, per Paul Fortenberry of VolQuest.com:
Good first half by the Vols. Florida shot 55% and the Vols are still up 7 at the half. Wilbekin's 3 hurts, but Vols in great shape.

— Paul Fortenberry (@Volquest_Paul) March 15, 2014
Florida made the most of the momentum that it gained from the late Wilbekin three, as it battled back to take the lead early in the second half. The ebb and flow of the game continued, however, as the Volunteers battled back and regained the lead.
Seniors Casey Prather and Patric Young started to pick up the slack for the Gators, though, leading to a tied game with about five minutes remaining. With the contest knotted at 45-45, the Volunteers made what turned out to be a fatal error.
Senior forward Jeronne Maymon, who was just shy of a double-double with 10 points and nine rebounds, committed his fourth foul of the game. Maymon argued with the official, which led to a technical foul as well as his dismissal from the game, according to Kevin Brockway of GatorSports.com:
Maymon gets tech for mouthing off to official. Maymon fouls out

— Kevin Brockway (@gatorhoops) March 15, 2014
Not only did Florida hit its free throws, but Tennessee had to finish the game without one of its best players due to a selfish decision.
Will Tennessee Make the NCAA Tournament?
Tennessee continued to battle, and it even tied the game at 49-49 after a three-point make from McRae, but the Vols went cold down the stretch. They didn't score a single point in the final two minutes and 49 seconds, which ended the upset bid.
The loss was a disappointing one for Tennessee, especially considering how well it played in the first half. After the Vols' quarterfinal win over South Carolina, Vols head coach Cuonzo Martin made it clear that his team's goal was to win the SEC title, per Charles Odum of the Associated Press (h/t The State).
"We didn't come to Atlanta to win one game," Martin said. "We came to win the tournament. I told my guys if you're not coming to win the tournament, don't get on the bus."
The Vols didn't win the tournament, and now they'll have to sweat it out on Selection Sunday. A 21-12 record with quality wins over Xavier and Virginia might be enough to make the NCAA tournament, but it's far from a sure thing.
Earlier in the week, Jeff Borzello of CBSSports.com listed Tennessee as one of his last four teams in the tourney:
New bracket ... Last Four In: Xavier, Pitt, Tennessee, Cal -- Last Four Out: Arkansas, Gtown, Providence, Minnesota: http://t.co/EBzKZNL4rg

— Jeff Borzello (@jeffborzello) March 11, 2014
Based on how tough the Vols played the Gators, they deserve to make the Big Dance. Whether or not the selection committee agrees remains to be seen.
Kentucky 70, Georgia 58
Kevin C. Cox/Getty Images
It was a systematic dismantling in the SEC's second matchup on Saturday as the Harrison brothers picked apart the Georgia Bulldogs in a 70-58 rout.
Big Blue Nation get ready! Kentucky earns 3rd shot at Florida in SEC Title Game. Wildcats top Georgia 70-58 behind Aaron Harrison's 22 Pts.

— SportsCenter (@SportsCenter) March 15, 2014
Shades of Georgia's 79-54 regular-season loss to Kentucky were prevalent in the semifinal round of the SEC tournament, as the Bulldogs connected on just 23.1 percent of their attempts from long range and were bullied into submission on the boards, 36-21.
Conversely, Kentucky shot 51 percent from the field and a whopping 56.3 percent from downtown. Aaron Harrison scored 22 points to lead all scorers, while Andrew Harrison scored 12 and dished a career-high nine assists.
To be fair to the Bulldogs, the duo of Kenny Gaines (13 points total) and Charles Mann (12 points) helped to keep it close in the first half, before a 41-39 margin in Kentucky's favor caused coach John Calipari to burn a timeout in order to regroup.
From there, Kentucky pulled away.
Which team wins the SEC tournament?
Now the Wildcats get a third shot at Florida this season, but this time the SEC title is on the line. After a 69-59 loss in February and an 84-65 loss earlier in March, Calipari's team is itching for another shot at the Gators, as captured by the Associated Press, via ESPN:
"I've had enough of Florida," Calipari said, adding "it's almost an honor to play a team like that."
Sunday may provide a different outcome for the Wildcats if they can stay on their current trajectory. The Harrison brothers are playing at a high level and are flanked by Julius Randle, who notched a double-double of 12 points and 11 rebounds against the Bulldogs.
While the outcome is impossible to discern, a third showdown between two of the best teams in the land is sure to entertain before the Big Dance.
Follow @MikeChiari on Twitter