It's one thing for the Miami Heat to lose on the second night of a back-to-back in Houston, get blown out in San Antonio or surrender narrow decisions to familiar tormentors from Chicago and Brooklyn. But it's another entirely to fall flat at home against a lottery-bound opponent.
At least, that's what the Heat's comments following their 111-107 loss to the Denver Nuggets on Friday would suggest. Dwyane Wade, who scored 19 points on 8-of-18 shooting from the field in defeat, stated the obvious, via the Miami Herald's Joseph Goodman:
WADE: "Something is off."

— Joseph Goodman (@JoeGoodmanJr) March 15, 2014
As is the case on the court, Wade left the heavy lifting in the locker room to LeBron James, who sounded a much louder alarm than that of his superstar sidekick:
LEBRON: "We're just not playing well, and it's a league where it can turn to quicksand quick."

— Joseph Goodman (@JoeGoodmanJr) March 15, 2014
LEBRON: "This moment will either define our season or end our season."

— Joseph Goodman (@JoeGoodmanJr) March 15, 2014
At first glance, James' comments would seem to constitute an overreaction. After all, this wasn't the first questionable loss logged by Miami at AmericanAirlines Arena this season. The Heat have also been beaten at home by the Boston Celtics and the Detroit Pistons, both of whom sport records far worse than Denver's 29-36 mark.
But those defeats came back in November and December, long before the pre-playoff focus of March was due to set in. Moreover, neither was part of any prolonged slump.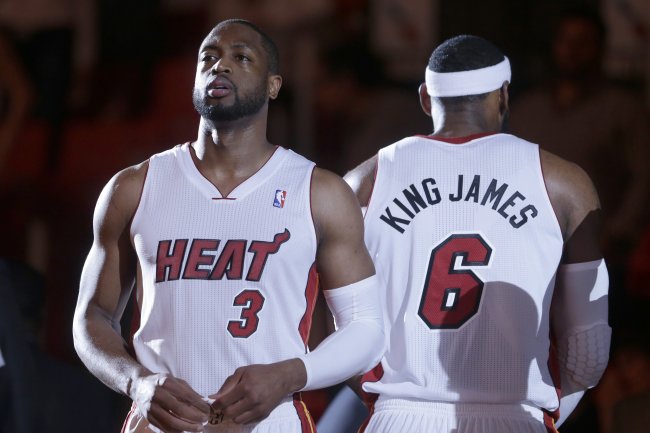 Wilfredo Lee/Associated Press
Nothing on par with Miami's current malaise, anyway. The defeat to Denver was the Heat's fifth in six games. Not since March 2011 had the Heatles suffered through such futility.
And, with the Indiana Pacers' win over the flailing Philadelphia 76ers, the defending champs now sit a full three games back of the top seed in the Eastern Conference.
The Heat's current slide began immediately after James' career-high 61-point outburst against the Charlotte Bobcats on March 3. As ESPN.com's Michael Wallace noted, James has since struggled to find his rhythm within Miami's offense, particularly in fourth quarters and perhaps due to the demands of a healthy Wade:
For the second consecutive game, James has suggested he hasn't been pleased with his level of involvement in the offense, particularly late in games. James has struggled in the fourth quarter during many of the recent losses, a stretch that began the night after he scored a career-high 61 points in a March 3 home win against Charlotte.

Coincidentally, Wade missed that game as part of his season-long program to rehabilitate his knees. But Wade has played well each of the past six games and has had many of the offensive sets run through him, especially during the fourth quarter of close games.

James did not attempt a shot in the fourth quarter of the 96-95 loss to the Nets, but missed three of his four field goal attempts in the final period against the Nuggets. Wade, meanwhile, only attempted one shot in the fourth quarter of Friday's game.
Just because James and Wade appear to be panicking doesn't mean South Beach is necessarily swamped with doom and gloom. Of Miami's five latest losses, only one—a 111-87 smashing at the hands of the San Antonio Spurs—came by double digits.
Is it "Panic Time" for the Miami Heat?
That doesn't mean the Heat should be content to coast into the postseason. They have just 19 games remaining on their 2013-14 schedule, with dates against the Houston Rockets, Portland Trail Blazers, Brooklyn Nets, Memphis Grizzlies (twice) and Indiana Pacers (twice) yet to be played.
As such, the final month of the regular season doesn't figure to be a cakewalk for Miami. Neither do the playoffs, with potential matchups against Brooklyn, Chicago and Indiana on the horizon.
Which is all the more reason for the Heat to get their act together now, lest their quest for a three-peat sink into that quicksand that's got LeBron so concerned.
There's plenty of room to panic on Twitter!