The final of the Big 12 tournament is set after the No. 16 Cyclones beat the regular-season champions No. 10 Kansas Jayhawks, 94-83, and then the Baylor Bears throttled the Texas Longhorns, 86-69, in Kansas City on Friday.
With Kansas out of the picture, who will win out from here is anybody's guess. Neither Iowa State nor Baylor has a stellar postseason record, so this is largely uncharted territory for both schools.
This is also the first time that a team seeded No. 3 or lower will win the Big 12 tournament, per Blair Kerkhoff of The Kansas City Star:
Wendell Barnhouse reminds Big 12 T will have its lowest seeded champ. Only top 3 have won. TItle pits 4-seed ISU vs. 7-seed Baylor

— Blair Kerkhoff (@BlairKerkhoff) March 15, 2014
Here's a quick recap of Friday night's action.
Day 3 Results
Iowa State 94, Kansas 83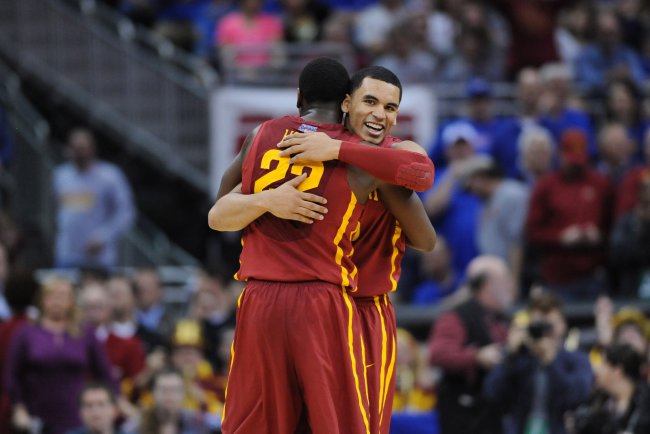 Denny Medley-USA TODAY Sports
It's often said that beating a team three times in a season can be hard to do. The Jayhawks prevailed in both of their regular-season meetings against the Cyclones, so it shouldn't have come as a huge shock that Iowa State would get the win sooner or later.
Any talk about Iowa State's performance has to begin with Georges Niang. The sophomore forward led the team in scoring with 25 points on 11-of-22 shooting. Niang added seven assists to what was a stellar all-around performance.
ESPN.com's Myron Medcalf had a great way to describe Niang:
Georges Niang would have been the No. 5 pick in the 1975 ABA Draft. He's a throwback.

— Myron Medcalf (@MedcalfByESPN) March 15, 2014
Late in the second half, he was elbowed above the eye, and the injury looked pretty gruesome, as blood poured out from the cut. As he was walking off the court, Niang made sure to bask in the moment:
Niang, bloodied, pumps his fist toward cheering fans. But that looked really bad.

— Myron Medcalf (@MedcalfByESPN) March 15, 2014
DeAndre Kane and Melvin Ejim combined for 39 points. Kane, in particular, was huge, as he shot 5-of-6 from behind the three-point line. Kansas, as a team, only hit four three-pointers.
Few Jayhawks players were laboring as much as freshman Andrew Wiggins. Although he attacked the basket well, when he was forced to settle for outside jumpers, his offensive production waned, per ESPN Stats and Info:
Andrew Wiggins has 2 points on 1-of-8 shooting outside the paint tonight.

— ESPN Stats & Info (@ESPNStatsInfo) March 15, 2014
Wiggins finished with 22 points, but it came on 7-of-21 shooting.
One thing Kansas did well in the first half was working the ball down low to Perry Ellis. He was dominant inside the paint:
Perry Ellis is 8-for-8 with 16 points in the paint in the 1st half. Kansas is outscoring Iowa State 24-12 in the paint.

— ESPN Stats & Info (@ESPNStatsInfo) March 15, 2014
Ellis had 21 points in the first half but scored only nine in the second half. It wasn't until nearly the 10-minute mark that Ellis would get his first shot of the second half, per Bruce Haertl of KWCH 12 in Wichita, Kan.:
Perry Ellis has 21 pts in the first half and doesn't get his first shot in the second until 10:17??? #gethimtherock

— Bruce Haertl (@BruceHaertl) March 15, 2014
It's painfully clear to Jayhawks fans just how much worse off Kansas is without Joel Embiid. It's going to have a lot of trouble in the NCAA tournament as long as the freshman big man is out.
Medcalf, though, thinks a semifinal loss isn't the worst thing in the world:
I don't think this is a bad thing for Kansas. Seeding won't change, probably. And team gets some extra rest.

— Myron Medcalf (@MedcalfByESPN) March 15, 2014
Baylor 86, Texas 69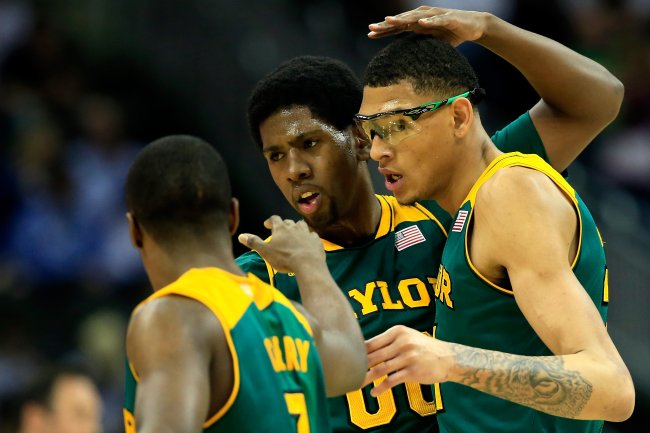 Jamie Squire/Getty Images
Baylor dominated this game from start to finish. By halftime, the Bears had a 42-27 lead.
Chuck Carlton of The Dallas Morning News thought that the key difference between the two teams in the first half was that Baylor could rely on its top scorers, while Texas got very little production from two of its top scorers:
Cory Jefferson finished with 20 points, and Brady Heslip led the Bears in scoring with 24 points. On the other side, Javan Felix and Jonathan Holmes combined for eight points.
In the second half, Baylor maintained its lead, keeping the Longhorns at bay. Texas got to within 12 points, 45-33, a little over two minutes in the half, but the Bears quickly shut the door after another huge run, as their lead swelled to 24 points, 70-46.
Not only did Baylor earn a place in the Big 12 tournament final, Scott Drew picked up his 202nd win at the school, making him the all-time leader in wins, per the Bears' official Twitter account:
Congratulations to Coach @BUDREW, Baylor's all-time wins leader. #SicEm pic.twitter.com/oeVHQa1ewx

— Baylor Basketball (@BaylorMBB) March 15, 2014
With the victory, the Bears enter Saturday's game having won 10 of their last 11 games. Medcalf wonders if anybody wants to play a team on such a hot streak:
Never thought I'd say this .... But you don't want to see Baylor next weekend.

— Myron Medcalf (@MedcalfByESPN) March 15, 2014
Fox Sports Southwest's Matt Mosley thinks Baylor's second-half surge could see it jump to a No. 5 seed in the Big Dance should it win the Big 12 tournament title:
Baylor advances to the Big 12 title game. One of the hottest teams in the nation. No. 5 seed with the title?

— Matt Mosley (@mattmosley) March 15, 2014
Updated Bracket
Big12Sports.com has the latest updated bracket following all of Friday's action and the previous rounds.
Day 4 Schedule
The Cyclones will be looking for their first conference title since the halcyon days of Larry Eustachy, Jamaal Tinsley and Marcus Fizer.
Baylor, on the other hand, has never won a Big 12 tournament trophy. The Bears have appeared in the NCAA tournament three times since 2008, but they haven't had much success in conference.
The two schools split their regular-season meetings, with Iowa State winning in Ames and Baylor winning in Waco. With the final on a neutral court, you don't know whom to take.
The final will tip off on Saturday at 9 p.m. ET. Fans at home can tune in on ESPN.