Although the Big East tournament is missing some of the big names from past years, the semifinals were no less exciting.
Seton Hall entered the day looking to continue its Cinderella run after defeating Butler and Villanova by one point each in the first two days of the tournament. Providence and Xavier each needed wins to make sure they would stay on the right side of the bubble on Selection Sunday.
Creighton already has a spot in the NCAA tournament locked up, but a conference tournament title would certainly look good when it comes to seeding.
However, only two teams were able to advance to the finals in Madison Square Garden. Here is a look at everything you need to know from Day 3 of the Big East tournament.
Bracket
ESPN provided a look at the bracket entering the semifinals:
#BigEast Bracket: #ChampWeek pic.twitter.com/rCZkhncpsm

— ESPN College BBall (@ESPNCBB) March 14, 2014
Results
No. 4 Providence 80, No. 8 Seton Hall 74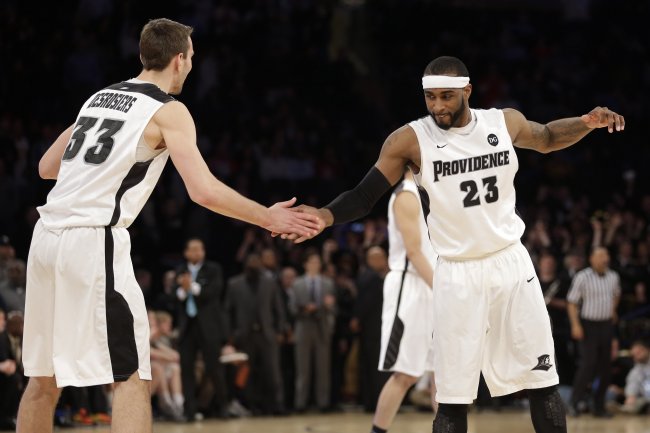 Seth Wenig/Associated Press
Providence went 9-of-19 from the three-point line en route to a 80-74 win that put the Friars in the Big East tournament finals.
LaDontae Henton was the star of the day as he simply could not be stopped, as noted by Adam Zagoria of SNY.tv:
Pirates have no answer for LaDontae Henton, who has 15 & 6 as Providence leads 35-27

— Adam Zagoria (@AdamZagoria) March 14, 2014
Zagoria later quoted head coach Ed Cooley discussing the junior:
'LaDontae was a man-child today.' - Providence's Ed Cooley on Henton's 26 and 14

— Adam Zagoria (@AdamZagoria) March 15, 2014
The forward finished with 26 points, 14 rebounds and two steals as he was able to dominate all over the court. Senior Bryce Cotton struggled to find his shot, finishing just 5-of-14 from the field, but he made up for it by getting his teammates involved with 10 assists.
Brendan Prunty of the Newark Star-Ledger comically points out Seton Hall's struggles defensively:
Feels like Seton Hall is playing Whack-A-Mole right now. Can cover four of the holes, but not the fifth.

— Brendan Prunty (@BrendanPrunty) March 15, 2014
Fuquan Edwin had a big day for the Pirates with 20 points, but it was not enough to help his team come away with the victory.
Things certainly got interesting toward the end of this contest after Providence had an 11-point lead with under three minutes. Seton Hall made a furious comeback to cut the deficit to four points with about 10 seconds left. However, Josh Fortune made his free throws to end the rally and secure the win.
Seton Hall fell to 17-17 on the season with this loss and will have to wait to see its postseason fate. An NIT berth seems unlikely, so the squad will have to decide if it wants to compete in the CBI or CIT.
As for Providence, this win does not secure a bid to the NCAA tournament, but it certainly helps. Before the game, Joe Lunardi had the school as the last team in:
.@ESPNLunardi's Bubble: LAST FOUR IN: Saint Joseph's Dayton BYU Providence FIRST FOUR OUT: Minnesota Florida St Arkansas California

— ESPN College BBall (@ESPNCBB) March 14, 2014
The good news is that one more win takes it out of the committee's hands, as the Friars will get an automatic bid.
No. 2 Creighton 86, No. 3 Xavier 78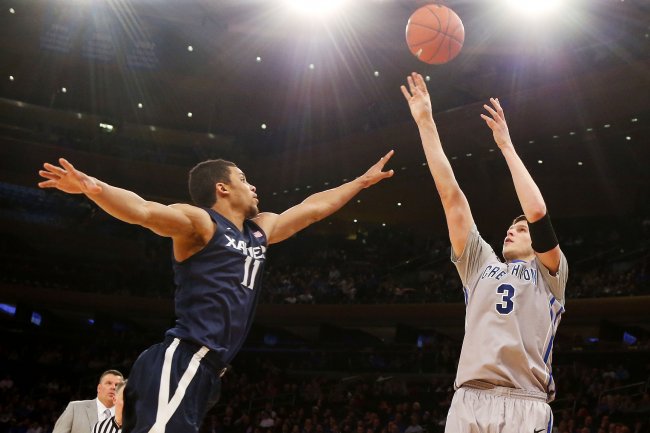 Jim McIsaac/Getty Images
Doug McDermott was his usual dominant self to send Creighton into the Big East finals. The senior scored 32 points in the win, including a 10-of-10 mark from the free-throw line.
His latest effort continued his assault on the record books, as noted by Fox Sports:
A look at the Top 5 leading scorers in NCAA history, now including @BluejayMBB's Doug McDermott. #BIGEASTtourney pic.twitter.com/XK9cAFexpq

— FOX Sports: Hoops (@HoopsonFOX) March 15, 2014
ESPN's Brian Windhorst noted McDermott's ability to score even in a off day:
Went to see Doug McDermott at Garden tonight. He didn't shoot well, Xavier defended/denied him well...and he still had 32.

— Brian Windhorst (@WindhorstESPN) March 15, 2014
Ethan Wragge also had a big day while going 5-of-9 from behind the arc, contributing to Creighton's 11 threes in the game. Overall, the squad shot 55.1 percent from the floor as Xavier simply could not defend anything.
Instead, the Musketeers needed some great shooting just to keep this game close. After trailing 45-33 at the half, the lead grew up to 18 with about eight minutes remaining in the game. However, a 10-0 run got them back into contention and they eventually crawled to six back in the final minute.
Unfortunately, it was too little, too late as Creighton was able to seal the win with some clutch free-throw shooting.
While defense remains a problem for the Bluejays, they continue to show that it does not matter when they keep scoring. The squad is now one game away from winning the Big East tournament in its first year in the conference, and it should be a tough out for anyone in the NCAA tournament.
Meanwhile, Xavier hopes that its current resume is enough to simply get a bid to the Big Dance. Wins over Creighton, Cincinnati and Tennessee will help, but a number of poor losses should keep the team nervous on Selection Sunday.
Day 4
Big East Finals Information

| | |
| --- | --- |
| When | Saturday, March 15 |
| Time | 8:30 p.m. ET |
| Where | Madison Square Garden, New York |
| TV | Fox Sports 1 |
| Live Stream | Fox Sports Go |
via BigEast.com
Providence will now face Creighton in the Big East tournament finals, a matchup that would have seen very strange before conference realignment. The teams split in their meetings during the regular season, but McDermott had a big game the last time out, as noted by Dirk Chatelain of the World-Herald:
Both teams have been playing at a high level lately and likely do not need the automatic bid, but a title would certainly look good on both resumes when it comes to seeding. This should create an exciting atmosphere in Madison Square Garden.
Follow Rob Goldberg on Twitter for the latest breaking news and analysis.