Down as much as 18 points in the second half, LaQuinton Ross and the Ohio State Buckeyes wouldn't give up. Behind 24 points from Ross, the Buckeyes fought off the upset bid from the Nebraska Cornhuskers on Friday afternoon at the Bankers Life Fieldhouse in Indianapolis.
The 71-67 win kept the Buckeyes alive in the Big Ten tournament.
After the game, Twitter was overrun with thoughts that Ohio State benefited from poor officiating.
There might be some credence to the thought that the Buckeyes got the benefit of the doubt on some of the calls (they shot 28 free throws to Nebraska's 20), but seven second-half turnovers from the Cornhuskers didn't help either.
When Nebraska's Terran Petteway made two free throws with 13:45 left in the second half, the Cornhuskers were up 40-38.
Ohio State flipped the switch from there. It scored the next nine points and outscored Nebraska 41-19 the rest of the way.
As Nebraska coughed up the lead, ESPN's Jonathan Coachman had this observation:
Nebraska is learning holding an 18 pt lead isn't nearly as easy as getting it against a very veteran team in ohio state. Not over yet though

— Jonathan Coachman (@TheCoachESPN) March 14, 2014
The experience level between the two teams was apparent. Scott Henry of the aptly named 4 Quarters Radio said:
Ohio State's been here before. Nebraska, not so much. #hairball #B1GTourney

— Scott Henry (@4QuartersRadio) March 14, 2014
Ross was the top scorer, but sophomore Amedeo Della Valle's contributions on both ends of the floor shouldn't go unnoticed. He had 12 points, six rebounds, three blocks and two steals.
His play was as much responsible for the win as Ross'. Kent Sterling gave Della Valle his props:
Amedeo Della Valle pulled Thad Matta's bacon out of the fire this afternoon. OSU up two with 12.5 on a 39-17 run, #buckeyes

— Kent Sterling (@KentSterling) March 14, 2014
Next, Ohio State will take on Michigan in one of the semifinal games on Saturday. The Wolverines survived a scare from Illinois in the first game from Bankers Life Fieldhouse on Friday.
Ohio State lost the regular-season meeting 70-60 back on February 11. It'll be looking to continue its recent solid play and upset its top-seeded rival.
Nebraska should have done enough to earn an at-large bid into the NCAA tournament. But it is still technically a bubble team. ESPN's NCAA tournament expert Joe Lunardi does have the Cornhuskers penciled in as a No. 11 seed in his bracket. They will have to wait until Sunday to find out for sure.
Here's a look at the grades for the most important players in this thrilling matchup.
Grades
LaQuinton Ross, A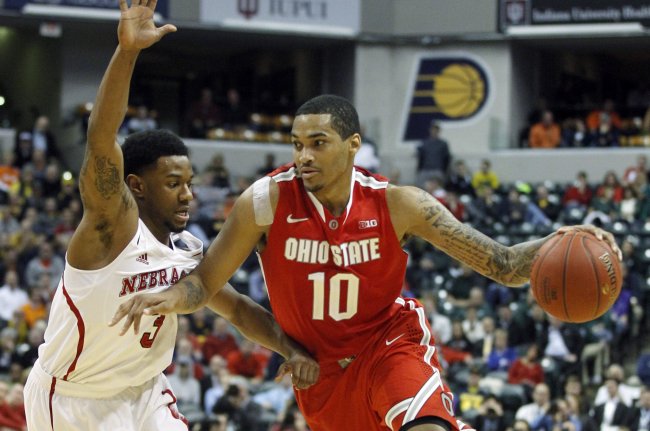 Kiichiro Sato/Associated Press
He was the only consistent scorer for the Buckeyes throughout. No one else could find a semblance of offense in the first half.
Aside from his 26 points, he also pulled down a game-high 13 rebounds. In addition, he was one of the few Ohio State players who knocked down a respectable percentage of free throws. He was 7-of-9 from the stripe, while the rest of the team made just 10-of-21 combined.
Amedeo Della Valle, A+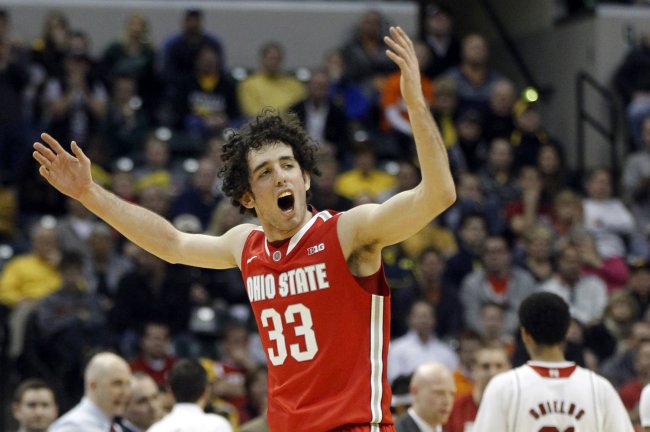 Kiichiro Sato/Associated Press
If Della Valle continues to play this way, he's going to become a folk hero in Columbus. His energy was fantastic. If you want to see the blueprint on how a reserve can come into a game and alter the tone, watch a replay of his performance from Friday.
Aaron Craft, B-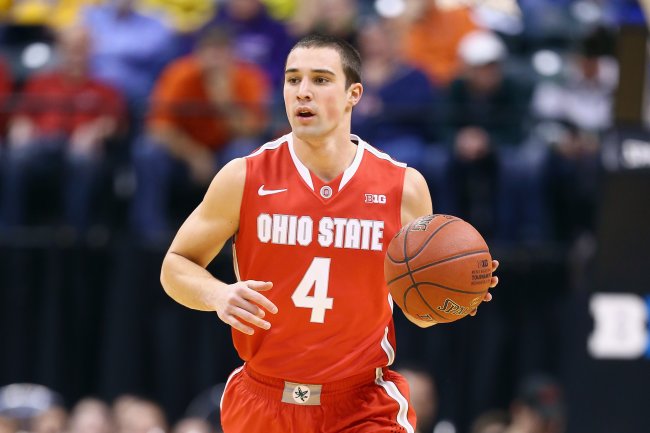 Andy Lyons/Getty Images
He struggled from the field (2-of-7) and was a little overaggressive on defense, but he did post six rebounds and six assists to go with his six points.
Terran Petteway, A-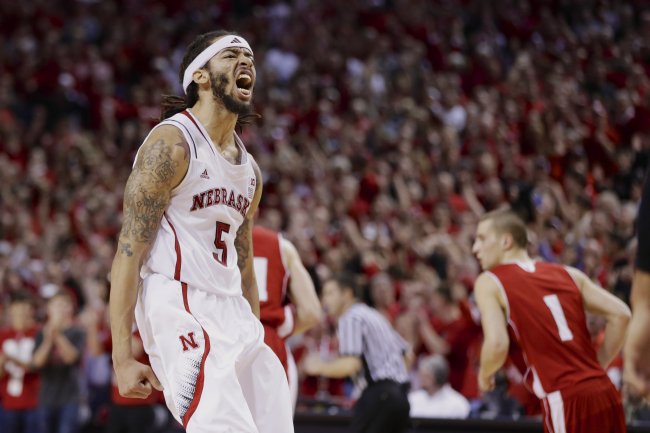 Nati Harnik/Associated Press
Petteway gave maximum effort, but he looked gassed at the end of the game. He fouled out with 20 points and 59 seconds remaining in the game.
Shavon Shields, B-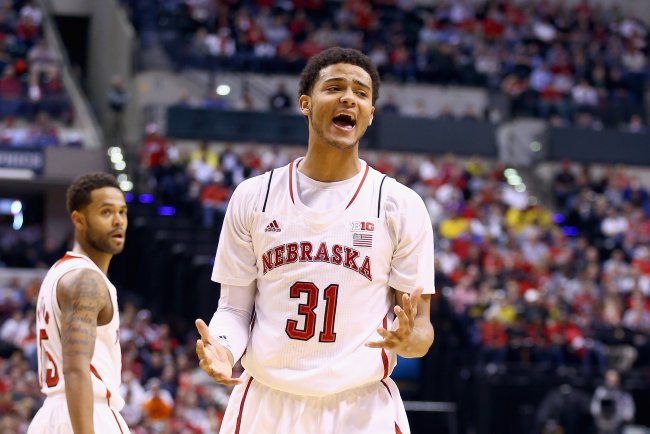 Andy Lyons/Getty Images
His three turnovers somewhat dulled a decent performance. Shields finished with 12 points, six rebounds and four assists as he and Craft gave each other fits.
Follow me. I'm addicted to hoops.