Now we know what the Washington Redskins were waiting for in free agency. The slew of low-cost deals for low-key players was merely a precursor to plucking one of the market's true gems.
That's what the team got by signing dominant former Dallas Cowboys defensive end Jason Hatcher, a deal confirmed by NFL Media Insider Ian Rapoport, via Hatcher's agent:
His agent (great tweet) RT @JordanWoy: DL Jason Hatcher agrees to terms with Redskins. Can't respond to all reporters.

— Ian Rapoport (@RapSheet) March 13, 2014
Bringing in Hatcher not only adds an impact playmaker up front, something Washington has missed for too long. It also represents a major coup for general manager Bruce Allen and new head coach Jay Gruden.
It is a bold statement that restores faith after the wreckage of the tough-to-stomach Mike Shanahan era.
When Shanahan was kicked to the curb after a 3-13 season, hopefully taking a bounce along the way, the focus turned to Allen. The general manager had been a practical meek mute while Shanahan's autocratic tendencies were allowed to run roughshod over the franchise.
Free from the overbearing spectre of Shanahan, Allen was keen to assert his own authority. Even as Shanahan could still be heard bouncing off that curb, Allen declared: "The control will be mine."
It was a bold statement that put pressure on Allen and his handpicked successor to Shanahan, Gruden, to follow through. During the early days of free agency it looked as though that pressure might be too great.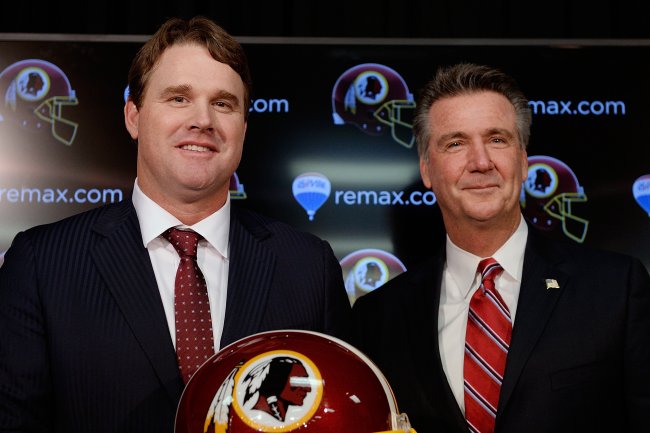 Patrick McDermott/Getty Images
Signings that required all of a fan's bias and loyalty to enthuse about came through the door as if on a creaky conveyor belt.
While the roster Shanahan systematically decimated needs greater depth, the likes of Adam Hayward, Darryl Sharpton and Tracy Porter aren't likely to get even the most optimistic Washington fan predicting Super Bowl glory.
What any rebuilding team needs most is an impact player. A marquee talent to raise fans' spirits and lift existing players.
Make no mistake, even though he has peaked late, Hatcher can make that kind of difference.
That isn't just the lyrical waxing of a writer who has always been enamoured with the player, and even endorsed him joining Washington as far back as 2011:
Hatcher's quick first step combined with his intriguing size would increase the Redskins defensive options. He could be a playmaker if allowed to slide down into the tackle guard gap and attack as a one gap player. Hatcher has the speed to effectively run stunts and twists, either along the line, or in tandem with an outside linebacker. This would allow the defensive front to confuse opposing blocking schemes.
Since then, Hatcher has emerged as one of the premier interior pass-rushers in the NFL. His 11-sack season in 2013 showed he is not just a scheme fit, but rather an attack-minded, "move" playmaker.
That is something Washington defensive coordinator Jim Haslett hasn't had up front. It is also something every 3-4 team needs.
The Baltimore Ravens have one in Haloti Ngata. So do the New York Jets with Muhammad Wilkerson. The Houston Texans have J.J. Watt, while the Arizona Cardinals have Calais Campbell.
Now the Redskins have Hatcher.
To those wary about the soon-to-be 32-year-old's age, there is only one response: Justin Smith. Age has not stopped the rugged San Francisco 49ers' defensive end from dominating.
Nor will it prevent Hatcher. Washington is getting a legitimate stud.
That's why Allen showed him the money, per Rapoport:
Big contract the #Redskins are giving new DL Jason Hatcher. It's a four-year deal worth $27.5M, per source.

— Ian Rapoport (@RapSheet) March 13, 2014
In the process, Allen gave instant credibility to the Jay Gruden era. He also legitimized his own position as the new team builder in D.C.