Day 3 of the SEC tournament featured the heavyweights of the conference going up against teams hoping to make a lasting impression on the selection committee.
We nearly had an upset worth talking about right out of the gate with the Missouri Tigers giving the country's No. 1 team, the Florida Gators, a game for the first 30 minutes before Billy Donovan's crew pulled away late.
With the exception of Florida, this has been a pedestrian year for the SEC. The team's that begin play today—Kentucky, Georgia, Tennessee—all had at least six losses in the conference and have a lot to prove before the NCAA tournament.
Here is a recap of the action from Friday's games and a look at the schedule for Saturday in the tables below.
SEC Tournament Day 3 Results

| | | | |
| --- | --- | --- | --- |
| Game # | Team 1 | Score | Team 2 |
| Game 7 | Florida | 72-49 | Missouri |
| Game 8 | Tennessee | 59-44 | South Carolina |
| Game 9 | Kentucky | 85-67 | LSU |
| Game 10 | Georgia | 75-73 | Ole Miss |
NCAA.com
SEC Tournament Day 4 Schedule

| | | | | |
| --- | --- | --- | --- | --- |
| Game # | Date | Time (ET) | School | School |
| 11 | Sat., 3/15 | 1:00 p.m. | Florida | Tennessee |
| 12 | Sat., 3/15 | Approx. 3:30 p.m. | Kentucky | Georgia |
SEC.com
Bracket
SECDigitalNetwork.com provides a live bracket of the SEC Tournament
Recap
Florida 72, Missouri 49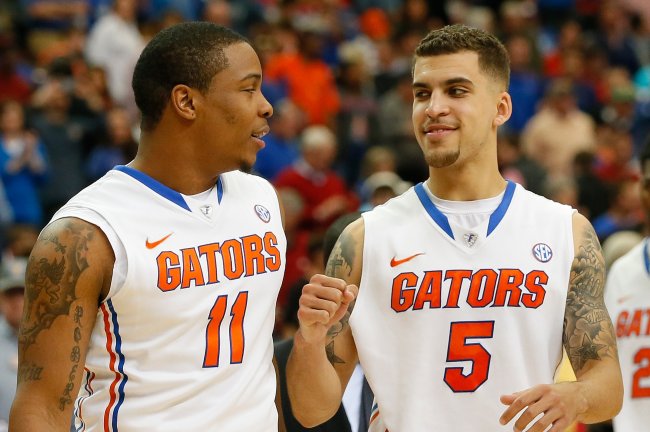 Kevin C. Cox/Getty Images
The final score indicates that Florida dominated Missouri, but this game was much closer than the 23-point margin of victory suggests.
Missouri trailed by just two points, 38-36, with under 11 minutes to play. The Tigers were matching the intensity of the Gators possession-for-possession. Eventually the gap in talent showed, as Florida closed the game on a 34-13 run to secure a spot in the SEC tournament semifinals.
Bryan Holt of Rivals.com summed up Florida's outing today and basically put into words the way this team has played all year.
That last bit about dominating when it counts is so essential to the Gators' success this season. They aren't, on paper, the most talented team in the country and don't have an exciting, high-octane offense.
But they take care of business doing all the dirty work to wear teams down, which is what happened to Missouri today. The game slipped away down the stretch and the team looked lifeless in the final minutes.
Missouri coach Frank Haith didn't try to mince words after the game, saying that this is the way Florida has played all year long, courtesy of Florida student newspaper Alligator Sports' Jonathan Czupryn.
Sometimes saying a team played its typical game is boring, but you can't describe what Florida did any other way.
The Gators got a balanced scoring effort, led by 15 points each from Michael Frazier II and Scottie Wilbekin. They shot 46 percent from the field, including 57.1 percent from three-point range.
Dorian Finney-Smith was a key off the bench, contributing 10 points and nine rebounds.
Missouri had no scoring answer for Florida, shooting just 36 percent from the field and 1-for-13 from three-point range.
The only bad thing to say about Florida's performance today was their miserable 10-for-20 showing from the free-throw line. Even when the Gators aren't doing something well, they win games by 23 points.
Tennessee 59, South Carolina 44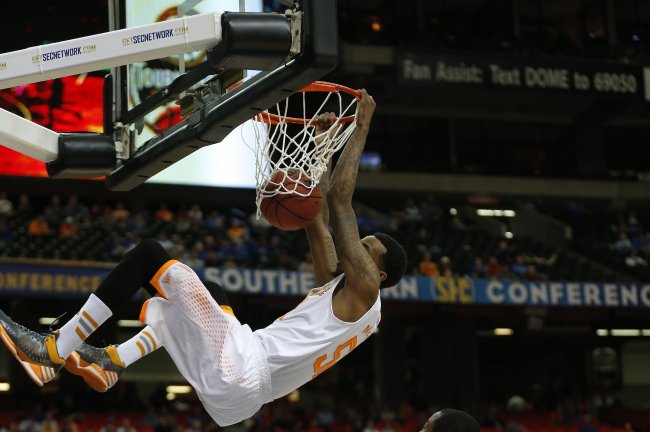 John Bazemore/Associated Press
Tennessee used a smothering defense to cruise past South Carolina and possibly lock up a bid to the NCAA tournament.
The Gamecocks were held to just 27.1 percent shooting on the day as no players were able to reach double figures. Brenton Williams came the closest with nine points on 3-of-13 from the field.
On the other hand, Jarnell Stokes had a huge day for the Volunteers as the big man was almost immovable in the post. As the team's official Twitter account noted, he is used to double doubles:
.@JarnellStokes has 14 points and 11 rebounds for his 19th double-double of the season and the 37th of his career.

— Tennessee Basketball (@Vol_Hoops) March 14, 2014
Stokes finished with 22 points and 15 rebounds and was truly the star of this game. Jordan McRae helped out with 14 points in the win.
This matchup was never really close after Tennessee scored the first six points of the game. The lead was built up to 12-2 early on and the Volunteers were able to continue to play hard throughout. South Carolina never got within eight points in the second half.
With a 14-20 record, the Gamecocks will end their year without a postseason as head coach Frank Martin has a lot of rebuilding to do. With leading-scorer Williams graduating, next year could be even tougher.
On the other hand, Tennessee is moving on in the SEC tournament and will face Florida in the semifinals at 1 p.m. ET on Saturday. With a 21-11 record, the Volunteers could use one more big victory to remove any doubt on Selection Sunday.
Then again, Dan Wolken of USA Today thinks the team would be better off losing this game:
Firm believer Tennessee would be better off losing tomorrow and getting in as an 11 or 12 than winning tourney and moving up to 8 or 9

— Dan Wolken (@DanWolken) March 14, 2014
While it might be easier to get to the Sweet 16 that way, few squads would prefer a loss. Then again, the Volunteers might not have a choice considering Florida has not lost to an SEC team all season.
Kentucky 85, LSU 67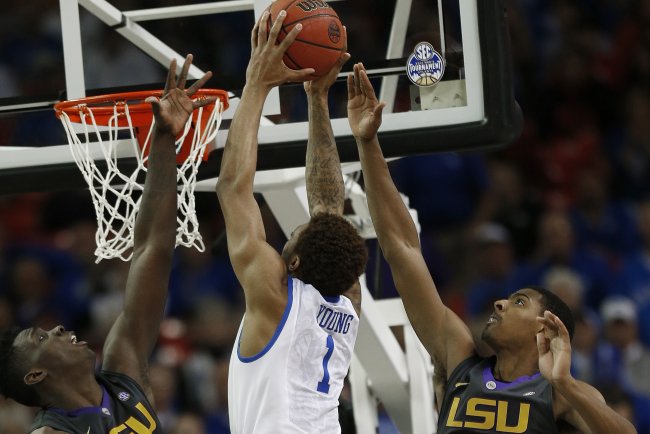 John Bazemore/Associated Press
This might have been an up-and-down year for Kentucky, but the talented squad came to play in the postseason.
LSU gave the Wildcats a lot of problems during the regular season winning one game and sending the other to overtime. However, John Calipari's team performed much better this time around and won this with easy.
The big difference came in the frontcourt, which helped the Wildcats outrebound the Tigers 48-32. Julius Randle had 16 boards while Dakari Johnson added 11. Willie Cauley-Stein also had a huge defensive day with six blocks.
Gregg Doyel of CBS noted that this was the best performance out of the big man in a while:
Willie Cauley-Stein is so good tonight, I'm kind of mad at him. Where has THIS been?

— Gregg Doyel (@GreggDoyelCBS) March 15, 2014
Offensively, James Young was the star with 21 points including 17 in the first half. Andrew Harrison also showed off his selflessness with eight assists in the win while taking only four shots.
As Kyle Tucker of the Courier-Journal points out, the team certainly left satisfied:
Cats are dancing and hopping off the court. That's one happy, relieved bunch.

— Kyle Tucker (@KyleTucker_CJ) March 15, 2014
LSU had strong performances out of Johnny O'Bryant (18 points and seven rebounds) and Jordan Mickey (12 points and 13 rebounds), but the squad could not come away with a win. After an inconsistent season, it seems like the best the Tigers could hope for at this point is an NIT bid.
Kentucky will now play the winner of Mississippi and Georgia in the semifinals as the team looks to keep gaining momentum heading into the NCAA tournament.
Georgia 75, Ole Miss 73
Charles Mann gave Georgia the lead twice in the final minute of the game and the Bulldogs held on when Jarvis Summers' final attempt just missed for Ole Miss.
This was one of the closest games you will ever see with neither team holding a lead of more than four points in the entire second half. Seth Emerson of The Macon Telegraph described it succinctly:
Final: Georgia 75, Ole Miss 73. What an intense game.

— Seth Emerson (@SethEmerson) March 15, 2014
Mann lead the Bulldogs with 16 points with an efficient 5-of-9 shooting. On the other hand, "efficient" is not how you would describe the play of Marshall Henderson of Ole Miss. The senior had 19 points but he made only five of his 21 shots, including a 2-of-16 effort from three-point range.
Jeremy Fowler of CBS points out that he is ending his career on quite a low note:
In possibly his last three games of his Ole Miss career, Marshall Henderson shoots 17-of-61 (27.9 pct), 11-of-48 from 3 (22.9 pct)

— Jeremy Fowler (@JFowlerCBS) March 15, 2014
The Rebels did get a better effort from Summers, who led all scorers with 26 points. While he would have liked some help, he was happy to play alongside Henderson throughout his career:
Jarvis Summers calls Henderson "one of the best teammates I've ever played with. His passion is unbelievable. He's a warrior." #OleMiss

— Parrish Alford (@parrishalford) March 15, 2014
Mississippi has a shot at the NIT after a 19-14 season, but even that is far from guaranteed.
Meanwhile, Georgia will advance to face Kentucky in the SEC semifinals. The Bulldogs would likely need to win the entire tournament to get a bid to the Big Dance, but they should get a boost from the home crowd in the Georgia Dome.
Kentucky will certainly have the athletic advantage in this matchup, but Georgia's defense will ensure that it is a close game.
What's Next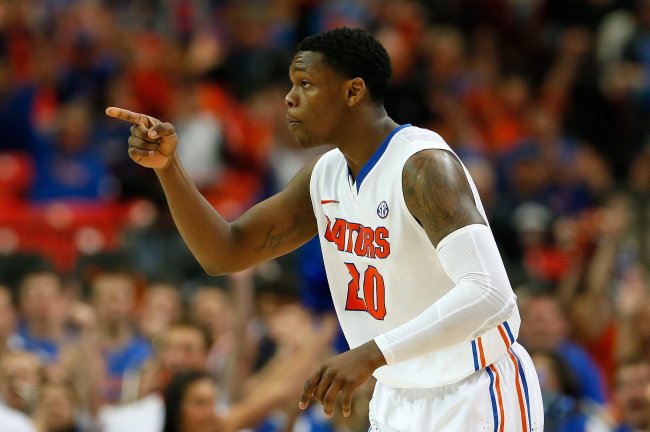 Kevin C. Cox/Getty Images
Florida took care of business against Missouri to improve its conference record to 19-0. The Gators will await the winner of the South Carolina-Tennessee matchup. Neither team provided much of a challenge to the top-ranked Gators this year, going 0-4 and losing by an average of 19 points.
If the Gators can win a game by 23 points against a borderline NCAA tournament team like Missouri without playing their best, it's hard to see anyone in the SEC giving them problems over the next two days.
If you want to talk sports, hit me up on Twitter.