Manchester United face Liverpool this Sunday in what is traditionally one of the season's most anticipated English Premier League fixtures. Although there is still way to go in the league, the match could have serious ramifications for both clubs' seasons. The stakes are still as high as ever.
Just a few hundred yards from Old Trafford stands a large warehouse. A reminder of Manchester's industrial heritage and of the dark, satanic mills of yore. At the top of the gloomy brick edifice in question, writ large in bright white paint, are the words: "Liverpool Warehousing Company Limited."
Manchester had built a ship canal as a means for goods to arrive in the landlocked city without the need to dock at Liverpool—thus avoiding costly taxes and transportation fees. Not to be outdone, enterprising Liverpudlian businessmen bought land close to the Manchester Ship Canal.
To this day, the building stands as a throwback to the bitter commercial battles between the two great cities, and is a source of pride for visiting Liverpool supporters.
The bitter battles continue to this day, through football.
In mid-April 1992, Manchester United were on the verge of their first league title in 25 years. An exciting season finale was being played out by the Red Devils, Leeds United and Sheffield Wednesday. However, the distraction of a League Cup victory over Nottingham Forest was to precipitate United stumbling toward the finish line.
Liverpool, meanwhile, were in a similar position to the Manchester United of today, as discussed by ESPN recently. At the end of a remarkable period of domination that spanned two decades, a new manager, Graeme Souness, had been installed. Making many changes to the playing staff, a season of transition ensued for the Anfield side.
Leeds United had wrestled their way to the top of the table while Manchester United played out their League Cup commitments. The Reds failed to take advantage of the games in hand, resulting in a must-win trip to Anfield.
Lying in sixth position, Liverpool were heading for their first finish outside the top two since 1981. What else could they offer their supporters in a disappointing season, other than by turning destroyer and ending United's faint title hopes once and for all?
And on 26th April 1992, that is what they did.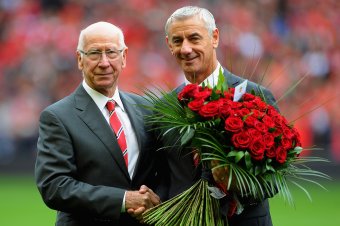 Michael Regan/Getty Images
Although Leeds United's 3-2 victory over Sheffield United actually confirmed the end of United's title dream for another year, Liverpool's 2-0 victory was a headline feature. To rub salt into the wound, prolific goalscorer Ian Rush—who had actually failed to score against United in 24 previous attempts—finally netted for Liverpool against their arch-rivals.
The match was a red-letter day in the history of the two clubs. The defeat stung United.
In an interview with Sir Alex Ferguson a few years ago, The Guardian commented that: "The Old Trafford crowd were as sick of Liverpool's success as they were United's failures. And so was Ferguson. It had made him a 24/7 obsessive."
The Scot once said: "It isn't just a job to me, it's a mission. I am deadly serious about it – some people would say too serious ... we will get there. Believe me. And when it happens life will change for Liverpool – dramatically."
Life did change for both Liverpool and Manchester United following that April day.
This season, although with more games left to go, as we prepare for the "North West Derby," there are clear parallels.
United, having near-dominated domestic football for two decades, are a team in transition, with a new manager. They currently lie in sixth place.
For their part, Liverpool have endured almost 24 years without a league title. Taking full advantage of United's free-fall this year, they have made a top-four spot a place of their own and have given themselves a chance of making a push for the title.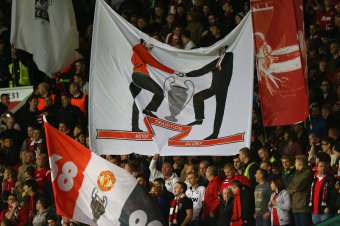 Alex Livesey/Getty Images
Defeat on Sunday would surely end any outside chance that United have to make UEFA Champions League qualification, but it is not for that reason alone that they must win. As Liverpool did in 1992, United must turn destroyer and deliver a hammer blow to their eternal rivals' title ambitions.
For Manchester United fans, there is no other option.