Kevin McHale was not happy.
The Houston Rockets coach sulked on the sidelines from the opening tip as his club quickly fell behind the Chicago Bulls on a nationally televised game on Thursday night. He was clearly disgusted with his team's effort during a hilariously petulant interview with TNT's Rachel Nichols at the end of the first quarter:
Rockets only trail by 5, but Kevin McHale pretty beside himself in our 1st quarter interview: "We didn't come out ready to play basketball"

— Rachel Nichols (@Rachel__Nichols) March 13, 2014
He had a right to criticize the effort of his players. Sure, the Bulls are not a natural rival for Houston, but the Rockets played a sloppy, lethargic game en route to a blowout 111-87 loss.
Chicago is not exactly known for its offense—it came into Thursday ranked dead last in the league, averaging 93.1 points per game. But it torched the Rockets' defense for nearly 18 points more than that season average. Thursday's total of 111 points was the second-highest total posted by the Bulls in regulation this season.
With the loss, the Rockets have now lost two games in a row. They were defeated 106-98 by the Oklahoma City Thunder in a tense, chippy battle between teams that are quickly turning into bitter rivals.
Why did Houston fail to bring that intensity with it when it traveled to Chicago? TNT broadcaster Steve Kerr called out Patrick Beverley in particular for his sluggish play. This was, after all, the same gritty point guard who hounded the Thunder's Russell Westbrook on defense to the point where the two players nearly came to blows on several occasions. Beverley did not bring that kind of fire on Thursday, nor did most of his teammates.
So where does this leave the Rockets? They've lost back-to-back games for only the second time since the last two games of the 2013 calendar year. They were 10-4 in January, 8-2 in February and 5-2 thus far in March. Those are not the marks of a team that is in a whole lot of immediate danger.
Fortunately for the fans in Houston, this loss looks to be little more than a blip on the radar.
A Perfect Storm
Two factors contributed to Thursday's blowout—one expected, and one surprising.
The first factor was Houston's total inability to hit its shots. The Rockets shot just 35.4 percent from the field as a team, their second-lowest output of the season. Outside of Dwight Howard (5-of-7) and backup point guard Jeremy Lin (7-of-13), the other Rockets were completely stymied.
Just check out the numbers from Houston's non-Howard starters:
James Harden: 2-of-7, eight points
Patrick Beverley: 3-of-9, nine points
Chandler Parsons: 1-of-11, two points
Terrence Jones: 1-of-9, two points
The two points were a season low for Parsons and the eight points tied a season low for Harden. When two of your top three scorers post season lows in points in the same game, your chances of winning go down precipitously.
But the Rockets should have expected such difficulties in Chicago, where they faced off against the league's second-stingiest defense. The Bulls have the ability to make even the best scorers look mediocre.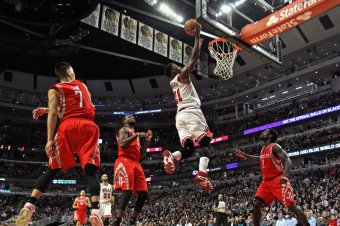 Jonathan Daniel/Getty Images
Despite its relentless D, Chicago can still be beaten on many nights because it lacks offensive firepower. This is where the Rockets really failed on Thursday; they allowed the Bulls far too many uncontested looks, particularly from beyond the arc.
The Bulls made 14 three-pointers on 24 attempts. Those are staggering numbers for a team that came into Thursday ranked 28th in the league in three-point attempts and 27th in makes.
Silver Linings
In the end, Houston simply ran into a far more motivated team in Chicago. The Bulls were already smarting from their last game—a blowout loss to the San Antonio Spurs.
They received further inspiration when forward Mike Dunleavy was sent to the locker room for stitches after suffering an inadvertent elbow from Parsons.
Not only did Dunleavy return to the game in the second half, he knifed through the deflated Rockets D for 18 points in the third quarter, essentially putting the contest on ice. Here is a copy of his third-quarter shot chart, courtesy of ESPN Stats:
Mike Dunleavy's 3rd quarter for @chicagobulls tonight made for a nifty-looking shot chart pic.twitter.com/Ua4DhwODqL

— ESPN Stats & Info (@ESPNStatsInfo) March 14, 2014
After the game, Bulls center Joakim Noah credited Dunleavy's return for firing up the team, per the Associated Press (via ESPN):
I think it inspired the team. He had a huge knot on his head looking like (Evander) Holyfield, the white version, coming out there putting on a new jersey, gutting it out in the second half shows, it was good for Duke's street credibility.
The game clearly meant more to Chicago than it did for Houston.
Perhaps the best thing to come out of this game, from the Rockets' perspective, was the inspired play of Lin. Houston's sixth man, who had been struggling of late, blitzed that tough Chicago D for a team-high 21 points.
According to B/R's John Wilmes, Lin can play a critical role in Houston's stretch run if he can get his game back on track:
Houston is simply a more difficult team when he's around as the back-breaking extra player, delivering slashing action distinct enough from James Harden's and Chandler Parsons' to push defenses into overload. He's also an ace at operating within the Rockets' uniquely relentless full-court mode.
In all honesty, the Rockets have relatively little to play for at the moment. They are a virtual lock to make the postseason, but have little chance of catching the Thunder or Spurs for the top two seeds.
Believe it or not, Houston might be better off remaining in the fourth seed; as of Thursday, that would guarantee a first-round matchup with the struggling Portland Trail Blazers.
The most important thing at the moment is for McHale to make sure all of his players understand their role and are playing at peak performance going to into the playoffs. Thursday's loss to Chicago isn't going to negate any of the progress they've made.
* All statistics courtesy of Basketball-Reference.