The NFL's version of March Madness that is free agency led to a flurry of moves, but the most surefire way to build a consistent winner in the long-term is still through the draft.
With that in mind, let's dig into a first-round mock draft consisting of calculated choices that every team can make.
1. Houston Texans: DE Jadeveon Clowney, South Carolina
Whether the Houston Texans take a quarterback or not with the No. 1 pick will set the tone for much of the early first round.
While taking one of the signal-callers off the board with the top pick will certainly be tempting, the thought here is that the Texans pair J.J. Watt with Jadeveon Clowney and make life incredibly difficult on opposing quarterbacks next year.
Teams won't realistically be able to double team both Watt and Clowney, so one of them is probably going to get into the backfield multiple times a game.
2. St. Louis Rams (via Washington Redskins): WR Sammy Watkins, Clemson
The St. Louis Rams need more offensive weapons surrounding Sam Bradford, and Sammy Watkins is the most explosive one available in the 2014 draft.
Watkins' speed, hands and ability to make defenders miss in the open field will match nicely with Tavon Austin. Look for Austin to play on the inside of the field in the slot role, while Watkins stretches the field on the outside.
3. Jacksonville Jaguars: QB Johnny Manziel, Texas A&M
The Jacksonville Jaguars have made a flurry of moves already in the offseason in hopes of turning around the franchise's recent fortunes.
Bleacher Report's Matt Miller has noticed:
Hey #Jaguars, damn fine job these past few days. The turnaround has begun.

— Matt Miller (@nfldraftscout) March 13, 2014
If that turnaround is to occur, the Jaguars will need a quarterback of the future to go along with their recent defensive additions (Chris Clemons, Evander Hood and Jason Babin, among others).
Johnny Manziel, with his ability to elude pressure in the pocket, hit receivers down field and change games with his individual talent, is just the fit. Chad Henne may be a temporary stopgap, but Manziel will assume the starting role soon enough.
4. Cleveland Browns: QB Teddy Bridgewater, Louisville
The Cleveland Browns need a quarterback, simple as that.
Yes, Brian Hoyer wasn't bad in his limited action in 2013, but he is something of a journeyman who is bouncing back from a season-ending injury. Cleveland will look to the future and take Teddy Bridgewater from Louisville.
Much like Manziel, Bridgewater can change games with his arms or legs. The Browns already have Josh Gordon and Jordan Cameron as targets, so Bridgewater will have plenty of talent to throw to in year one.
5. Oakland Raiders: QB Blake Bortles, Central Florida
Let's just say the Oakland Raiders aren't bringing in the Lombardi Trophy any time soon with the current quarterback situation.
Blake Bortles is the pick here, partially because Bridgewater and Manziel are already off the table. He has a big arm and isn't afraid of the bright lights, as was evidenced by his Central Florida team winning a BCS game over Baylor.
6. Atlanta Falcons: T Greg Robinson, Auburn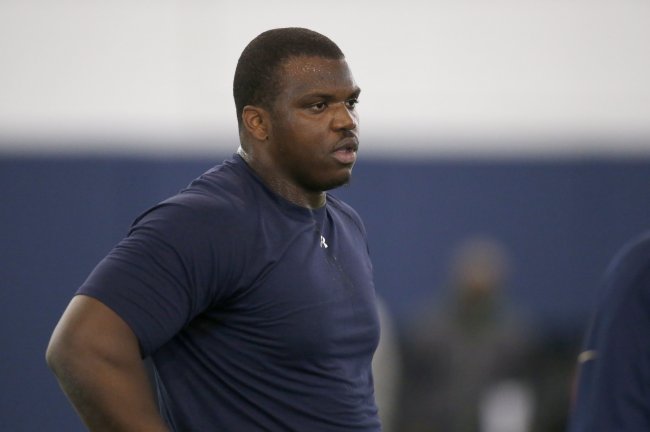 Hal Yeager/Associated Press
Pat Kirwan of CBS Sports feels that Greg Robinson is the answer for the Atlanta Falcons with the No. 6 pick: "A great pick and a 10-year starter protecting Matt Ryan's blind side. If it were me I would move up to get him."
The Falcons already added a guard in Jon Asamoah in free agency, so sliding Robinson at the tackle position would truly solidify the front line for years to come.
7. Tampa Bay Buccaneers: LB Khalil Mack, Buffalo
The Tampa Bay Buccaneers defense lost Darrelle Revis in free agency, but it would still be very potent if it added Khalil Mack in the draft.
Mack's best asset is his pass-rushing ability, as his versatility allows him to play with his hand down or attack from the outside. He is also solid against the run and has the athleticism necessary to stay with some tight ends if absolutely needed.
However, this would be a move to bolster the pass rush.
8. Minnesota Vikings: QB Derek Carr, Fresno State
Derek Carr will be an interesting case in the draft because he could be a top-10 pick or he could fall completely out of the first round.
The guess here is that the Minnesota Vikings aren't secure in having Matt Cassel as the long-term answer at the quarterback spot. With the headlining names of Manziel, Bridgewater and Bortles already off the board, the Vikings will look to the future and take Carr.
9. Buffalo Bills: TE Eric Ebron, North Carolina
Taking Eric Ebron at the No. 9 pick may be something of a reach, but Dane Brugler of CBS Sports feels it is the right move:
The Bills need to add a big, physical presence in the receiving game, whether at wide receiver or tight end. Ebron is a freak athlete who will instantly help the Bills offense and second-year quarterback EJ Manuel.
10. Detroit Lions: CB Justin Gilbert
The Detroit Lions will resist the temptation to pair Calvin Johnson with another wide receiver like Mike Evans to take a cornerback.
Considering the wideouts that Detroit has to face every year (Brandon Marshall, Randall Cobb, Jordy Nelson and Alshon Jeffery), having a solid secondary is important in the NFC North. Justin Gilbert will help solidify the back line of the defense for the Lions and ideally give them a No. 1 cornerback for years to come.
11. Tennessee Titans: T Jake Matthews, Texas A&M
The Tennessee Titans need depth on the offensive line, and they will catch something of a break when Jake Matthews falls to No. 11.
Matthews is about as NFL-ready as a tackle comes, and he will likely compete for a starting job in his first year wherever he goes. The Titans let David Stewart go, so Matthews may just win that starter role in Tennessee.
12. New York Giants: LB Anthony Barr, UCLA
Anthony Barr is an elite pass-rushing prospect, and the New York Giants need production and depth in that area.
Barr gets to the quarterback with his elite speed, as Bruce Feldman of CBS Sports and Ryan Kartje of the Orange County Register pointed out:
Electronic! RT @Ryan_Kartje: Jim Mora just told us that Anthony Barr ran a 4.45 electronically timed 40 at #UCLA's Pro Day.

— Bruce Feldman (@BFeldmanCBS) March 11, 2014
Much like Mack, Barr has the versatility to fill a number of roles from the linebacker spot in the NFL.
13. St. Louis Rams: CB Darqueze Dennard, Michigan State
The St. Louis Rams locked up an offensive weapon with the No. 2 pick in this hypothetical, so they will look to add a young and talented player to their developing secondary with the No. 13 selection.
Darqueze Dennard is a physical presence who has the size to hang with big receivers and the speed to prevent quick receivers from getting deep. Watching Dennard and Watkins go at it in practice would certainly be entertaining as well.
14. Chicago Bears: S Calvin Pryor, Louisville
We have been projecting defensive line help for the Chicago Bears with the No. 14 pick, but they have attacked that area in free agency (and will likely continue to do so later in the draft).
Anyone who has seen Chris Conte miss tackles and let defenders blow by him (remember Cobb on the fourth down Hail Mary on the season's last weekend?) knows the Bears need help at the safety spot.
Calvin Pryor will help Chicago stop deep balls like that and can assist against the run. Considering how poor the Bears were against the run last season, that versatility will work perfectly in the Windy City.
15. Pittsburgh Steelers: WR Mike Evans, Texas A&M
Do the Pittsburgh Steelers have needs that may be more pressing than the wide receiver position?
Probably, but they will shift into something of a best-player available mode and help the offense by selecting Mike Evans of Texas A&M.
Evans has top-10 talent, so getting him at No. 15 will be a steal. The Steelers need a tall threat to match with Antonio Brown, so Evans will be the way to go.
16. Dallas Cowboys: S Ha Ha Clinton-Dix
The Dallas Cowboys pass defense left much to be desired in 2013.
Adding Ha Ha Clinton-Dix to the secondary will pay immediate dividends.
He can help in dime formations from the get-go, is solid against the run and has a high ceiling, meaning Dallas can build around him going forward. Clinton-Dix is also used to playing under pressure from his days at Alabama, so the media spotlight on Dallas shouldn't be an issue.
17. Baltimore Ravens: T Taylor Lewan, Michigan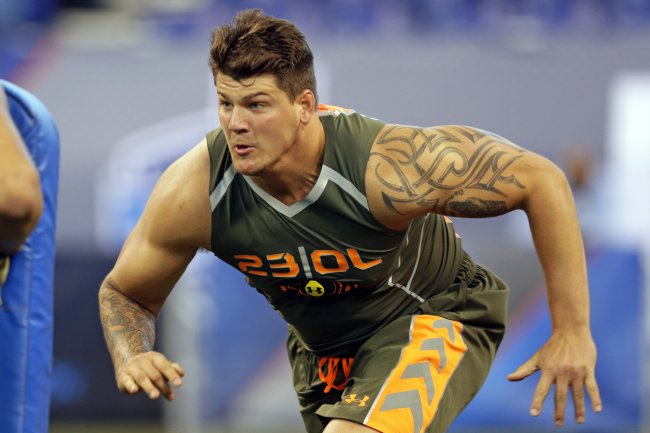 Michael Conroy/Associated Press
The Baltimore Ravens could use more depth at the wide receiver spot, but with Taylor Lewan still available, they will look to add some talented depth to the line.
Considering the sizable investment they made in Joe Flacco, keeping him upright would be ideal. Lewan can help do that for years to come.
18. New York Jets: WR Odell Beckham Jr.
The New York Jets signed Eric Decker, but that doesn't mean they are done addressing what was a glaring area of need heading into the offseason.
Odell Beckham Jr. has speed for days, which means he can stretch the field vertically for Geno Smith or Michael Vick. This would also allow Decker to beat defenders underneath, and suddenly the abysmal passing attack from last year wouldn't look so poor.
19. Miami Dolphins: T Zack Martin, Notre Dame
The Miami Dolphins need to add plenty of depth along the offensive line this offseason.
Brugler of CBS Sports thinks that Zack Martin of Notre Dame can provide just that:
The Dolphins might be able to get by with their patchwork offensive line for now, but no question an upgrade is needed. Martin looks like an All-Pro guard, but he will likely begin at tackle in the NFL until he shows he can't hold up there.
20. Arizona Cardinals: DT Ra'Shede Hageman, Minnesota
The Arizona Cardinals had a solid defense last year, but they could use an upgrade in the middle of the line.
Ra'Shede Hageman is the answer with the No. 20 pick.
Hageman can play on the end in a 3-4 set (or if necessary the middle in a 4-3) and will stuff running lanes from day one. He is also athletic enough, especially for his size, to put pressure on the quarterback.
21. Green Bay Packers: LB C.J. Mosley, Alabama
The Green Bay Packers need help on the defensive side much more so than on offense.
They will respond accordingly in the draft and select C.J. Mosley of Alabama.
Mosley is a natural leader who can stay with tight ends in the passing game or help fill holes against the run. Green Bay needs more depth at the linebacker spot after a season that included a number of decimating injuries.
Look for Mosley to give it just that.
22. Philadelphia Eagles: DT Aaron Donald, Pittsburgh
The Philadelphia Eagles need depth at the defensive tackle position and will catch a break when Aaron Donald falls all the way to the No. 22 pick.
Donald is an explosive prospect who can blow up a play with penetration up the middle. He is solid against both the run and pass, and will help clog up lineman for the rest of the Eagles front seven.
23. Kansas City Chiefs: WR Marqise Lee, USC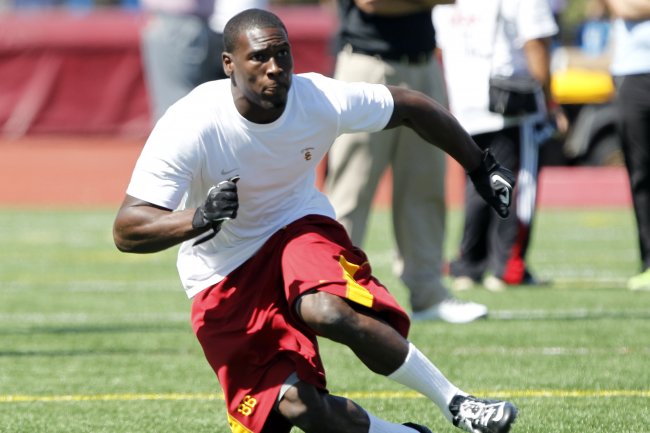 Alex Gallardo/Associated Press
The Kansas City Chiefs need an electrifying playmaker at the wide receiver spot.
They will take Marqise Lee from USC with the No. 23 pick in hopes that he can tap into his talent that made him one of the most dangerous players in all of college football.
It was easy to forget about Lee when USC struggled, but he commanded double teams, could make plays in traffic and has game-changing speed. The Chiefs need all of that on the outside.
24. Cincinnati Bengals: CB Jason Verrett, TCU
The Cincinnati Bengals need help in the cornerback department thanks to age and injuries, and they will have a number of options to choose from with the No. 25 pick.
The thought here is that they will go with Jason Verrett of TCU.
Verrett isn't the biggest corner in the draft, but he is a ball-hawking presence in the secondary who will challenge receivers in the slot. He can also blitz off the edge with his speed, which will give the Bengals defense an added dimension.
25. San Diego Chargers: CB Bradley Roby, Ohio State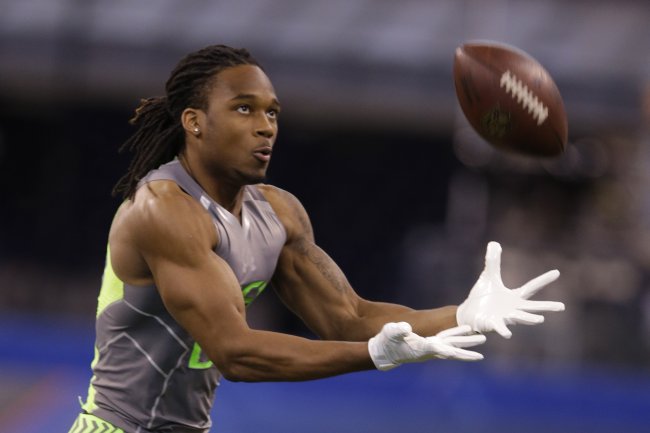 Michael Conroy/Associated Press
Much like the Cincinnati Bengals, the San Diego Chargers could use some depth in the secondary.
With Verrett off the board, they will look to Ohio State's Bradley Roby, who has elite-level speed but was somewhat inconsistent this season. Still, his ceiling and overall talent will be too much for the Chargers to pass up in the hopes that he develops better technique at the pro level and becomes a starter for years to come.
26. Cleveland Browns (via Indianapolis Colts): LB Ryan Shazier, Ohio State
Brugler of CBS discussed the interesting dynamic that will be in play for the Browns with the No. 26 pick, ultimately deciding that the selection will be Ryan Shazier from Ohio State:
If the Browns go quarterback at No. 4 overall, their second first-round pick is a wildcard with several need areas on the roster. And with the recent release of veteran D'Qwell Jackson, inside linebacker shoots to the top of that list. Shazier would be an interesting fit in that role, but it's one he could handle.
Shazier may be the fastest linebacker in the entire draft, so look for him to mix in the occasional blitz at the pro level.
27. New Orleans Saints: WR Brandin Cooks, Oregon State
The New Orleans Saints could use a potential big-play receiver on the outside for Drew Brees, and they will look to Brandin Cooks to be just that.
Cooks has a high ceiling because of his athleticism and speed, which will fit in perfectly with the Saints offense. Look for him to challenge for a significant role as a rookie.
28. Carolina Panthers: T Cyrus Kouandjio, Alabama
Bleacher Report's Miller pointed out that the Carolina Panthers have lost some talent this offseason:
Cam Newton has to be watching his offensive line and wide receivers leave and wonder what the hell is going on.

— Matt Miller (@nfldraftscout) March 13, 2014
Fortunately for their fans, they will look to replenish some of their depth on the offensive line after Jordan Gross retired by adding Cyrus Kouandjio out of Alabama. Kouandjio has the versatility to play on either side of the line, but the idea would likely be to develop him as a left tackle to protect Cam Newton's blindside for the foreseeable future.
29. New England Patriots: DT Louis Nix III, Notre Dame
SportsCenter (while crediting NFL.com) pointed out that Vince Wilfork doesn't envision his future being in New England:
THIS JUST IN: Patriots Pro Bowl DT Vince Wilfork asks for team to release him after 10 seasons in New England. (via http://t.co/ediRplFtBO)

— SportsCenter (@SportsCenter) March 13, 2014
The Patriots will need a space-eater to fill the void in the middle of the defense, and that is exactly what Louis Nix III can be at the next level. He was somewhat inconsistent at the college level in terms of production, but he has a high ceiling and will help swallow up running plays with regularity.
30. San Francisco 49ers: CB Kyle Fuller, Virginia Tech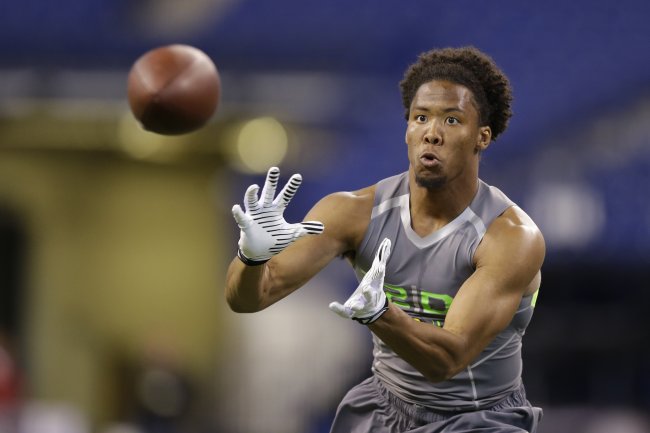 Michael Conroy/Associated Press
The San Francisco 49ers cut Carlos Rogers in the offseason and could use some depth at the cornerback spot.
With Verrett and Roby off the table, they will look to Kyle Fuller of Virginia Tech.
Fuller is an underrated corner who is a solid mix of size, physicality and athleticism. San Francisco would be getting someone with talent more befitting of an earlier pick, which is the type of value teams look for at the end of the first round.
31. Denver Broncos: DT Tim Jernigan, Florida State
The Denver Broncos already added DeMarcus Ware to help the defensive line in the offseason, but they could use some more size in the middle of the field. After all, Ware is more of an outside pass-rusher.
Tim Jernigan of Florida State can plug the middle for the Broncos and will likely be part of their rotation right away. With Ware filling the pass-rushing needs, Jernigan can help stuff the run.
32. Seattle Seahawks: WR Jordan Matthews, Vanderbilt
Taking Jordan Matthews with the No. 32 pick would be something of a stretch to end the first round, but there is a reason he set SEC receiving records while at Vanderbilt.
All Matthews does is produce, and with Golden Tate on the way out, the Seattle Seahawks will be looking to add reliable and consistent depth at the wide receiver position.
Matthews has terrific hands, is physical enough to go across the middle and has the speed to get by defenders. That is a combination that Russell Wilson can work with.
Follow me on Twitter: