The first few days of NFL free agency are among the most exciting (and confounding) of the lengthy offseason. Literally a billion-plus dollars gets handed out to players not deemed worthy of being franchised by their previous teams, while pundits go fundamentally batty by declaring one team a Super Bowl favorite in March.
It's all ridiculously fun and silly and, in the end, pretty darn stupid come Year 3 or Year 4 of most of those deals.
What few rarely analyze at this point of the calendar is how free agency alters the second-most interesting part of the doldrum months: the draft.
Because of the move back to May this year, nearly two full months separate the beginning of free agency from Roger Goodell stepping to the podium at Radio City Music Hall. With the combine long past and pro days not nearly getting the national recognition of what happens in Indianapolis, the draft feels strangely on the back burner at the moment.
That said, a few guys have to be disappointed following some of the big signings. As teams rush to throw big money at potential need spots, top prospects are seeing their number of suitors dwindle—and potential money rushing out of their pockets.
To contextualize: In no way, shape or form is a Top 10 talent going to drop all the way out of the first round because one of his potential matches signed a player at his position. But a guy may drop five spots, and that's a huge difference under the league's rookie wage scale. Last season, the difference between being selected No. 5 by the Lions and No. 10 by the Titans was more than $6 million, per Over the Cap.
The drop-down was obviously less severe as the picks went on, but five spots is roughly $1 million or more no matter where you are in the first round. Considering the nonexistent career length in the NFL—these kids aren't given second contracts just because, like in the NBA—that's not a small deal.
With that in mind, let's take a look at a few potential first-round picks who may have lost some suitors.
Nearly Every Top QB
Nam Y. Huh/Associated Press
Quarterback is perhaps the only position that remains entirely in flux. We know that Johnny Manziel, Blake Bortles and Teddy Bridgewater will go somewhere within the first round. We're also getting a pretty good idea that Derek Carr impressed enough teams with his combine performance that he should mix in somewhere within the Top 32.
Other than that, it's a complete crapshoot. There are some convinced Manziel will be the No. 1 overall pick, others Bortles and others Bridgewater. Houston hasn't acted on a quarterback yet, so it's still possible it likes one of these guys at the top of the draft. The potential for Jadeveon Clowney or Khalil Mack also exists.
Because of the flux at the top of the draft, though, the moves of other teams who were potentially looking at quarterback has to be a concern.
The Browns released Brandon Weeden and Jason Campbell, but they still have Brian Hoyer, and Mary Kay Cabot of The Plain Dealer reported they're targeting Matt Schaub—assuming he's released. The Rams seem willing to hold onto Sam Bradford and his fat cap for another year. The Vikings re-signed Matt Cassel and the Jaguars Chad Henne to similar two-year contracts.
Neither Henne nor Cassel is the long-term answer for either franchise, but both look like overwhelming favorites to be the Week 1 starter in their respective cities. Jacksonville head coach Gus Bradley named Henne his starter in a meeting with reporters. Cassel's deal is worth $5 million per season, per ESPN.
These signings don't preclude the Vikings or Jaguars from taking a quarterback. They just make it inherently less likely. Teams no longer draft quarterbacks in the first round with the plan to sit them Steve Young style. The expectations have changed, especially considering the success of young signal-callers of late.
Houston, Oakland and Tampa Bay could add a quarterback, but we're no longer in a spot where all three guys are virtual locks for the top 10. And given how bleak the market looks for QB-needy teams beyond Minnesota at No. 8, there's the potential for at least one of these guys to nosedive on draft night.
Late 1st-Round Cornerbacks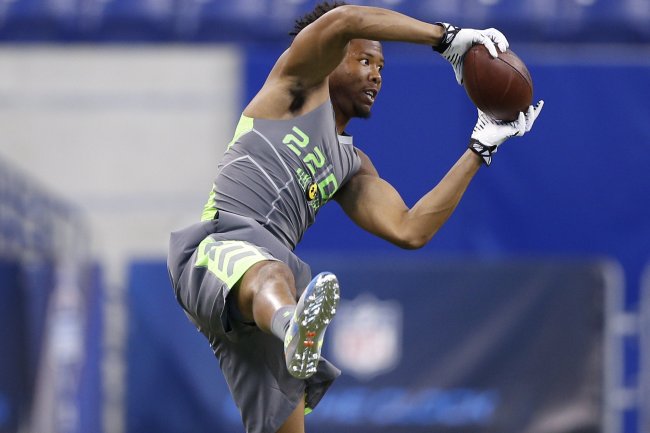 Joe Robbins/Getty Images
Specifically: Bradley Roby, Jason Verrett and Kyle Fuller. Odds are, at least one of these guys winds up dropping out of the first round, and we're not even remotely done with the cornerback market yet. Dominique Rodgers-Cromartie, Charles Tillman and other similarly tiered players are yet to find new homes.
The aforementioned trio better hope they don't sign with contenders. Darrelle Revis signing with the Patriots and Aqib Talib with the Broncos took two potentially cornerback needy teams off the market, as did the Packers' re-signing of Sam Shields.
In alternate universes, all three teams could have been desperate for a corner toward the end of Round 1 and even potentially moved up to take someone like Fuller, whose combine performance was outstanding.
Now, they're more likely to hang back and fill in depth at the corner spot in later rounds while filling holes elsewhere in the first.
Because of the inherent unpredictability of the draft at this point, Roby, Verrett and Fuller might not even be first-round prospects come May. All three showed potential to be shutdown guys in college, but consistency was almost nonexistent. Fuller is the hottest name for right now, so if I were to bet, he'd be the safest selection.
Even eliminating Denver, New England and Green Bay from the mix, there are still a few teams with glaring needs. The Chargers should do any and everything to fix their dilapidated defense. The Bengals need someone to work across from Leon Hall—and provide long-term insurance in case his health issues crop up again. The 49ers are set at nearly every position, but cornerback is one of their few relative needs.
With the proliferation of pass-first offenses across the NFL, there's always room for more cornerbacks on the roster. It will just be interesting to see whether these teams choose to add depth in the first or someone like Verrett falls into the second day.
Follow Tyler Conway on Twitter: