Who's got it better than the San Francisco 49ers? Well, that's what some players are trying to find out in free agency.
A few players like Antoine Bethea have joined the team while others have re-signed during the offseason. Then there were those like Carlos Rogers, who was cut, and even Donte Whitner, who left for greener pastures to join the Cleveland Browns.
For a team like the Niners, who are already one of the best teams in the NFC and could compete yet again for a return to the Super Bowl after being denied in 2013, not many moves seemed necessary to improve for 2014.
But with players still out on the market that can help San Francisco improve after the loss of Rogers and others, it doesn't appear the team is going to be quiet for the remainder of free agency.
Here's a look at current players being courted by new teams and some of the players that the Niners are still working on bringing to San Francisco for the 2014 season.
Chris Cook Visiting Visits With Niners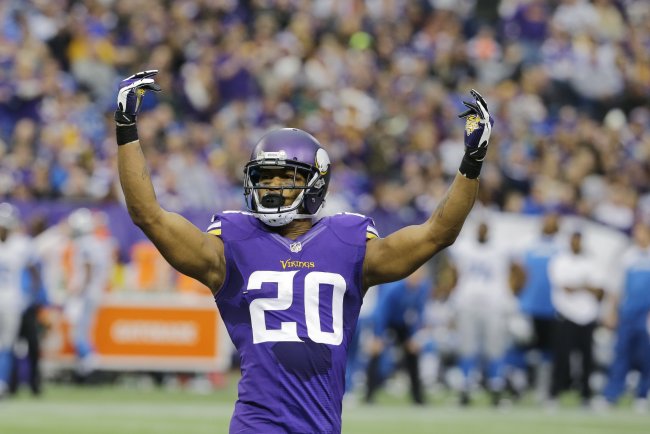 Ann Heisenfelt/Associated Press
The 49ers are in need of a cornerback. Chris Cook is looking for a new team.
With both having a need, Chris Tomasson of the St. Paul Pioneer Press reports that the two sides met on Thursday:
Source confirms Vikings free-agent cornerback Chris Cook to visit 49ers Thursday. Cook said earlier today he knew nothing of 49ers interest.

— Chris Tomasson (@christomasson) March 13, 2014
According to Matt Barrows of The Sacramento Bee, that could be a match that works for both sides:
The 49ers will host free-agent cornerback Chris Cook, who has the tall, long-limbed profile they covet at the position, on Thursday, a league source said tonight. The 6-2 Cook was a second-round pick by the Vikings in 2010. And while he doesn't have elite stats -- no interceptions in four seasons -- he does have the long arms (32 1/2 inches) general manager Trent Baalke likes and he figures to fit under the 49ers' quickly contracting salary cap.
But with the legal trouble that Cook has been through over the last few seasons with the Minnesota Vikings, the risk might not be worth the reward.
Regardless of whether or not he fits the profile for the Niners, Cook has been a shell of himself lately. Without a pick in the last four seasons and a member or a Vikings defense that was picked apart almost as badly as the Dallas Cowboys.
With several other possibilities out on the market, San Francisco will likely look to another player to take over in Rogers' place.
Anthony Dixon Touring the East Coast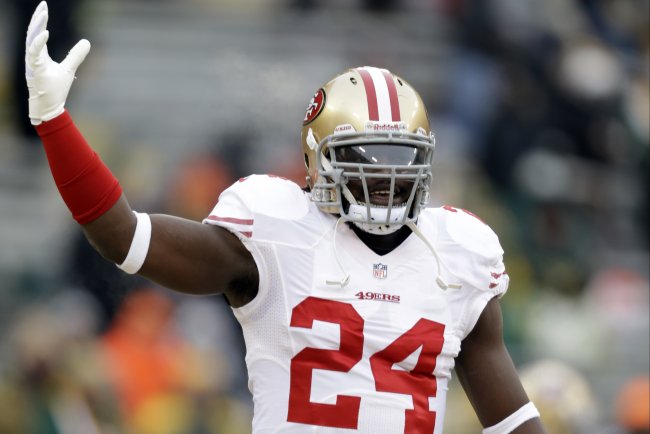 Jeffrey Phelps/Associated Press
While the 49ers are busy trying to build for the future, Anthony Dixon is looking for a team where he can be featured in a more premier role after becoming frustrated at his lack of playing time last season. After spending the last four seasons in San Francisco, his free-agent tour has taken him across the country to visit with interested teams.
The back is taking his talents up and down the East Coast, with his latest stop coming at Buffalo, per his official Twitter account:
Headed to the Airport....next stop Buffalo NY

— Anthony Dixon (@Boobie24Dixon) March 13, 2014
With the Buffalo Bills already having the likes of both C.J. Spiller and Fred Jackson, Dixon might be used more on special teams in Buffalo. But that wasn't the only stop for Dixon, as he visited with a team where he might be getting a chance to line up behind the line of scrimmage.
Jim Wyatt of The Tennessean reports that Dixon met with the Tennessee Titans before moving on to Buffalo:
#49ers RB Anthony Dixon, who visited the #Titans on Wednesday, said via Twitter he's headed to Buffalo next.

— Jim Wyatt (@jwyattsports) March 13, 2014
Perhaps a better fit for the former Mississippi State running back, the Titans recently put featured running back Chris Johnson on the trade market per Mike Florio of Pro Football Talk. With the backfield cleared up, outside of Shonn Greene, Dixon would have a chance to flourish in Tennessee.
With his days in San Francisco likely over, Dixon could wind up with a number of different teams. And with the shelf life on running backs being so short, the 26-year-old will likely enjoy this experience throughout the coming days before making a decision.
Walter Thurmond Going Behind Enemy Lines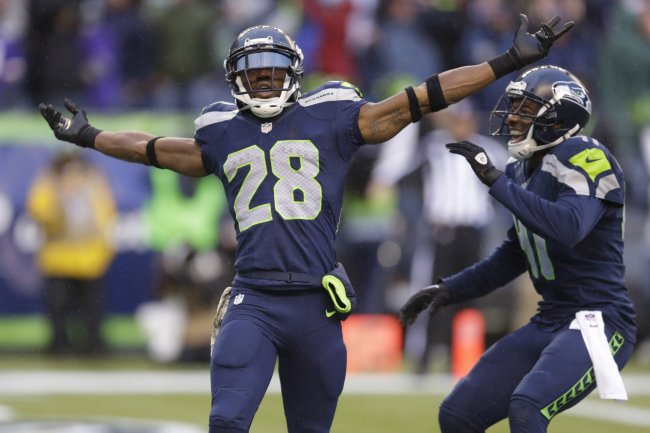 Ted S. Warren/Associated Press
Which corner should the 49ers sign?
If you can't beat 'em, join 'em. In this case, it's the other way around as a Seattle Seahawks player could be coming over to the 49ers.
After defeating the Niners last season and winning a Super Bowl, Walter Thurmond might be switching sides in the rivalry. The same man that had two passes defended against Colin Kaepernick in Week 2 of last season could be working to get the ball back in his hands in 2014.
Thurmond tweeted the news that he was leaving for San Francisco after meeting with the Jacksonville Jaguars on Thursday night:
Great visit with Gus and the Jaguars Organization, some good people. They're headed in the right direction. Now off to San Fran.

— walter thurmond III (@WaltThurm3) March 13, 2014
That news was clearly met with some hostility as he tweeted afterward that he hadn't made up his mind:
People need to chill, I haven't made a decision. It's a visit. You know like college recruiting,same thing smh

— walter thurmond III (@WaltThurm3) March 13, 2014
Like several other members of the Seattle secondary, Thurmond violated the NFL's substance abuse policy and was suspended for four games last season. But during his time on the field, he came away with six passes defended, a sack and an interception returned for a touchdown.
With the Niners still frantically searching for Rogers' successor, Thurmond would make a perfect fit. Thanks to him already having a vast knowledge of the NFC West, there might be no better fit for the 49ers than the 26-year-old corner.
Follow R. Cory Smith on Twitter: