Thanks to the recent surge that has left Joakim Noah in the MVP conversation, the Chicago Bulls can officially start thinking about how to achieve success in the playoffs, not just about advancing past the 82nd game of the regular season.
In the postseason, rotations shrink and every possession becomes increasingly valuable, which leaves Tom Thibodeau with a tough decision to make.
Should he continue giving major minutes to Carlos Boozer before letting Taj Gibson line up at power forward when the defense needs to lock down during the closing stretch, or should he consider Boozer a sunk cost and hand the larger role to the current backup?
Come to think of it, that's not really a tough decision.
Which Player Is More Engaged?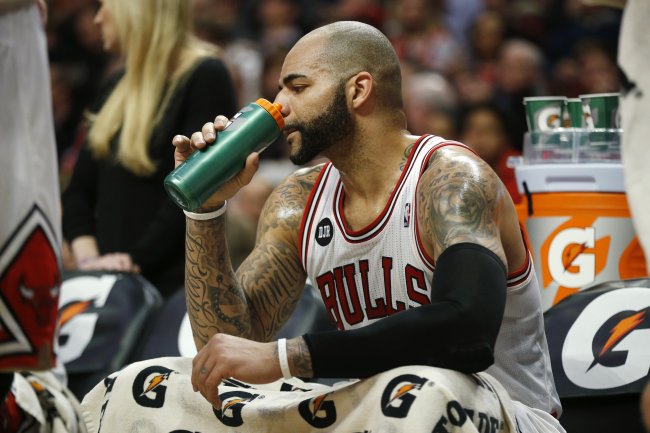 Andrew Nelles/Associated Press
Everything is going well for the Bulls in recent weeks, so it wouldn't be entirely unreasonable to expect excitement and positivity from the players involved. Winning is the ultimate panacea in the NBA, something that tends to make fans forgive past wrongs and players accept lessened roles.
Displaying unhappiness while playing limited minutes on a losing team is understandable. Doing the same thing while a team is rolling through the Eastern Conference is entirely different.
Chicago was only 12-18 entering 2014. Now it's 35-29 heading into a Thursday night showdown with the Houston Rockets, leaving the Bulls right in the thick of the surprisingly competitive race for the No. 3 seed in the East.
Not only did the Bulls win 11 of 14 games during most of February and the beginning of March, but a close loss to the San Antonio Spurs on March 11 pushed the record to "only" 6-4 over the past 10 games.
Good vibes should abound from the Windy City. Well, unless you're talking to Boozer.
As Joe Cowley reported for the Chicago Sun-Times in between the Bulls' overtime victory over the Miami Heat and loss to San Antonio, discontent is brewing:
Whether it's a lack of playing time in the fourth quarter or the reality that his contract could be amnestied this summer, there seems to be a disconnect lately between Carlos Boozer and the media.

Case in point: Asked to talk to awaiting reporters after a recent practice, Boozer declined and said loudly, "I don't give a damn.''
Does that sound like someone who's actually happy in his current situation?
Chemistry matters in the NBA, and having a player who isn't going to cause behind-the-scenes problems is highly beneficial. On-court issues would be even worse.
Fortunately, none exist when we're talking about Gibson.
"One day when we get him back, it's going to be wonderful. We've just got to keep building, keep your eyes on the prize and just keep getting better each and every day," the Sixth Man of the Year and Most Improved Player candidate told the Epoch Times' Jack Phillips. "Because he's getting better, and when he comes back we can just keep rolling and just keep building."
Gibson was referring to Derrick Rose, but that's not entirely relevant. More important is the general feel of the quote, as it underscores the hopeful nature of this power forward.
Maybe it's because he's still seeking success at a high level and trying to prove himself, but Gibson is fully engaged both on and off the court. He plays like he's genuinely excited to be helping the Bulls contend, and his energy and enthusiasm would both be contagious in a different situation.
Why in a different situation? Because the Bulls all play with those qualities already, so Gibson can't exactly rub off on them.
Well, all of the Bulls except Boozer. Don't let the tough-guy screams and constant "and-1" shouts distract you from the brewing discontent.
Defense Wins Championships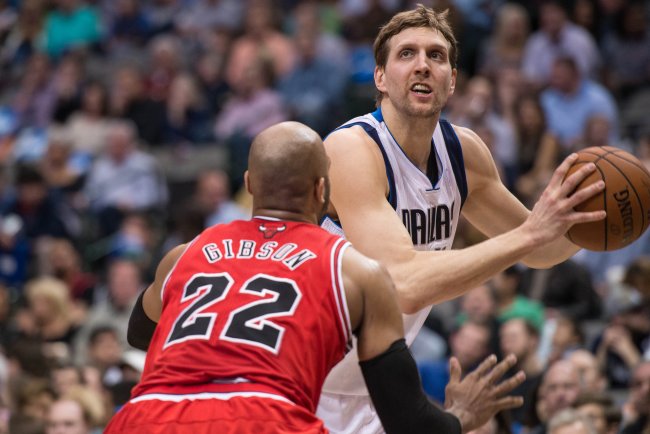 Jerome Miron-USA TODAY Sports
The Bulls are not going to win with offense.
This is a defensive team with a defensive roster and a defensive coach calling the shots from the sideline. When Chicago is at its best, everyone is clicking and preventing points at a ridiculously high level, ensuring that opponents have to grind out every possession and make contested shots to even have a small shot at a victory.
According to Basketball-Reference, Thibodeau's squad allows just 100.7 points per 100 possessions, which is the No. 2 mark in the Association. Only the Indiana Pacers have been better throughout the 2013-14 campaign, and the Bulls have a sizable advantage over the rest of the league.
On the flip side, this has been one of the worst offensive teams in the Association.
Only the Philadelphia 76ers are scoring fewer points per 100 possessions, which essentially means that the Bulls are being outscored by every single NBA team. Philly counts as a D-League squad after trading away almost all of its NBA-caliber talent prior to the deadline.
Chicago wins through its defense, and Gibson is a much better defender than his counterpart in the frontcourt.
It's as simple as that, but we'll look at some numbers anyway.
First, we have the player efficiency ratings allowed to opposing big men, courtesy of 82games.com:
PER Allowed

| | | |
| --- | --- | --- |
| Player | PF | C |
| Carlos Boozer | 16.1 | 18.9 |
| Taj Gibson | 13.3 | 16.5 |
82games.com
Boozer isn't even in the same atmosphere as Gibson, much less the same neighborhood. And don't be confused by numbers from Synergy Sports (subscription required), because while they paint Boozer in a more favorable light, they're completely devoid of context.
Help defense does not exist in Boozer's world. He never strays far from his man, which allows him to post better individual numbers than you might expect, ones that are misleading when they're looked at in a vacuum.
In fact, only one set of numbers should truly matter here, and that's how the Bulls fare with and without each power forward: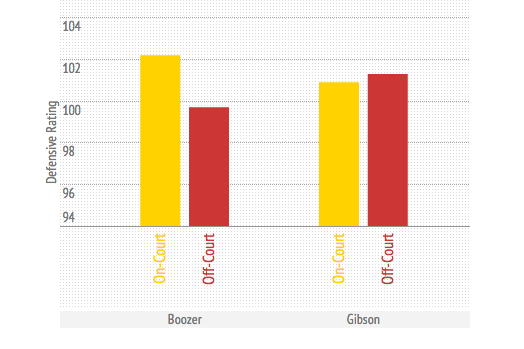 Infogr.am.
Interpreting that one isn't particularly hard.
The Bulls are much worse on defense when Boozer plays, and they're slightly better with Gibson on the court. Anyone who's watched each of the two power forwards go to work over the last year shouldn't be particularly surprised.
Both players subscribe to Yoda philosophy, after all.
When it comes to defense, Gibson does. Boozer does not.
"Yes, Tom Thibodeau's system is the major reason for the Bulls defense's effectiveness, but without players like Gibson executing it, the system wouldn't work," writes B/R's Kelly Scaletta. "Gibson helps hide teammates' weaknesses, and it shows in the numbers. He is not a beneficiary of the Bulls' great team defense; he's a part of the reason for it."
The Bulls Are Just Better with Gibson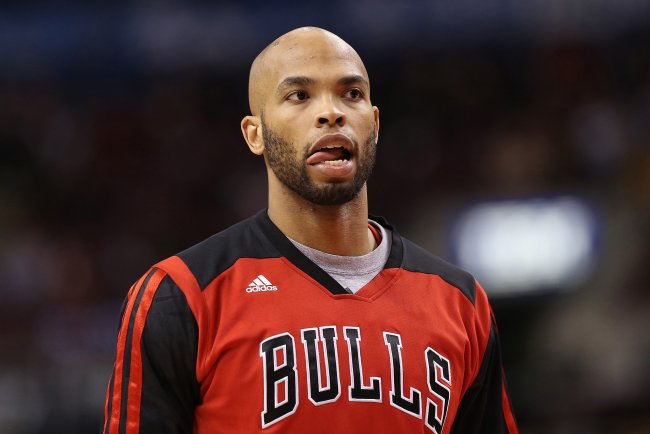 Tom Szczerbowski-USA TODAY Sport
Gibson isn't only better on defense, though.
Basketball-Reference shows that Chicago scores an additional 4.5 points per 100 possessions when he's on the court, which is already a pretty striking development. And it looks even better when contrasted against Boozer's numbers.
Despite the pretty nature of his mid-range jumper, Boozer makes the Bulls worse at producing those ultra-valuable points. Too much of the offensive system has to change in deference to his shooting habits, and the results are far less aesthetically appealing than his jumper.
Chicago scores 99.3 points per 100 possession when the Duke product is on the court. When he sits, that number skyrockets to 105.2.
Let's put that in perspective.
The first number would be better than only the current mark of the 76ers, while the latter would give Chicago the No. 20 offense in the NBA. That's a big jump, especially when coupled with such a suffocating defensive unit.
So essentially, the Bulls have to choose between the player who makes them better on both ends of the court and the overpaid veteran who does the exact opposite.
Hmmm...that's a toughie.
It only gets more difficult when you look at this tweet:
This is interesting. It shows what the Bulls do when Gibson and Boozer play with the other starters. pic.twitter.com/a2fJrfWKCc

— Kelly Scaletta (@KellyScaletta) March 10, 2014
Oh wait, it actually gets even easier!
Unless Chicago is absolutely dead set on shoring up its defensive rebounding percentage (even though it already ranks No. 5 in the Association), playing Boozer over Gibson is absolutely nonsensical. Let the older 4 come off the bench and provide a scoring spark for the second unit.
This should not be a tough decision.
Who should start for the Bulls?
Then again, I've been saying that for years, and Boozer has still maintained his stranglehold on the starting spot.
Thibodeau is a mastermind on the sidelines, and he excels in a lot of areas—defensive coaching, stomping in frustration, speaking with a gravelly voice, motivating his team and delivering terse interviews.
Maybe we should add stubbornness to the list.