Bellator featherweight champion Daniel Straus squares off against former 145-pound king Pat Curran at Bellator 112 on Friday inside the Horseshoe Casino in Hammond, Ind.
The bout serves as a rubber match for these fighters. Curran initially defeated Straus via second-round KO in April 2009 at Xtreme Fighting Organization 29, while Straus bounced back and stole Curran's featherweight strap via unanimous decision at Bellator 106 in November 2013.
Straus' improvements allowed him to control the action and best Curran in all facets of the sport—an unsurprising outcome for the newly minted featherweight champ.
"I'm damn good at what I do," Straus told Bleacher Report. "No matter who says it, who likes it, who doesn't like it—I'm really good at what I do, and I'm going to continue being good at what I do."
With a 22-4 record that includes his current six-fight winning streak, it's hard to argue with him.
Straus is a world-class combatant inside the cage, but he feels that he still doesn't receive the recognition he deserves.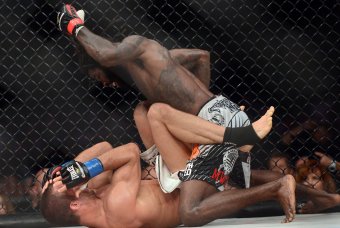 Jayne Kamin-Oncea-USA TODAY Spor
"I don't think I'm getting that respect," Straus said. "If you think he [Curran] is a top-10 guy and I beat him, then I think I should be [a top-10 fighter]. It's kind of funny how things go. You beat one of the highly ranked guys and you're still not a highly ranked guy. You kind of sit back in the shadows."
Straus' impressive streak of late has done little to elevate his name and status among the sport's elite. You won't find him in many pound-for-pound top-25 lists, and you won't hear his name mentioned in the same breath as UFC featherweight champion Jose Aldo or even top UFC featherweight challengers.
This, to Straus, does not compute.
"I beat a guy [in Pat Curran] that some people thought was one of the top three fighters in the world," Straus said. "That didn't put me in the top three. I have a better record than he does. It's frustrating, but it doesn't bother me at all. It is what it is, and I'm just going to keep proving what I have to prove to be a better fighter."
The first step for Straus to prove his worth is to defeat Curran again Friday evening.
While he has already faced Curran twice in professional MMA action, Straus says that every fight is different, and there is little to take away from their previous encounters.
"Whether we fought 100 times or two times or three times—whatever—I have to focus on the task at hand," Straus said. "I can't worry about the fights we had in the past or the fights we're going to have in the future. I'm only worried about this fight."
Beyond Curran, two Bellator featherweight tournament winners—Magomedrasul "Frodo" Khasbulaev and Patricio "Pitbull" Freire—await their shot at glory under the Bellator banner. They want Straus' belt, and while the current champ recognizes their existence, he refuses to acknowledge them as threats at this time.
"They both won tournaments, [and] they're both very good fighters," Straus said. "I'm looking forward to facing those guys, but my mind's not set on them now. When I get there, I'll get there. Pat's the guy I'm fighting next, so he's the guy I must destroy next."