Barcelona's 4-1 aggregate win over Manchester City may have knocked the English side out of the Champions League, but it's the performance of referee Stephane Lannoy that has dominated much of the reaction after a dramatic second leg at the Camp Nou.
La Blaugrana ran out 2-1 winners on the night, but in all honesty, the result was heavily influenced by miscues from the leading official. Both teams should have been awarded penalties, Barca had a goal wrongfully ruled out for offside and Pablo Zabaleta's red card appeared harsh.
It was the City right-back who led criticism of Lannoy after the match, suggesting he was baffled as to why the second yellow was shown, per Rik Sharma of the Daily Mail:
I don't know why I got a red card because I went to him to talk in a good way. I was a little bit angry to him because he didn't give the penalty but I was always respectful to him.

I am very frustrated at the decision because it was a shocking decision. I am disappointed but also very proud of the team because I think we played a fantastic game.
Prior to the Zabaleta's dismissal in the 78th minute, Lannoy and his colleagues missed a trio of simple calls that would have changed the outlook of the match. The first of these was Joleon Lescott's trip on Lionel Messi, an occurrence that should have yielded an early penalty for the Catalan side, per 101 Great Goals:
Penalty?! Lionel Messi was tripped by Joleon Lescott in the Man City box [Pictures] http://t.co/KK4niKiDj5 pic.twitter.com/7VtfyF3VIB

— 101 Great Goals (@101greatgoals) March 12, 2014
Messi could have effectively ended the tie by sticking a spot-kick away in the eighth minute. Thom Gibbs suggested it "certainly should have been a penalty" during his live coverage for The Telegraph. Although a disappointing start by Lannoy, the worst was still to come.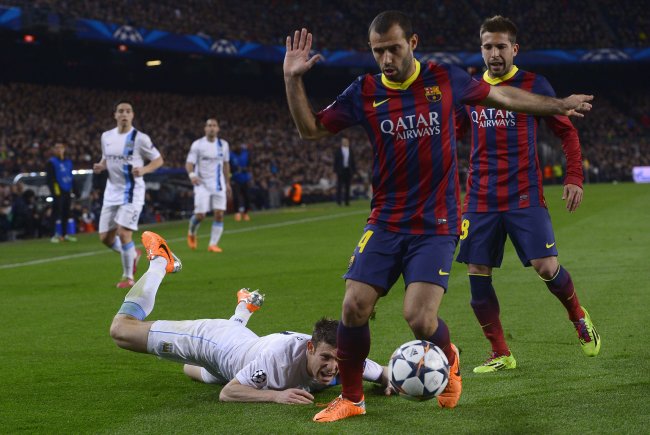 Manu Fernandez/Associated Press
Ten minutes after the penalty incident, Neymar had a tap-in wrongfully ruled out for offside after Jordi Alba was adjudged to have been in an illegal position. It really could have been game over at this point, as Barca deserved to be leading 2-0 on the night. Dermot Corrigan of ESPN FC hushed those who believe UEFA have a pro-Barcelona attitude:
No offside for that goal there either, together with Lescott penalty hardly pro-Barca reffing conspiracy here so far...

— Dermot Corrigan (@dermotmcorrigan) March 12, 2014
As highlighted in totalBarca's tweet, Alba was clearly kept onside by at least two City defenders:
Goal Neymar wrongly disallowed for offside Alba http://t.co/d6PbT38rUi (vine) (via @champ_ian) #fcblive

— totalBarça (@totalBarca) March 12, 2014
Bleacher Report UK guest columnist Guillem Balague also spoke of Barcelona's bad luck by indicating an alleged bias in favour of the La Liga club is nothing but a myth.
FCB denied a pen+a goal that should have counted. UEFA against Barcelona again.Or is other way round?Forgot what latest (fake) conspiracy is

— Guillem Balague (@GuillemBalague) March 12, 2014
While lucky to still be in the tie when Edin Dzeko was "blatantly fouled" by Gerard Pique inside the box, per Dan Ripley of the Daily Mail, Lannoy continued to wave away obvious decisions by failing to reward the Capital One Cup winners a chance of getting back into the match.
Reaction was understandably fierce as the referee's mistakes continued to tot up. Southampton's Luke Shaw and on-loan Everton forward Romelu Lukaku were amongst the first to react to Lannoy's third blunder of the night:
How is that not a penalty?

— Luke Shaw (@LukeShaw3) March 12, 2014
Oooh my days thats a pen

— R.Lukaku Bolingoli (@RomeluLukaku9) March 12, 2014
Zabaleta was sent off as a result of protesting this moment, confirming City's eventual defeat. Despite grabbing a late equaliser after Messi's deft dink over Joe Hart, Dani Alves' late strike eased Barca into the quarter-final draw.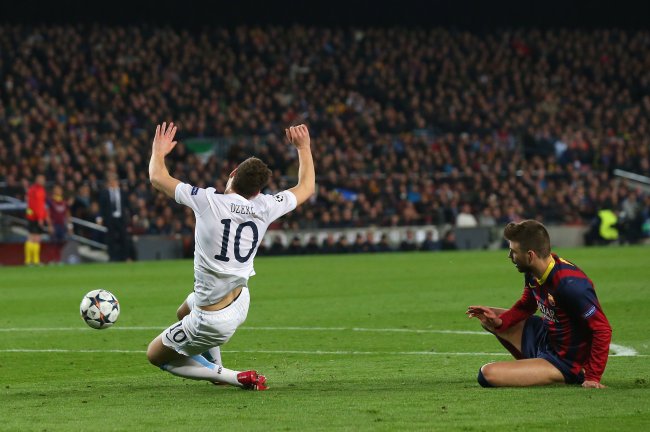 Alex Livesey/Getty Images
Twitter was understandably inundated with public reaction, but the unified response of the press said it all about Lannoy's display. Mark Ogden of The Telegraph, German-based pundit Jan Aage Fjortoft and Bleacher Report UK's very own Jerrad Peters led the criticism:
Kompany, Fernandinho and Dzeko all giving the referee a bit of earache at the end of the game. Lannoy not had the best of nights.

— Mark Ogden (@MOgdenTelegraph) March 12, 2014
Dear referee Lannoy! Barca should have had a pen 1st half. Man City now. And then you send Zabaleta off. Not your best day Monsieur

— Jan Aage Fjortoft (@JanAageFjortoft) March 12, 2014
Seems both City and Barcelona fans are Lannoy'd with the referee this evening. (I'll show myself out.)

— Jerrad Peters (@jerradpeters) March 12, 2014
Barcelona midfielder Cesc Fabregas commented on the slew of referring mistakes after the game, but acknowledged the result ended up favouring the dominant team across two legs, per Tom Rostance of BBC Sport:
We created a lot of chances, we had a goal which was onside ruled out and could have had a penalty.

[...] Maybe City should have a penalty but we could too. When you play for Barcelona the minimum is to reach the final. We know it's difficult with the teams still in the tournament.
While Barca undoubtedly deserved to advance after controlling possession and the flow of both ties, there's no denying Lannoy's decisions may have severely altered the contest. City are likely to have thrown Dzeko on earlier if the penalty was conceded by Lescott, while Barca may have rested key players if Neymar's goal had counted.
The tie was almost beyond City by the time Dzeko was hauled down, but again, a decision in the attacking club's favour could have produced a more ambitious response from Manuel Pellegrini's men.
It's a shame that, after 180 minutes of entertaining football, Lannoy's name is stamped across the headlines alongside those who scored the goals.