Arsene Wenger has held heart-to-heart talks with Arsenal record signing Mesut Ozil over his future at the Emirates.
John Cross of The Mirror reports that the French manager and the 25-year-old German superstar have engaged in communication after the player's crash in form.
Cross describes Ozil as "left struggling mentally after missing a penalty in the first leg against Bayern."

His report continues:
Ozil has struggled at times to settle since his summer move from Real Madrid, and his family have been taking it in turns to visit him as he adapts to his new life in London. But Wenger's unwavering faith in Ozil will be a big comfort to the 25-year-old, who has become yet another injury worry for Arsenal.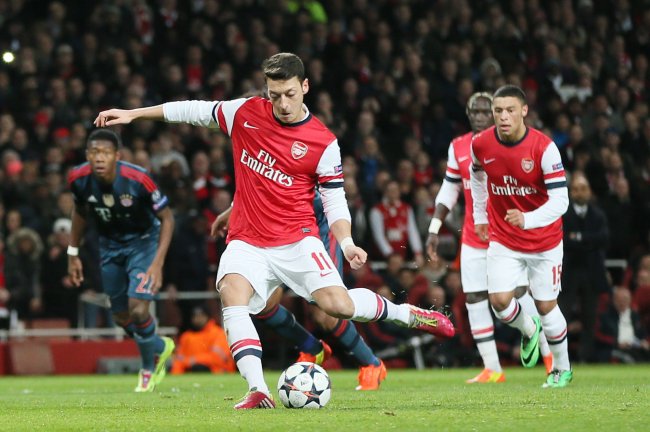 Alastair Grant/Associated Press
Cross also says the injury sustained by the player in this week's Champions League defeat will keep him out until mid-April.
Ozil has been criticised in some quarters of the press in recent times. The former Real Madrid man contributed nine goals and created 91 chances in 32 La Liga performances last season, per Squawka.
However, for the Gunners he has managed to score just four times in 22 Premier League outings.
Tom Williams of AFP tweeted about Ozil after Arsenal's game at Bayern Munich on Tuesday:
L'Equipe gives Mesut Ozil 2/10 for his performance last night. Says he was "invisible" and "made no effort defensively".

— Tom Williams (@tomwfootball) March 12, 2014
However, Gary Neville gave a more rounded assessment of Ozil's form and believes this is only a temporary blip for the North London side's talisman.
He tweeted:
Ozil getting a hard time. He's obviously dipped this last couple of months and first season in a new league ( Xmas football ) can take ---

— Gary Neville (@GNev2) March 12, 2014
Some getting used to even with the price tag.Some players can carry lack of form better than others.His body language suggests he struggles-

— Gary Neville (@GNev2) March 12, 2014
And at the moment looks like he's finding it difficult mentally. However arsenal are better for having him and he will return strong !

— Gary Neville (@GNev2) March 12, 2014
The weight of expectation on Ozil is huge and it was predictable that this was how his first season in the Premier League would pan out. He is not a Carlos Tevez-type player, whose work rate will be admired by one and all, even if he has a poor game.
The physical demands of English football are not something Ozil has experienced before and this will contribute towards a change in his body language and performance levels. Wenger will understand this and support his star player. Arsenal are a much better side with him in the squad and this cannot be debated.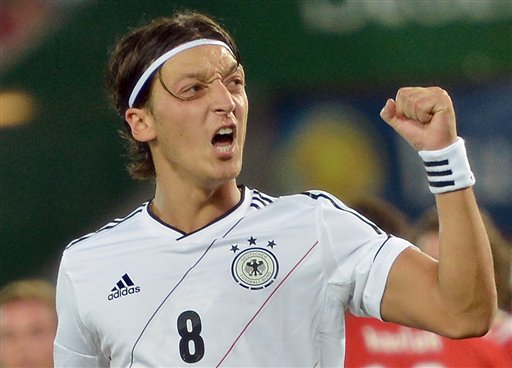 Torsten Silz/Associated Press
The Arsenal of last season were never considered Premier League contenders, but this incarnation—with the German included—has improved greatly.
Will Mesut Ozil ever adjust to life in English football?
However, Ozil will need to accept that he will have to adjust his game to be fully successful in England. Players like David Silva at Manchester City have shown that you can be hugely influential without being the most physically capable in the team.
On the flip side, Shinji Kagawa has struggled at Manchester United, and Ozil needs to be careful not to travel down this avenue.
In time, he will style his game accordingly, and he will show English football fans why he was such a success in both La Liga and the Bundesliga previously.