The quick synopsis of the Big 12 during the 2013-14 college basketball season would be to point out that Kansas won its 10th-consecutive conference crown.
Ho hum.
However, that would fail to mention that there is more depth in the Big 12 than any other league, which sets up a tournament in Kansas City, Mo. filled with intrigue and notable matchups.
Myron Medcalf of ESPN.com set up the stage, making the case that it is the best conference in the country in the process:
The 2013-14 campaign for the Big 12 orchestrated a shift in the conference hierarchy. The Big Ten has been the king of regular-season college basketball for years. But the Big 12 can make that claim this season. The league will enter its tournament with seven teams positioned to earn at-large NCAA bids. That's 70 percent of the conference.

No conference can match that depth. And if the hoopla in Kansas City, Mo., is anything like the movie we witnessed in a thrilling round of conference play, then we'll need a lot of popcorn this week because anything could happen.
Here is a look at what the bracket looked like before play started, via the Big 12 Conference:
#Big12MBB: The Championship starts on Wednesday at @SprintCenter in @VisitKC. Take another look at the bracket - pic.twitter.com/c0zjf0g6kd

— Big 12 Conference (@Big12Conference) March 11, 2014
The Big 12 also pointed out that Day 1 brought fans two games featuring arguably the strongest No. 7 and No. 8 seeds one could possibly ask for in a conference tournament:
It's game day at the @SprintCenter! @OSUMBB vs. @TechAthletics at 6 pm and @BaylorMBB vs. @TCUBasketball at 8:30 pm. pic.twitter.com/QjXyZZArPP

— Big 12 Conference (@Big12Conference) March 12, 2014
Oklahoma State 80, Texas Tech 62
Don't expect the contests between the No. 8 and No. 9 seeds in the actual NCAA tournament to be this lopsided.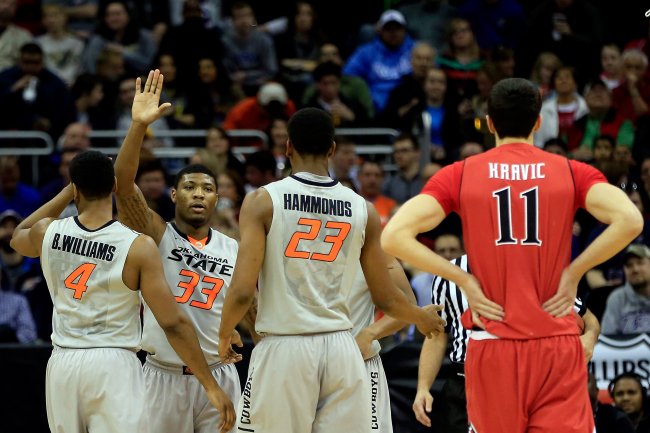 Jamie Squire/Getty Images
The game between No. 8 Oklahoma State and No. 9 Texas Tech was over by halftime, with the Cowboys heading to the locker room with a 46-23 lead.
Marcus Smart was an absolute beast on the defensive end in the first half with five steals. He also added 10 points, four assists and three rebounds by intermission. Teammate Markel Brown trailed Texas Tech by only five by himself after 20 minutes with 18 points.
Brown also had one of the best plays of the entire game early on with an incredible slam dunk.
VIDEO: Oklahoma State's Markel Brown throws down a huge reverse dunk http://t.co/my9jVhIOjJ pic.twitter.com/KfhDtpTf3L

— Bleacher Report (@BleacherReport) March 13, 2014
ESPN's Myron Medcalf was impressed:
Markel Brown just reverse-dunked on America.

— Myron Medcalf (@MedcalfByESPN) March 12, 2014
Safe to say, it wasn't an enjoyable first half for Texas Tech:
Oklahoma State has even robbed the Texas Tech cheerleaders of their smiles.

— Myron Medcalf (@MedcalfByESPN) March 13, 2014
The Red Raiders actually jumped out to a 7-0 run in the second half to cut into the lead.
However, the game was never in doubt, as the lead hovered between 16 and 25 for the majority of the final 20 minutes. Oklahoma State's defense was simply suffocating, forcing 17 turnovers and never giving Texas Tech much of a chance to establish any momentum.
It was interesting that the Cowboys kept the starters in for as long as they did, especially with a quarterfinal matchup with Kansas on the immediate docket. Brown was actually limping around with just more than eight minutes remaining, and Phil Forte landed awkwardly on his elbow with just more than six minutes left.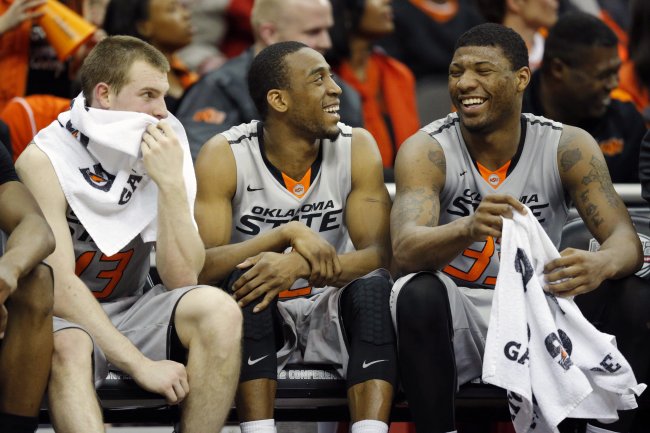 Orlin Wagner/Associated Press
Naturally, Forte ended up draining two three-pointers in the immediate aftermath of falling, proving that his shooting elbow appeared just fine and completely dashing any late hopes the Red Raiders may have foolishly been maintaining.
Brown led the way with 20 points, while Smart totaled 18 points, seven assists, seven rebounds, six steals and a block. Forte added 14 points behind four three-pointers.
Of course, any matchup between Texas Tech and Oklahoma State brings back memories of Smart shoving the Red Raider fan in the regular season and receiving the suspension. However, if his comments to Associated Press reporters upon his return were any indication, he came back a better player because of his time away (via ESPN.com):
I watched it. I get to see what the coaches see. It helped me a lot because you could see that we had a lot of guys that were open and we just weren't making the extra pass quick enough. That's what we've been working on in practice the last couple of days.
Looking forward, the resurgent Smart and his red-hot Cowboys will now face the Kansas Jayhawks.
Kansas will not have the services of superstar big man Joel Embiid, which gives Oklahoma State an immediate advantage before the game even begins. If the Cowboys can find a way to win the rubber match, they will put the Selection Committee on the spot because the talent level, especially with Smart, is certainly better than their record indicates.
Baylor 76, TCU 68
While the matchup between Baylor and TCU was closer at intermission than the first game, for all intents and purposes it may as well have been decided after 20 minutes.
At least that's the way it seemed.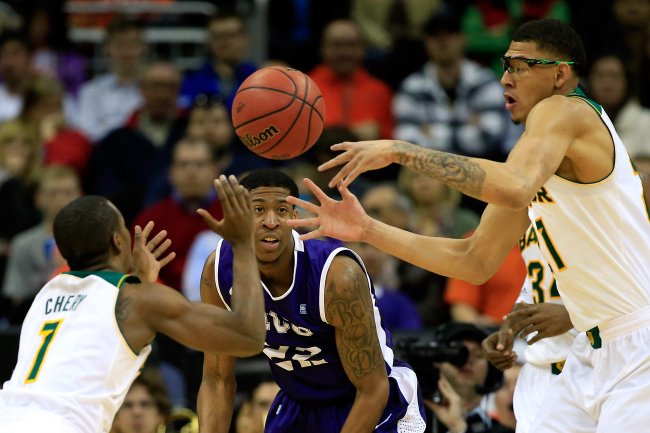 Jamie Squire/Getty Images
The Bears, who have now won eight of their past nine games, held a 39-27 advantage by intermission. Remember, TCU finished an abysmal 0-18 in Big 12 play this year and came into the postseason as arguably the biggest underdog in any power conference tournament.
Randy Covitz of the Kansas City Star pointed out that it didn't even look like Baylor was providing 100 percent effort on the floor and still winning with ease:
Baylor toying with TCU ... 39-27 at halftime in #Big12 tournament. Bears are saving energy for OU in the semifinals

— Randy Covitz (@randycovitz) March 13, 2014
The mismatch was apparent from the start, as Baylor jumped out to a commanding 15-3 lead by the first timeout.
Between Isaiah Austin, Royce O'Neale and Cory Jefferson, the Bears got whatever they wanted in the paint and completely controlled the glass from the opening tip. In fact, Baylor ended up with a 39-22 rebounding advantage on the day.
Jefferson finished with a game-high 20 points and 10 rebounds, while Austin added 18 points and five blocks and O'Neale chipped in with 14 points, 12 rebounds and five assists.
However, for as much as the Bears appeared to be in cruise control, TCU made something of a charge in the second half, as Pierre Noujaim of KCEN Waco pointed out:
TCU has clawed its way back into this game. Frogs have cut the Baylor lead to 7 at 51-44 with 12:39 left #BUvsTCU

— Pierre Noujaim (@TheNouj) March 13, 2014
While the Big 12 isn't exactly a place for moral victories, Dennis Dodd of CBS Sports hinted at such when the Horned Frogs climbed back into the game:
Amazing score of the night: baylor 55, tcu 46 - 11:42. Tcu with 5 schollie players. Not including golf coach's son out for intramurals

— Dennis Dodd (@dennisdoddcbs) March 13, 2014
Tcu started 3 freshmen, played 2 walk ons. Down 12. - 10:37

— Dennis Dodd (@dennisdoddcbs) March 13, 2014
Baylor responded by stretching the lead back to 16 with just more than eight minutes remaining, thanks to the strong play of Jefferson.
However, TCU had one more push left in its season.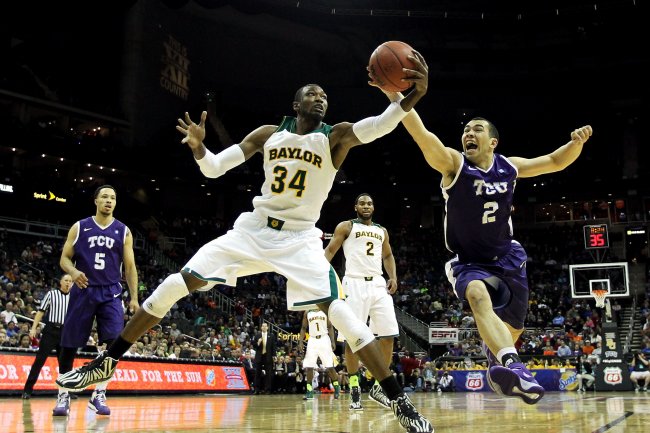 Jamie Squire/Getty Images
The Horned Frogs got hot from behind the three-point line and closed the gap to six points with just more than two minutes remaining.
After a Baylor timeout, Austin made arguably the biggest play of the game with an and-one finish, which stretched the lead to nine. The Bears eventually prevailed, but their fans would be forgiven if the second-half struggles give them cause for concern heading into the next game with No. 2 seed Oklahoma.
On the flip side, Baylor's intensity level was lacking after building up such an impressive lead. Expect it to be back when the Sooners line up across the court.
Updated Bracket
Big12sports.com has the latest updated bracket following all of Wednesday's action and throughout the tournament.
Day 2 Schedule
Here is a look at the Day 2 schedule:
Big 12 Tournament Day 2 Schedule

| | | | | |
| --- | --- | --- | --- | --- |
| Team One | Team Two | Time | TV | Live Stream |
| No. 4 Iowa State | No. 5 Kansas State | 12:30 p.m. ET | ESPN 2 | ESPN3 |
| No. 1 Kansas | No. 8 Oklahoma State | 3 p.m. ET | ESPN 2 | ESPN3 |
| No. 2 Oklahoma | No. 7 Baylor | 7 p.m. ET | Big 12 Network | ESPN3 |
| No. 3 Texas | No. 6 West Virginia | 9:30 p.m. ET | Big 12 Network | ESPN3 |
Big12sports.com