As the Sixers' Offseason Continues, So Does My Prediction for 2009-10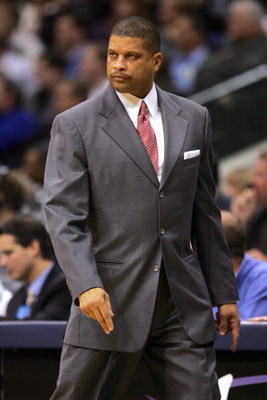 While the NBA Finals are about to end with the Lakers 15th championship, other NBA teams are already making moves for the 2009-2010 season.
I think the teams that are clearing their cap space for next year are wasting their time.
It's hard to believe that the contracts of Dwayne Wade and LeBron James won't be extended, keeping them on their respective teams.
Also, Kobe is NOT leaving the Lakers until he retires, just putting it out there.
The only big name that might make it to free agency next year is Chris Bosh and Toronto is in strong position to keep him around much longer.
That being said, the Philadelphia 76ers cannot afford to wait for the future.
Not only did last year's signings of Andre Iguodala, Lou Williams and Elton Brand (they might have been better off waiting to pursue Carlos Boozer this year, but that's life…) kill their chances of bringing any megastars to the Wachovia Center, the Sixers have to find a way to bring the fans back into the building.
As of right now, the Sixers are at the bottom of the totem pole when it comes to sports popularity in Philly.
I attended Game 4 against Orlando in the opening round of the playoffs. While the Sixers gave the eventual conference champs a good game, I was amazed at the abundance of empty seats in the building.
This was the playoffs!! They had a chance to go up three games to one on the Magic!! I've seen better attendance during losing seasons with Allen Iverson…
While I believe he is up to the challenge, Ed Stefanski has quite a tough task of improving the Sixers roster. Last year, he proved that he is aggressive and isn't afraid to spend money.
This year, Stefanski has to get creative because, thanks to last year's move, the cap space is gone for a while…
Recent Moves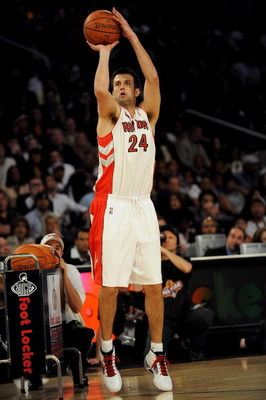 The team has a young core and Brand should be ready to go in the fall. They have a new head coach in Eddie Jordan (I personally would have preferred Avery Johnson).
Good news has surfaced that F/C Jason Smith has been cleared to workout on the court. Something tells me that he's going to have a huge impact on this upcoming season.
The Reggie Evans/Jason Kapono trade was brilliant. The Sixers have a proven shooter now to come off the bench to help with their biggest weakness since Kyle Korver was traded to Utah.
Having said that, Philadelphia still has a long way to go before they put a true contender on the basketball court.
WITH THE 17TH PICK….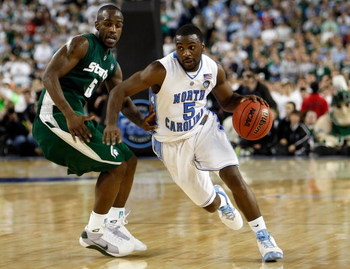 It's very hard to get excited about a .500 picking in the middle of the first round of the draft, but there's a strong chance for a positive outcome.
The Sixers need to improve at guard and, fortunately for them, this draft is guard heavy. With Andre Miller possibly departing via free agency.
Barring any surprises, Philly fans should be proud when the hear the announcement that Ty Lawson-UNC will be wearing No. 5 as a Sixer in the fall.
I'm not just saying this because I'm a Tarheel fan(I'd prefer Jonny Flynn from Syracuse, but we can forget about that).
Of the other two guards that likely will be available, Eric Maynor (VCU) has the ideal NBA PG height (6'3") and Jeff Teague would be a good pickup as well.
The problem is both are better scorers than passers and the Sixers have already committed to Lou Williams to handle that role.
While only 5'11", Lawson is stronger than both and probably faster as well. His style of play will fit Eddie Jordan's offense very well.
THESE GUYS MUST BE DEALT WITH
Samuel Dalembert-C
I don't care what else the Philadelphia 76ers do this offseason. Until they rid themselves of Samuel Dalembert, this team is going to have trouble improving.
His lack of desire got him removed from the Canadian Olympic team. He hasn't worked on his game since he joined the league.
Before Brand's injury, the two didn't mesh well in the block. The biggest problem with Dalembert is his contract, thanks to one Billy King.
Dalembert is scheduled to make $11.3 million this upcoming season plus it has a 15 percent trade kicker which will cause the receiving team to pay and extra $3.75 up front.
With his attitude and lack of basketball IQ, it's tough going to be a tough sell. That being, the Sixers can't afford to say they're "stuck" with him (i.e.-Chris Webber; Derek Coleman).
Andre Miller-PG
I may be in the minority, but I'm not a huge advocate of bringing back Andre Miller. While he's one of the best point guards in the league, he's not worth the $10 million plus he may try to command starting July 1.
His jump shot is inconsistent, especially beyond the 3 point line and his decision making down the stretch was starting to be suspect. Maybe that was part of other players not stepping up.
Also, at the age of 33, Miller would be better tutoring whoever the Sixers draft for a year and not keeping them on the bench for 3-4 years. We all know that's not going to happen.
Another veteran PG needs to be brought in for that, but I'll get into that later.

Willie Green-SG
Green is good at some of the things he does, but great at nothing. He's a steady scorer and a competent defender. The bottom line is: He's not an NBA starter by any means.
I don't know if he's trade bait, but more than anything else the Sixers need to bring someone in to put him on the bench. Unfortunately, Dalembert's contract makes that a little difficult.
FREE AGENCY
Philadelphia can relax when it comes to the marquee free agents because there's virtually no way the Sixers can create cap space for them.
Forget about Ben Gordon, Mike Bibby, or Lamar Odom. The only top name they can afford to make any move on is Andre Miller and, like I said earlier, I hope that they don't.
Besides that, the Sixers do need better quality depth than they had last year. Trading Evans for Kapano was a great start, but they also have to address the voids that will be made by the expiration of four 1 year deals.
Those replacements are going to be signed at the veteran minimum as well….
Donyell Marshall-PF
Marshall provided a good 3-point threat when he was on the floor. The problem is he's 36.
He only averaged seven minutes a game which means even his shooting couldn't help him contribute more on a team starving for a long range shooter.
They might as well bring in a power forward who's better in the paint. Antonio McDyess would be a good pick up if he leaves Detroit.
Chris "Birdman" Andersen has the ability to create a positive spark of the bench. He's developed a strong fan base in Denver, though.
The guy the Sixers have the best chance of signing at this position is Joe Smith from Cleveland. He brings rebounding and a nice touch with his jump shot.
Theo Ratliff-C
I hated the Ratliff-Mutumbo trade in 2001 and I hate to see him leave again. Unfortunately, his honest remarks about Tony DiLeo after the Sixers were eliminated didn't sit well with Stefanski.
A prime example of "WHEN KEEPING IT REAL GOES WRONG". Two centers I think can be had for the veterans minimum are Chris Mihm (Memphis Grizzlies) and Jamaal Magloire (Miami Heat).
I don't see either of their respective teams making a big effort to bring them back.
Royel Ivey-PG
Ivey was a solid backup for Andre Miller, but if the Sixers draft a point guard, Ivey's services are no longer needed. The Sixers do need a shooting guard though.
I'm not sure how strongly George Karl feels about Dahntay Jones staying in Denver, but if he makes it to free agency his defensive ability can't be overlooked.
Another player the Sixers may want to look at signing for the minimum is Gerald Green of the Dallas Mavericks. He's still young and Coach Jordan may be the guy to help take his game to another level.
Kareem Rush-G/F
The last time I heard anything about Rush was when he first signed with the Sixers. He was pretty much a non-factor since.
Like Marshall, he was brought in to help beyond the arc. Unfortunately, he didn't get on the floor much like Donyell.
I think the Sixers should look at Matt Barnes (Phoenix Suns) for a possible veteran minimum signing. It is also possible that he still may attract a bigger contract after having his best season as a pro.
WHAT NEEDS TO FALL INTO PLACE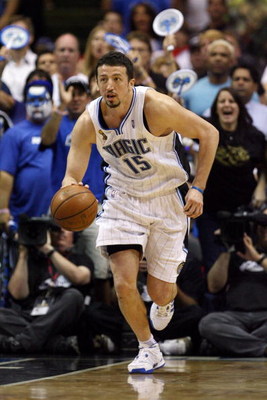 Unlike the NFL, NBA teams rarely build championship contenders thru the draft. They'll draft one star, maybe two at the most but that's it.
Free agency can be productive if the team has the right cap space at the right time. But, if you look at the NBA's recent champions (with the exception of the Spurs), those teams made a blockbuster trade the year or year before they finished the season on top.
The Boston Celtics made two huge trades to bring in Ray Allen and Kevin Garnett. The Miami Heat made a deal with the Lakers to pair Dwyane Wade with Shaq the season before their run. If the Lakers win this year's Finals, they can look back to their trade to bring in Pau Gasol.
If it's Orlando(very unlikely), they can look at the mid season trade for Rafer Alston. What deal can the Sixers make this off-season to make a serious push at title contention??
First, a few things have to fall in place and I believe they will. Last year, the Sixers strongly needed a starting caliber power forward and Elton Brand happened to opt out of his contract.
Here are the things I believe that will take place before the Ed Stefanski makes his deal.
1. Hedo Turkoglu isn't just trying to help lead the Magic to a championship. The 30-year-old playmaker is also playing for possibly his last big contract. Turkoglu is scheduled to make $7.3 million if he chooses to play out the final year.
If he opts out after the season, especially with his level of performance this postseason, he can command $11-$12 million/year. Orlando can't give him that type of raise without being penalized with the luxury tax.
The one playoff team with enough cap room that could use him is the Atlanta Hawks so I'm predicting that Turk ends up in Georgia in the fall.
2. Carlos Boozer is another star who's more than likely going to opt out of his contract. If Elton Brand can earn the paycheck he did last year, then Boozer certainly can command $15 million/year.
Utah would have to give up a few pieces to keep him around thanks to Deron Williams hefty pay raise.
The team that could use Boozer's services the most are the soon to be restructuring Detroit Pistons. He and Rodney Stuckey could develop quite a tandem if he was acquired.
3. Ben Gordon will be an unrestricted free agent July 1. Regardless of what the majority thinks about his rejection of a contract last year, I believe somebody will pay him $11 million/year.
He's 26, his three-point shot has to be respected, and he's led his team to the playoff 4 of his 5 years in the league. I predict that team will be the Pistons.
They want to rebuild their team but they don't want to become a lottery team. Rasheed Wallace and Allen Iverson are gone, but if Boozer comes along another large contract will have to be moved to accommodate Gordon…..and that's where Philly comes along!!!
BLOCKBUSTER TRADE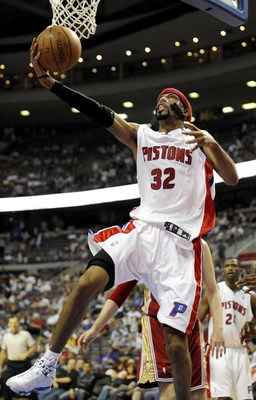 THREE TEAM TRADE INVOLVING THE PISTONS, MAGIC AND 76ERS
The Pistons get: Samuel Dalembert-C, Thaddeus Young-F, Mickael Pietrus-G/F, and J.J. Redick-G.
The Magic get: Tayshaun Prince-F, Kwame Brown-C, and Willie Green-G.
The Sixers get: Richard Hamilton-G, Rafer Alson-G, and Tony Battie-C.
Why the Pistons would make the deal:
As I've said before, Detroit has been ready for an overhaul ever since they traded Chauncey Billups for Iverson.
Hamilton is entering the final year of his contract and likely won't re-sign so this is their best chance to get something in return.
With this deal combined with signing Boozer and Gordon, they're just as talented but much younger. Currently at center, Kwame Brown would be the starter come October.
Believe it or not, Dalembert is a huge upgrade over him and possibly just needs a new home. Young would get a chance to start at his natural small forward position and form a formidable frontcourt with Dalembert and Boozer.
Pietrus and Reddick would provide quality depth on the wing.
Why the Magic would make the deal:
With Turkoglu very likely to leave, the Magic can't afford to sign a free agent. Prince would be the perfect replacement at small forward and his addition wouldn't cause the team to be penalized.
Even before the Finals, it was obvious that there is no way Alston and a healthy Jameer Nelson could remain on the same roster without controversy.
Green is an upgrade over Reddick because he's more versatile and plays better defense. Taking Brown's expiring contract to back up Dwight Howard is necessary to match financially.
Why the Sixers would make the deal:
First and foremost, this is probably the ONLY way Philly could get rid of Dalembert and receive something worthy in return.
Secondly, they would receive three expiring contracts worth $23 million in total. In Hamilton, the Sixers finally get a true starting shooting guard for the first time since Iverson left.
Alston would start at point guard for a year and let the draftee(Lawson) develop. He's also a lot cheaper and more logical than trying to sign Andre Miller for 2-3 years.
Battie is the one necessary evil the Sixers would have to digest to make this trade work.
Each team would get something positive out of this deal.
MID LEVEL EXCEPTION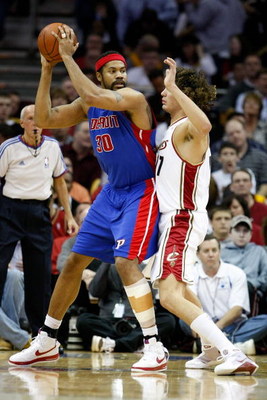 With the previous moves made and the Sixers not extending a contract to Miller, they'll still be able to utilize their mid-level exception worth between $5.5 and 5.8 million.
With the departure of Dalembert, the Sixers could use this exception on a center if they're still unsure if Maurice Speights is ready to start.
If that's the case, the Sixers should pursue Rasheed Wallace for a two-year exception. Regardless of the reports, Cleveland is NOT paying Sheed $10 million a year, nor is anyone else!! Even at his age (35 in September), Wallace can still start in this league. His outside shooting would work well with Brand.
Also, the Philly native(Gratz HS) has ties with assistant coach Aaron McKie would actually draw fans to the Wachovia Center.
If the Sixers are unable to pursue Wallace, Chris "Birdman" Andersen would be a good pickup, but his league popularity is a mile high right now (no pun intended) thanks to Denver's postseason success.
THE SIXERS PROJECTED '09-'10 ROSTER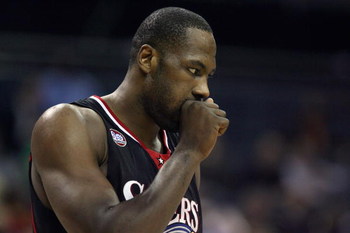 If these deals were made, this would be the Sixers' roster next year.
Starters
PG-Rafer Alston: His mid-season trade from Houston is why Orlando's in the Finals.
SG-Richard Hamilton: Coatesville native still can play at an All-Star level.
SF-Andre Iguodala: Has shown he can step up and be a clutch performer.
PF-Elton Brand-Returns from shoulder injury. Should make us forget last year.
C-Rasheed Wallace: Philly native brings 3-point ability, fan base and playoff experience.
Bench
G-Lou Williams: Lou will still bring his spark off the bench.
G-Ty Lawson: Rookie PG will spend first year learning from Alston before taking over.
G/F-Jason Kapono: Much-needed three-point threat off the bench.
G/F-Gerald Green: This would be the last chance for Green to prove he's NBA-worthy.
F-Matt Barnes: He's improved since his last stint in Philly('05-'06).
F-Joe Smith: 14-year veteran still provides quality depth.
F/C-Maurice Speights: Still developing. Will start at forward or center within two years.
F/C-Jason Smith: ACL injury last year hampered his progress. Should be productive.
C-Jamaal Magloire: Once a steady starter, Magloire isn't a bad extra body in the middle.
C-Tony Battie: Part of the package, but probably wouldn't see much time on this roster.
OVERALL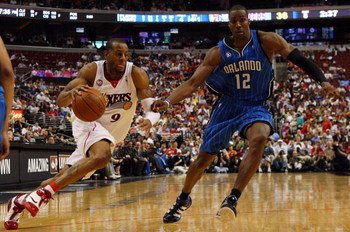 This would be a very well balanced and deep squad. The only concerns would be Brand's health and perimeter defense off the bench. There's no way the Pistons or Magic would allow the Sixers to get Hamilton, Alston AND Pietrus!! Overall, this lineup has the potential to win 50+ games and earn a top 3 playoff seeding. The exciting thing is…This is very much a possibility. Will it happen? Probably not, it's almost too good to be true. The answer(s) will be revealed in a few weeks though…..
Keep Reading

Philadelphia 76ers: Like this team?