The Washington Huskies hung tough with the Utah Utes on Wednesday, but the team's efforts fell short in a 67-61 Round 1 loss in the Pac-12 tournament. It was a great win for the Utes; however, now they have the daunting task of facing Arizona in Round 2 on Thursday.
It's final at Game #1 of the Pac-12 Tournament presented by @NewYorkLife: Utah 67, Washington 61. Utes advance! #pac12hoops

— Pac-12 Conference (@pac12) March 12, 2014
Game 2 of the Pac-12 tournament featured the same type of close contest. In a back-and-forth battle, the Colorado Buffaloes edged the USC Trojans by a score of 59-56. For those keeping track, that makes two games decided by a total of nine points.
It's a final at the Pac-12 Men's Basketball Tournament presented by @NewYorkLife: #5 Colorado 59, #12 USC 56. #pac12hoops

— Pac-12 Conference (@pac12) March 12, 2014
These highly contested games are just the beginning of what should be a fantastic tournament. Not a single team can be counted out from the Pac-12 action, as the competition will be fierce. As we know, anything can happen during March Madness.
The eleven 2013 @Pac12Networks tourney games were decided by an average of 5.9 points. This year's first tourney game decided by six points

— Ryan McGrady (@RyanMcGrady) March 12, 2014
Let's recap the early action, followed by an updated bracket and Day 2 schedule for the Pac-12 tournament.
Colorado 59, USC 56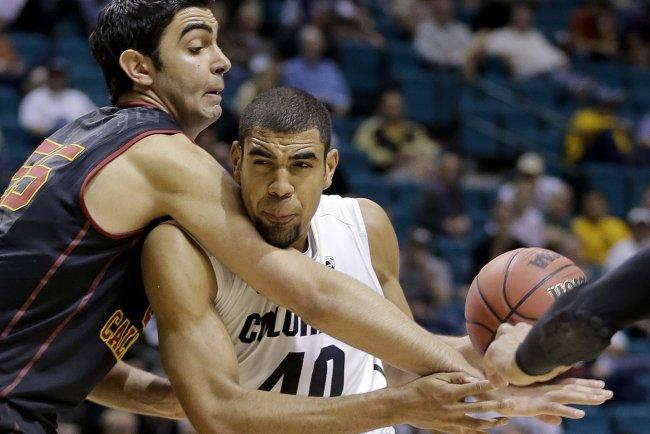 Julie Jacobson/Associated Press
After finishing the regular season with a conference record of just 2-16, USC didn't appear to be much of a factor heading into Wednesday's action. Well, that simply wasn't the case.
Through the first half, these two teams went shot for shot. Neither squad could seem to get a clear advantage, as Colorado entered the half up by just two points on the Trojans.
The second half featured more of the same. Continuing the chess match, USC found itself leading Colorado by a score of 43-40 with 11 minutes left in the game. However, the resilient Buffaloes, led by Askia Booker would not be denied.
Booker and Co. regained the lead and increased it to six points with three minutes remaining. USC would not go quietly though. A scrum for the ball in the waning seconds of the game allowed USC to gain control and attempt the game-trying three.
Colorado 58, USC 52. 3:01 on the clock.

— Colorado Basketball (@CUBuffsMBB) March 12, 2014
The shot would not fall, as Colorado held on for the three-point victory.
Batspit crazy ending to Colorado USC! No call on USC foul, after scrum ball squirts to Trojans for attempt at game-tying 3, clank, Buffs win

— Jonathan Gold (@TheCoolSub) March 12, 2014
Booker was fantastic for the Buffaloes, connecting on nine of 17 attempts from the field for 21 points. He also added seven rebounds and four assists to his stellar performance.
Center Josh Scott performed admirably as well, recording 13 points and nine rebounds despite going just four of 14 from the floor.
Two very telling stats from this game played huge factors in Colorado's close victory. The Buffaloes used their size advantage to out rebound the Trojans 38 to 28. USC had plenty of errant shots from the field as well, finishing the game shooting 40.0 perfect from the field, compared to Colorado's 46.2 percent.
Colorado will move on to Round 2 of the Pac-12 tournament with this win, as they are set to face No. 4 California on Thursday.
Next up for @CUBuffsMBB - a date with @CalMensBBall tomorrow afternoon on Pac-12 Networks. http://t.co/E3fVtsNCac pic.twitter.com/b3GFtvVeKH

— Pac-12 Networks (@Pac12Networks) March 12, 2014
Utah 67, Washington 61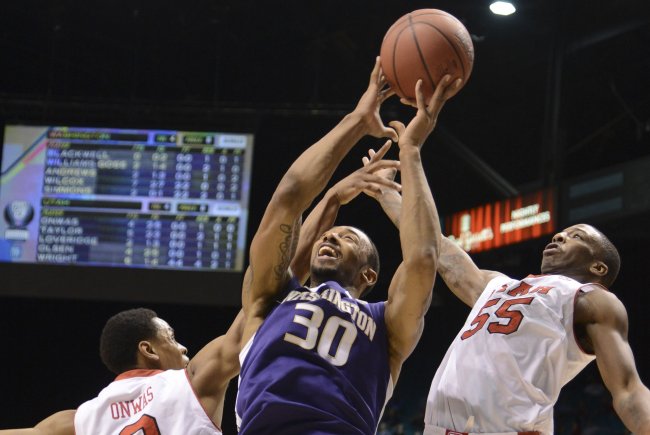 Kyle Terada-USA TODAY Sports
It was all Utah in the first half of Wednesday's action. At the half, the Utes had a commanding 34-24 lead and looked to be running away from the Huskies.
However, Washington wasn't done. The team rallied in the second half with a brilliant comeback that actually allowed them to take the lead late in the game. Utah flexed its muscles though, and took the lead for good after connecting on a three with just 35 seconds left in the game.
WATCH: @Runnin_Utes's Dakarai Tucker hits a clutch three to give the Utes the lead. http://t.co/6kuv43gvEG #pac12hoops

— Pac-12 Networks (@Pac12Networks) March 12, 2014
It was a sloppy day for both teams from behind the arc, as each went 4-14 from downtown. The difference-maker here was Utah's efficiency from the field, shooting 44.9 percent against Washington's 37.0 percent.
Utah head coach Larry Krystkowiak was pleased with his team's second-half resilience, according to an interview with Kevin Zimmerman of Pac-12.com:
"We got some big-time stops. It was fun to recapture that momentum."
However, he also pointed out one of his team's biggest weaknesses:
"Kind of a tale of two halves. We came out the second half a little bit flat, as our team's been known to do."
Washington head coach Lorenzo Romar reflected on his team's missed opportunities:
"Did things for most of that half that in a lot of games could allow you to win the game. Down the stretch, we weren't able to make the plays."
The Utes also showed their physicality and size, out rebounding the Huskies 39 to 28 on the day.
After the victory, Utah's Delon Wright was interviewed about his late-game heroics by Yogi Roth of Pac-12.com:
Yogi Roth also interviewed coach Krystkowiak about his thoughts on the team's performance:
Utah certainly looked like the more complete team on Wednesday, with five different players scoring at least eight points in a defensive struggle. However, it will take much more than that if the Utes plan on continuing past Arizona on Thursday.
.@Runnin_Utes beat UW, next face No. 1 Arizona Thursday noon PT/1 p.m. MT on Pac-12 Networks! pic.twitter.com/q3jVDRTHgG

— Pac-12 Networks (@Pac12Networks) March 12, 2014
Oregon 88, Oregon State 74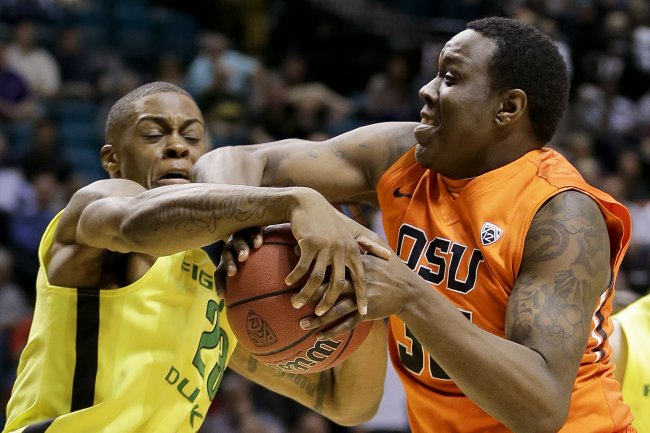 Julie Jacobson/Associated Press
After it looked like the Oregon Ducks weren't going to make it to the NCAA tournament, they've suddenly now won eight straight games and are looking to make a deeper run into the Pac-12 tournament.
The Ducks got off to a slower start than expected, leading by just one at 41-40 heading into halftime against Oregon State. The Beavers got off to a quick 9-0 run, but the Ducks were able to recover and even take a nine-point lead with around six minutes left to play. The teams kept exchanging runs as the first half came to a close.
However, the second half belonged to the Ducks, as they slowly started to pull away. Oregon went on to get the comfy 14-point win at 88-74. Joseph Young led the Ducks with 19 points while Mike Moser had 13. Meanwhile, the Beavers had four starters in double figures while Angus Brandt and Roberto Nelson combined for 39 points.
The Ducks will play the 23-8 UCLA Bruins on Thursday in what will likely be a tough game for both sides. However, if Oregon can get the win, they will help solidify themselves as a team potentially capable of a deep run with how well they've been playing lately.

Updated Bracket
Pac-12.com has the latest updated bracket following all of Wednesday's action.
Day 2 Schedule
Pac-12 Tournament Day 2 Schedule

| | | | |
| --- | --- | --- | --- |
| Time (ET) | Team 1 | Team 2 | TV Info |
| Thurs., March 13 | | | |
| 3 p.m. | No. 1 Arizona | No. 8 Utah | Pac-12N |
| 5:30 p.m. | No. 4 California | No. 5 Colorado | Pac-12N |
| 9 p.m. | No. 2 UCLA | Game 3 Winner | Pac-12N |
| 11:30 p.m. | No. 3 Arizona St. | Game 4 Winner | FS1 |
Pac-12.com