Free agency has opened with a bang, as big-name players continue to go off the board rapidly.
Teams have already spent large sums of money to lock up their new talent and there are still plenty of players available that will probably demand large contracts.
Darrelle Revis, Steve Smith and James Jones are veteran talents looking for new homes this offseason. A lot of buzz surrounds them, but nothing in terms of contracts has yet to materialize.
That could all change within the next several days. Here are the latest rumors concerning the three.
Darrelle Revis
Darrelle Revis was one of the most surprising names to hit the rumor mill prior to free agency and now NFL on ESPN is reporting that the Tampa Bay Buccaneers are officially cutting ties with the expensive corner:
BREAKING: The Buccaneers are officially releasing CB Darrelle Revis. pic.twitter.com/JJnbbJ7yyN

— NFL on ESPN (@ESPNNFL) March 12, 2014
Prior to being released, Revis' name was floated about in trade rumors.
Nothing ended up materializing with the teams in question, but Ian Rapoport of NFL.com provides a sampling of some of the organizations interested:
Who has called the #Bucs about Darrelle Revis? Who hasn't? Some of them: #Patriots, #Falcons, #Eagles, #Giants. But would any trade for him?

— Ian Rapoport (@RapSheet) March 12, 2014
Now that teams won't have to give up picks to get him, expect there to be more progress in talks with him. Plus, teams will no longer have the $16 million he was owed for next season looming over their heads. Revis undoubtedly still wants that money, but teams will have the ability to negotiate.
Who will emerge as the best suitors? ESPN's Adam Schefter points to two teams in particular:
Two teams to watch on CB Darrelle Revis once Tampa releases him: Philadelphia and New England (Jets fans shudder).

— Adam Schefter (@AdamSchefter) March 11, 2014
Signing with the New England Patriots would likely be the best for Revis at this stage of his career. They are a perennial contender that will likely pay him close to what he asks and New England definitely has a need for a lockdown corner after ESPN.com reported that Aqib Talib had signed a huge contract with the Denver Broncos.
Look for Revis to find a new home sooner rather than later.
Steve Smith
Surprising news came out of Carolina on Tuesday, as Rapoport revealed that the Panthers are apparently set to rid themselves of Steve Smith and his $7 million salary:
The #Panthers are attempting to trade WR Steve Smith, per source. Given his $7M cap number and age (34), seems unlikely.

— Ian Rapoport (@RapSheet) March 10, 2014
There were no guarantees made by the team, but Steve Reed of the Associated Press wrote about Smith's plans:
Smith's longtime representative Derrick Fox told The Associated Press on Wednesday that Smith "is not going to play for the Panthers next year, I know that. I just don't know when that transaction is going to take place."

Fox said the Panthers have been trying to trade Smith, but expects he will ultimately be released.
Even at 34, Smith will certainly be a coveted wideout this offseason. Cam Newton seemed to revitalize his career a few seasons ago and his proficiency in the slot can still be of use to NFL teams.
Jonathan Jones of the Charlotte Observer tweeted about a few teams that could be in the mix for his services:
Source says, along with Ravens, the Raiders or Bucs could be a landing spot for Steve Smith

— Jonathan Jones (@jjones9) March 12, 2014
In Baltimore, Smith would immediately become a favorite target for Joe Flacco. The situations in Oakland and Tampa Bay are a little iffy for veteran receivers, so if given the choice, I would think that Smith would take his talents to the Ravens.
That's all speculation, though.
For now, be sure to monitor this situation closely.
James Jones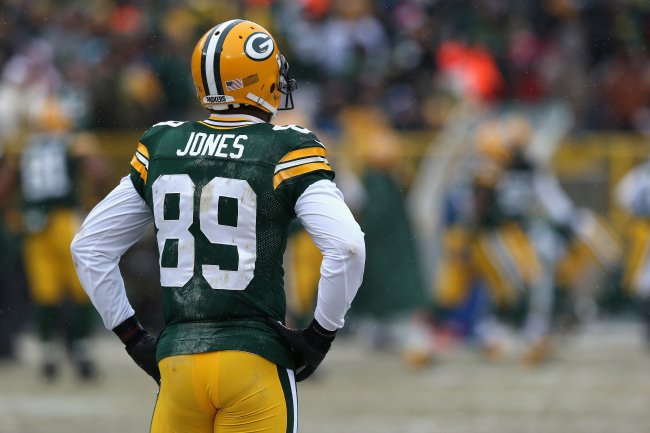 Jonathan Daniel/Getty Images
Manish Mehta of the New York Daily News tweets that the New York Jets have a "real interest" in free-agent wideout James Jones:
Source: Jets have expressed a real interest in Packers free-agent WR James Jones. No visit scheduled yet. Eric Decker in building today #nyj

— Manish Mehta (@MMehtaNYDN) March 12, 2014
Of course, the Jets would be wise to exercise all options to improve their receiving corps. Geno Smith is likely the quarterback of the future. It'll be difficult—no, impossible—for him to improve without better weapons around him.
Jones excelled with the Green Bay Packers as a secondary option behind Greg Jennings and Jordy Nelson in his career, but he can step into the spotlight as a No. 1 target with the Jets.
Tony Pauline of DraftInsider.net points out that both Jones' former team and the Detroit Lions could join the Jets in pursuit of his services:
I'm told wide out James Jones receiving heavy interest from the Detroit Lions & New York Jets...Green Bay Packers may still be in the mix..

— Tony Pauline (@TonyPauline) March 11, 2014
The best situation for Jones would be in New York as the feature option in the passing game. In Detroit, he'll obviously take a backseat to Calvin Johnson. In Green Bay, Aaron Rodgers spreads the ball around far too much to get him consistently big numbers.
Jones could presumably strike a deal in the near future if the Jets are as interested as Mehta suggests.
Follow me on Twitter to keep up with the latest notes on NFL free agency @kennydejohn