With head coach Nick Saban, defensive coordinator Kirby Smart and strength coach Scott Cochran manning the assembly line, the Alabama Crimson Tide have churned out countless NFL prospects in recent years, and that trend is set to continue with the 2014 draft.
Last month's NFL combine brought mixed results from former 'Bama stars. While some prospects such as quarterback AJ McCarron and Ha Ha Clinton-Dix had strong showings, others such as offensive lineman Cyrus Kouandjio faced issues.
However, all of the powerhouse program's draft hopefuls took the field in front of a hoard of scouts once again at the Crimson Tide pro day.
McCarron and linebacker C.J. Mosley were among the headliners at the event, but there was a little something for all of the scouts on hand in Tuscaloosa.
Come along as we look at what was learned at the crowded Alabama pro day.
Tuscaloosa was crawling with NFL reps
Alabama's pro day was the place to be for NFL representatives, as various media members reported on Twitter.
But it wasn't just scouts sent to have a look. Coaches and executives were out in force:
Chip Kelly, Sean Payton, Marvin Lewis, and Rob Ryan among the many NFL coaches, scouts, and GMs here at Alabama Pro Day @FOXSportsLive

— P. Schrager (@PSchrags) March 12, 2014
Saw a Jets scout in the background of ESPN's report from Alabama's pro day. #nyj

— Brian Costello (@BrianCoz) March 12, 2014
Arizona Cardinals DL coach Brentson Buckner puts Alabama LB @__Unchained42 through position drills at pro day. pic.twitter.com/fEY7l58B8W

— Chase Goodbread (@ChaseGoodbread) March 12, 2014
#Bengals head coach Marvin Lewis attending Alabama Pro Day http://t.co/YnK2GNJ4KM

— Cincy Jungle (@CincyJungle) March 12, 2014
AJ McCarron is on the radar of several teams
Reports out of the combine were positive on Alabama quarterback AJ McCarron.
Andrew Gribble of AL.com quoted NFL Network analyst Mike Mayock saying McCarron threw about as well as any signal-caller in Indianapolis:
'He looked today like he was just hanging out in the backyard and throwing it,' NFL Network analyst Mike Mayock said to a group of reporters after Sunday's events. 'It was easy. He didn't seem like he felt any pressure. The ball comes out nicely. I don't think he's got a huge arm but he's got a good arm, and he's accurate.'

Mayock said McCarron and UCF's Blake Bortles, who is considered a potential No. 1 pick, had the best days among quarterbacks who opted to throw.
That, as well as his enormous on-field success in Tuscaloosa, apparently has him on the board of several teams shopping for a quarterback in this year's draft.
He threw again at the 'Bama pro day and drew attention from the Minnesota Vikings and New Orleans Saints, among others:
Rick Spielman, Mike Zimmer and Norv Turner all at Alabama Pro Day today. Evaluating QB A.J. McCarron.

— Chris Tomasson (@christomasson) March 12, 2014
Saints HC Sean Payton just walked all the way across practice field to give personal hello to AJ McCarron. Saints could be a good fit IMHO

— Danny Kanell (@dannykanell) March 12, 2014
McCarron looks like he's putting a conscious effort into throwing with more zip than we saw in Indy #Bama #ProDayTour

— RosterWatch (@RosterWatch) March 12, 2014
It'll be interesting to see how his private session will impact is stock on draft day. If several teams are vying for his services, it could send him much higher than anticipated.
Kevin Norwood is a solid option in a deep WR class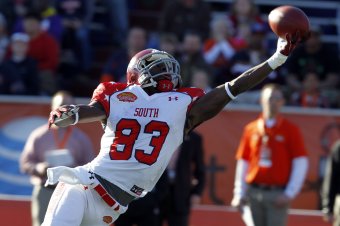 Butch Dill/Associated Press
It hasn't been easy for receivers to establish themselves in this year's deep class.
With Sammy Watkins looking more and more like a potential top-five pick and Brandin Cooks running a 4.33-second 40-yard dash, earning attention is a tall task.
However, Alabama's Kevin Norwood is doing his best. He started with some solid times at the combine, including a 4.48-second 40 and a 6.68-second three-cone drill.
He joined Kenny Bell and Marquis Maze as McCarron's targets during his passing session, as NFL.com's Chase Goodbread reported:
AJ McCarron's pro day targets: Kevin Norwood, Kenny Bell, ex-#Steelers UFA signee Marquis Maze.

— Chase Goodbread (@ChaseGoodbread) March 12, 2014
While most eyes were on the quarterback, Norwood did his best to draw the spotlight his direction, making some incredible grabs:
Kevin Norwood out here making 1 handed grabs- the sickest WR nobody talking about #Bama #ProDayTour

— RosterWatch (@RosterWatch) March 12, 2014
He could be one of the top sleeper receivers of this draft.
Cyrus Kouandjio's failed physical reports were overblown
Nick Saban isn't known as the most cheerful character in football, but he was especially disgruntled at Alabama's pro day.
The issue was with reports that one of Alabama's draft eligible linemen and potential first-round picks, Cyrus Kouandjio, failed physicals during the combine.
Andrew Gribble of AL.com posted a video interview of Saban, who had this to say about Kouandjio's situation:
Cyrus played every game here since he came back. He never missed any time. Never missed practice because of (his knee).

I don't think any medical information about a player should leak out. I think you all need to be responsible to make sure you have the right information, because a lot of the information you got is not correct. So that's not good for the player, and it's not good journalism on your part.

The teams we talked to, I can't find anybody that failed a guy on a physical.
Kouandjio backed up his coach's statements. As reported by Britton Lynn of Fox 6 in Birmingham, Ala., neither Kouandjio nor his agent heard anything from a team about a failed physical until it was reported by the media:
Just got an exclusive 1-on-1 w/Cyrus Kouandjio -- he said him & his agent knew nothing abt the failed physicals--until the media reports.

— Britton Lynn (@BrittonLynn) March 12, 2014
Kouandjio did participate in drills during the Tide pro day, though he wasn't originally expected to do so:
Kouandjio changed his mind last minute! Running some cone drills!!! #Bama #ProDayTour

— RosterWatch (@RosterWatch) March 12, 2014
C.J. Mosley has first-round speed
If there was any doubt before, Alabama linebacker C.J. Mosley solidified his status as a first-round talent.
He informed reporters at the Crimson Tide pro day, per Marq Burnett of The Anniston Star, that he didn't run at the combine due to a sore knee and hip:
C.J. Mosley said he didn't get an official time, but believes he ran a 4.5-4.6 40. Didn't run at combine because he was resting his knee/hip

— Marquavius Burnett (@Marq_Burnett) March 12, 2014
Apparently, those issues are all resolved. The All-American turned in an outstanding 40-yard dash of 4.63 seconds, as Peter Schrager of Fox Sports reported via Twitter:
Would be 5th best time among LBs. Range is a HUGE part of his game. Good time. RT @PSchrags CJ Mosley runs an unofficial 4.63 40-yard dash.

— Peter Bukowski (@BukoTime) March 12, 2014
That would put him right in the same range as potential top-10 picks Khalil Mack and Anthony Barr, who ran times of 4.65 and 4.66 seconds, respectively, at the combine.
Check out a video from Lynn of Mosley attaining his blazing time, complete with Alabama's boisterous strength coach Scott Cochran barking in the background:
Note: All combine statistics via NFL.com.