By the time you're reading this, all of the information below will have been outdated. That's how quickly the NFL free-agent market is moving.
Teams aren't taking any time in signing the best players to massive deals. The fact that they've had since Saturday to speak with players has only served to speed up the process and create a run on the marquee names.
Plenty of talented stars, such as DeMarcus Ware, Eric Decker and B.J. Raji, remain available to the highest bidder.
Here's the latest on where those three may be heading.
DeMarcus Ware
Be afraid, AFC West. Be very afraid.
The prospect of the Denver Broncos having Von Miller on one end and DeMarcus Ware on the other is becoming a very real possibility. ESPN's Adam Schefter reported that the former Dallas Cowboys linebacker is making the trip to Colorado on Wednesday:
Former Cowboys DE DeMarcuus Ware will be flying to Denver today to visit the Broncos, per source.

— Adam Schefter (@AdamSchefter) March 12, 2014
Schefter added that one AFC West is already preparing for the worst:
One AFC West official who tried to get DeMarcus Ware to visit his city said he was told "you're not going to like where he winds up."

— Adam Schefter (@AdamSchefter) March 12, 2014
The Broncos already confirmed the captures of T.J. Ward and Aqib Talib to shore up the secondary:
Excited to announce we've agreed to terms with strong safety T.J. Ward. He'll bring energy and toughness to our secondary.

— John Elway (@johnelway) March 11, 2014
The #Broncos have agreed to terms with UFA CB Aqib Talib on a six-year contract.

— Denver Broncos (@Broncos) March 12, 2014
Throwing Ware into the mix would make what was already a somewhat good defense downright scary. He's the piece the team thought it had last year with Elvis Dumervil, before fax-machine issues put him in Baltimore.
He's the kind of player who can help Denver win right now, taking advantage of its shrinking window for success.
Eric Decker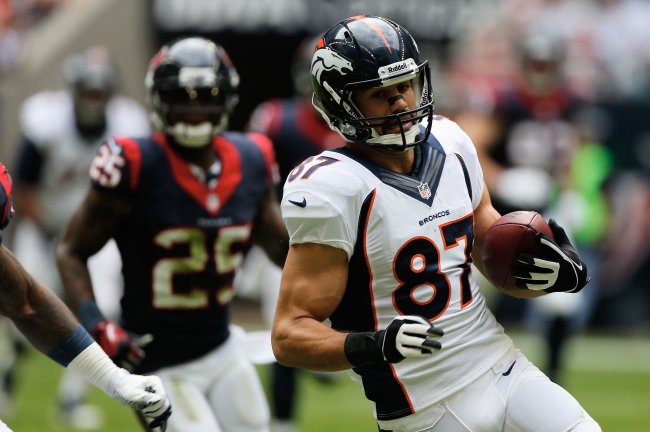 Scott Halleran/Getty Images
Speaking of the Broncos, there's almost no chance that Eric Decker is returning to the team. As ESPN's Trey Wingo pointed out, now that Denver has re-signed Andre Caldwell, all signs point to Decker playing elsewhere in 2014:
The new contract for Andre Caldwell assures we've seen the last of Eric Decker in Denver

— trey wingo (@wingoz) March 11, 2014
New York may be that elsewhere, as NFL.com's Kimberly Jones reported that the 26-year-old is visiting with the Jets:
Eric Decker visiting Jets today.

— Kimberly Jones (@KimJonesSports) March 12, 2014
The Jets need to add another wide receiver this offseason, whether it's an early pick in the draft or a big-name free agent like Decker. Without an improved receiving corps, Geno Smith will continue to flounder.
The question, though, is whether much of Decker's success in Denver is down to Peyton Manning, per Bleacher Report's Matt Miller:
RE: Decker. Tough to tell if he developed in Year 3 on his own or if he's a product of Manning. Some team will bet a lot of $ on the former

— Matt Miller (@nfldraftscout) March 10, 2014
This may be worth the gamble for New York, though. Decker is much better than everything else the Jets have, so even if he doesn't play like a No. 1 receiver, he still presents an upgrade from their current group.
B.J. Raji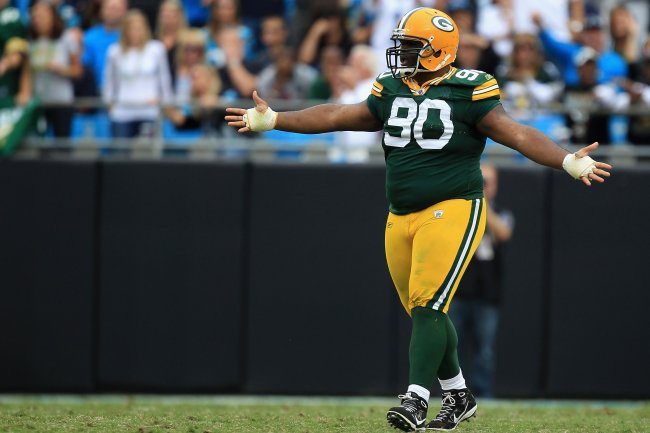 Streeter Lecka/Getty Images
The Oakland Raiders are one of the biggest spenders so far this offseason, even if it hasn't exactly been money well spent, per Pro Football Focus:
Look away Raiders fans: Day 1 spending pic.twitter.com/HFqciI3JP1

— Pro Football Focus (@PFF) March 12, 2014
They aren't done, either, as Vic Tafur of the San Francisco Chronicle reported that they are pursuing free-agent defensive tackles, including B.J. Raji:
Defense day: Besides Tuck and Woodley, #Raiders are also in on Henry Melton and BJ Raji, per sources. (But I think Melton goes to #Cowboys)

— Vic Tafur (@VicTafur) March 12, 2014
Raji has looked like one of the best defensive tackles in the league at times, but it's hard not to consider him a bit of a disappointment in Green Bay. The fact that he turned down $8 million from the Packers is crazy.
With the Raiders involved, though, you never know if he could get some ridiculously overpriced deal based more on reputation than production.
According to NFL.com's Ian Rapoport, Raji is willing to wait on the right deal:
Packers DT BJ Raji plans to spend next few days gauging value. Nothing imminent. Could return on 1-year deal depending on interest elsewhere

— Ian Rapoport (@RapSheet) March 8, 2014
For the right price, the 27-year-old could be a great signing. The problem is getting him to agree to that right price.