The 2014 MLB regular season is just around the corner, and anticipation is building for the Atlanta Braves. Unfortunately, so are the injuries. Brandon Beachy, Kris Medlen and Mike Minor could all be out for the start of the season. Medlen may potentially be out for much longer if it turns out he has a ligament tear in his right elbow.
Wednesday morning, positive news finally surfaced for the Braves rotation. Ervin Santana signed a one-year deal worth $14.1 million, according to ESPN Deportes' Enrique Rojas (via ESPN.com).

The Braves have agreed to terms with RHP Ervin Santana on a one-year Major League contract. Santana will wear uniform number 30.

— Atlanta Braves (@Braves) March 12, 2014
Santana adds depth to an Atlanta pitching staff that took blows in back-to-back spring training starts, with Medlen and Beachy exiting their respective games early.
Santana had a 3.24 ERA and 9-10 record in 2013 with the Kansas City Royals. The right-hander expected to have a busy offseason, but the teams didn't come calling until recently. He was in talks with the Toronto Blue Jays and Baltimore Orioles before signing with Atlanta according to Jon Heyman of CBS.
The pitchers that were expected to fill the void of in the starting rotation, prior to signing Santana, were Gavin Floyd and Freddy Garcia.
In 2013, Floyd had an ERA of 5.18 and Garcia finished with a 4.13 ERA. Garcia is 37 years old, which may raise questions of being able to stay consistent throughout the season because of his age, although he was reliable 2013.
Santana brings experience and lower numbers than the other two possibilities for the rotation. He also was signed at a time to give the Braves and Santana a few weeks to work together before the regular season begins.
Frank Wren says they'll take it slow with getting Ervin Santana ready for the season. He'll throw a bullpen today. #Braves

— Kevin McAlpin (@KevinMcAlpin) March 12, 2014
Thankfully, they have the time to be able to move slow. This will help the team get to know Santana, help the new pitcher get back in his rhythm and prevent injuries from pushing himself too hard, too soon.
Atlanta doesn't need a fifth pitcher in the rotation until April 12 because of two off days within the first two weeks of the season. This means if Santana is added to the starting rotation, Minor or Beachy may be back before the Braves need to fill the spot with Floyd or Garcia.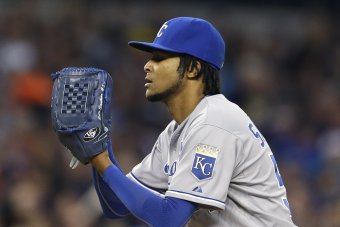 Carlos Osorio/Associated Press
In 2008, Santana was sixth in the AL Cy Young balloting and named to the All-Star team as a member of the L.A. Angels. This shows he has been consistent over several years and will bring his experience to a young rotation.
This experience will, hopefully, help the younger pitchers remain consistent throughout the ups and downs of the season and calm during the postseason. It will also bring a veteran's knowledge into the clubhouse to not only help the pitchers but an entire team that is loaded with young stars.
The Braves have hopes of advancing deep into the playoffs this season, something they have been struggling to do for several seasons. A strong rotation is a crucial piece to this puzzle.
The veteran pitcher will be able to put up consistently strong numbers for his new team and provide confidence to help the rest of the Braves remain focused at the end of September and into October.
Santana will also bring a fun-loving personality to the clubhouse, which teammates enjoy being around and fans love to watch. He showed some of his sense of humor during his announcement to sign with the Braves.
Ervin Santana was asked about moving from the AL to the NL. "I like to hit" he joked. #Braves

— Kevin McAlpin (@KevinMcAlpin) March 12, 2014
The 31-year-old creates more options for the Braves as they move toward Opening Day with far less depth than they were expecting at this point. Santana is a solid option that will help anchor the injured team until the starting rotation returns to full health.
All stats courtesy of ESPN.com.