As if Arsenal's task wasn't difficult enough travelling to the Allianz Arena on Tuesday night, the North Londoners were forced to play with only six substitutes after Ryo Miyaichi was deemed ineligible for the fixture.
The Japanese youngster trained and travelled with the squad to Germany, but Metro's Jamie Sanderson reports that Miyaichi wasn't registered as part of Arsenal's Champions League squad for the knockout stages.
MailSport confirmed on Twitter that the Gunners had been handed the squad news at the very last minute in Bavaria:
Japanese youngster Ryo Miyaichi flew out with the squad but is ineligible to play. No one at Arsenal realised until they landed in Germany.

— MailOnline Sport (@MailSport) March 11, 2014
Yaya Sanogo and Nicklas Bendtner each picked up injuries in the FA Cup win over Everton last weekend, and with Theo Walcott out for the season, senior attacking backups are currently few and far between in Arsene Wenger's squad.
Having lost the first leg of their last 16 meeting 2-0, the Premier League representatives are in need of all the help they can muster, too.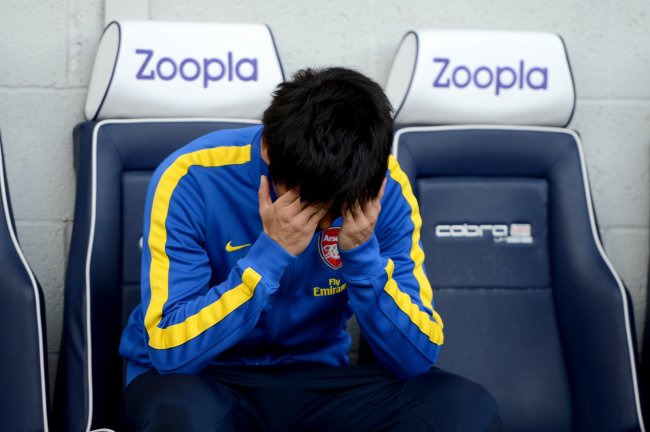 Michael Regan/Getty Images
It's an embarrassing slip-up on Arsenal's part. There's nobody else who can be held to account for the mistake, and Sanderson even suggests that Miyaichi himself was unaware of the restrictions regarding his involvement.
The Independent's Sam Wallace at least points out the positives of the mishap:
At least Ryo Miyaichi got to see the game. He's now sitting in the stand behind the dug-out. Duty free, air miles etc, it's not all bad ...

— Sam Wallace (@SamWallaceIndy) March 11, 2014
Wenger was left with a bench of players that didn't exactly scream "deserved Champions League quarter-finalists," with Tomas Rosicky and Mathieu Flamini the experienced incumbents, while Serge Gnabry, Carl Jenkinson and Isaac Hayden are somewhat less reliable in these kinds of environments.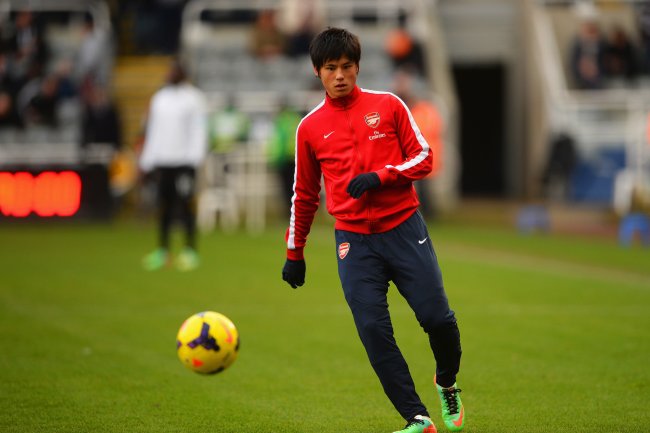 Michael Regan/Getty Images
On the other hand, Pep Guardiola had a loaded pool of reserves, with reigning European champions and world-class talents such as Toni Kroos, Thomas Mueller, Jerome Boateng, Rafinha and Daniel van Buyten backing up his first XI.
All the more pressure was placed on the Arsenal starters as a result of this disappointing oversight. Miyaichi now finds himself at the centre of a peculiar lapse in judgement that will surely go some way to justifying the club's fate should Arsenal bow out of this season's tournament.