Each year the outcome of the NFL draft shocks fans.
Prospects who take a major nosedive on draft day usually get all of the hype because their stock was manufactured by the media in the first place, but this process goes both ways—underrated prospects do not receive enough attention from the national media and catch fans off guard when they come off the board in the first round.
In what is viewed by many experts as one of the deepest classes ever, the propensity for a few similar surprises is high. Do not be the guy or gal caught uninformed as to who the following names are on draft day.
Troy Niklas, TE, Notre Dame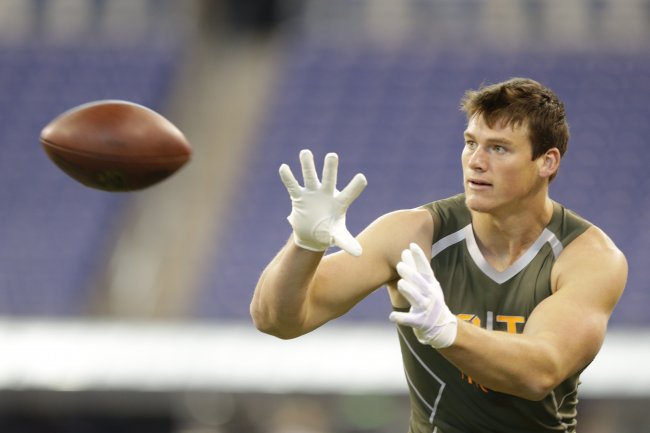 Michael Conroy/Associated Press
A bit of a surprise entrant to this year's draft class, Troy Niklas still has one surprise left.
When one thinks about the top tight ends in the class, Eric Ebron and Jace Amaro immediately come to mind. After those two, there is a bit of a void.
The 6'6" and 270-pound Niklas fills it emphatically.
Niklas only caught 32 passes for 498 yards and five scores last year, but his blend of size, sure hands and speed makes him an important weapon in today's NFL, which places a premium on the position. As NFL Network's Daniel Jeremiah points out, Niklas has a lot of hype building now that he made himself known at the combine:
ND TE Troy Niklas 6'6 1/2 270…Lot of buzz building on him as more guys get a chance to study him. Complete TE.

— Daniel Jeremiah (@MoveTheSticks) February 20, 2014
There are four or five teams that will realistically look at tight end in the first round. The last is the New England Patriots, a team Niklas sounds like he would be more than happy to play for, according to Jeff Howe of the Boston Herald:
Troy Niklas: "It'd be an honor to play (with) Tom Brady and the Patriots, such an historic team."

— Jeff Howe (@jeffphowe) February 20, 2014
While his destination is far from a lock, Niklas has the look of a first-round pick.
Kyle Fuller, CB, Virginia Tech
Like Niklas, Kyle Fuller has also had a slow build when it comes to hype.
Justin Gilbert and Darqueze Dennard are the names fans are likely most familiar with, but CBS Sports' Dane Brugler has a shocking opinion that will soon likely become the norm:
Great to see CB Kyle Fuller getting some love, he's deserved it the past few years. Very natural. I'll take him over Justin Gilbert

— Dane Brugler (@dpbrugler) February 25, 2014
Coming in at 6'0" and 190 pounds, Fuller fits the mold as a big-bodied corner who can physically match up with the league's big receivers. As ESPN's Kevin Weidl points out, Fuller combines that size with a great skill set to form a complete package:
Fuller is a straight ball player. Great eyes/instincts. Sells out in run support/special teams. Will make an immediate impact as a rookie.

— Kevin Weidl (@KevinW_ESPN) March 9, 2014
Corner is deep this year, but Fuller has the type of immediate impact and high ceiling many teams crave at perhaps the most critical position of all outside of quarterback. At this point, he is a lock for the first round.
Brandin Cooks, WR, Oregon State
Brandin Cooks is a name more fans will recognize than the two listed above.
After catching 128 passes for 1,730 yards and 16 scores last season, Cooks has slowly been making a case for himself as a wideout worthy of a pick in the first round. That stock seems to have finally hit its tipping point:
6) I know Beckham seems to be the trendy pick to be the 3rd WR drafted, but Brandin Cooks is still my guy after SW and ME. Special athlete

— Dane Brugler (@dpbrugler) March 10, 2014
I'm watching more Brandin Cooks tape tonight. I see a lot of T.Y. Hilton in his game. Sudden release, has another gear, very tough.

— Daniel Jeremiah (@MoveTheSticks) March 7, 2014
But Cooks has been the definition of a slow riser, and his size at just 5'10" and 189 pounds may cause some to shy away from him in the first round. Many teams may want to go with bigger receivers in the same mold as Texas A&M's massive Mike Evans.
That said, Cooks may remind some of Carolina's Steve Smith, which is actually a pretty good projection for Cooks near the end of the first. But the question remains as to whether Cooks can separate himself from the Odell Beckham Jr. and Allen Robinsons of the world in what is the draft's deepest position.