It has been far from pretty for the Oklahoma City Thunder since the All-Star break. Despite the return of All-Star point guard Russell Westbrook, more problems and concerns have encompassed the team rather than success and expected dominance.
The Thunder have lost five of their last eight games, including losses to teams they should typically handle in the Cleveland Cavaliers, Phoenix Suns and Los Angeles Lakers. And with their most recent loss to the Lakers, they've lost their status as top dogs in the West to the San Antonio Spurs.
The defense has been matador-esque, the chemistry has been spotty at best and the late game decision-making has been full of blunders.
It's been pretty bad, I know. And the loss to the Lakers—who are pretty much the bottom feeders in the Western Conference—will automatically spur panic from Thunder Nation.
But is it really the time to press the panic button for this team?
I say definitely, absolutely, positively not. I'm the type of person who doesn't panic until the Thunder have lost four games in a playoff series. Panic is worthless, but concern, however, can be constructive.
Needless to say, there are some major concerns developing with this Thunder team right now. Luckily though, it's still early March. There is plenty of time to identify what the heck has been going wrong and to start doing things to fix the problems.
These are two big concerns of the Thunder's dismal post-All-Star stretch.
Horrendous Defense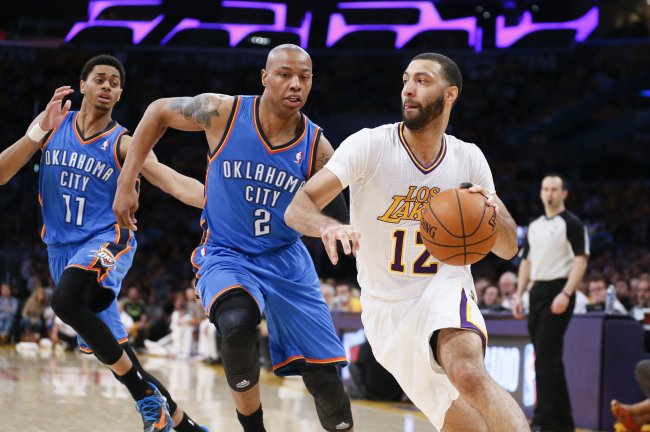 Danny Moloshok/Associated Press
Before Westbrook made his comeback, there were concerns of the Thunder being able to mesh well on offense as he knocked off some of the rust. However, as Royce Young on DailyThunder.com pointed out, defense has been the problem since Westbrook's return, not the offense.
In OKC's case though, there's the unavoidable fact that the Thunder are now 3-5 since Russell Westbrook's return. We all want to say that's merely coincidental, but the losses speak for themselves. Against the Heat and Clippers, good teams, tough losses. Against the Cavs, horrible second half defense. Against the Suns, the same. And against the Lakers, the same, the same. Westbrook's re-integration has not caused an offensive dip — OKC's scoring 110.3 points per 100 possessions in the eight games back with Westbrook — which is a good thing. Because defense should be correctable, especially considering the Thunder's quality track record with it.
Albeit, the Thunder are currently down two of their top defensive playmakers in Thabo Sefolosha and Kendrick Perkins. Still, there's no excuse for giving over 110 points per game in their past eight games.
On top of that, the Thunder have been a welcome mat for opposing players to have career scoring nights. After letting the Suns' Gerald Green score 41 points on Thursday night, the Thunder were torched by the Lakers' Jodie Meeks, who recorded 42 points.
OKC gave up 41 pts to G Green Thur & 42 to J Meeks Sun. 1st time they let 2 players score 40+ in consec games since SuperSonics in '00-01

— ESPN Stats & Info (@ESPNStatsInfo) March 10, 2014
Kevin Durant: "That's the second game in a row somebody got 40 on us that's not supposed to score 40."

— Darnell

Mayberry

(@DarnellMayberry) March 9, 2014
The Thunder haven't looked this vulnerable on defense all season. With players who are capable defensive playmakers, such as Durant, Westbrook, Perkins, Sefolosha and Serge Ibaka, there's reason to believe the Thunder can improve defensively pretty soon.
Defensively, the return of Sefolosha and Perkins will be greatly beneficial. Until then, other players have to start prioritizing the other end of the court.
Westbrook-Durant Offensive Chemistry Is Off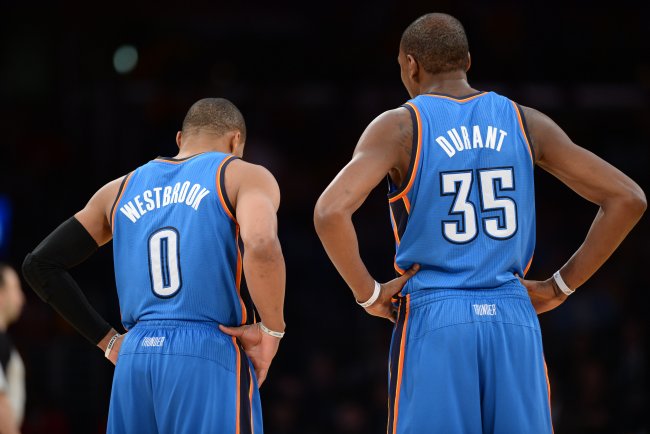 Noah Graham/Getty Images
There are two superstars on this Thunder team. The unfortunate part is that they both have a scoring mindset. The Westbrook-takes-shots-away-from-Durant debate has been going on for years. And more emphasis has been placed upon that debate since Westbrook's return.
When looking at box scores, it isn't that apparent that Durant has been affected since Westbrook's re-integration. He's still scoring efficiently and at a high volume.
What has been apparent during games, however, is Westbrook's tendency to take it upon himself to put up shots in crunch-time situations. It can be argued that Westbrook deserves some of those clutch-moment shots, but when you have a guy known to deliver in the clutch like Durant, you'd like to see him have a majority of the opportunities.
Mark J. Rebilas-USA TODAY Sports
For example, in the Thunder's loss to the Lakers Sunday, the Thunder were down three with 45 seconds left in the game and possession of the ball. Westbrook dribbled around the court for a few moments before stepping back behind the three-point line and hoisting up an air ball. He never even looked Durant's way. He had every intention of playing the hero in the Thunder's comeback effort.
I'm not trying to demean Westbrook's ability at all, because as much as he forces up bonehead shots, he contributes so much more for the team. Still, Westbrook needs to understand he has one of the best players on the planet on his team. His job as a point guard requires him to determine the best time to utilize his own scoring ability and the best time to facilitate the ball to capable scorers such as Durant.
Darnell Mayberry on NewsOK.com noted how individual agendas may be the demise of the Thunder's chemistry.
Pinpointing the cause of the Thunder's problem was tricky before this game. Not after I wrote about it for Monday's paper. This team is no longer playing for each other. Too many guys have different agendas. Too many are doing their own thing. Too many are playing for the wrong reasons. Kevin Durant is gunning for his first most valuable player award. Reggie Jackson is playing for a lucrative extension this summer. Russell Westbrook is working himself back into shape. It's selfish basketball, the kind we've rarely seen take shape in OKC. It doesn't define all 48 minutes. But it's seen in stretches. Far too many of them. The Thunder simply isn't playing with the right focus. Winning simply hasn't been the sole mission. Other objectives, various things for various players, are being targeted while winning stands as the greater goal. But that's become a problem.
Whatever the problem may be, the Thunder have yet to play team basketball since the All-Star break. It isn't a question of whether they have the players necessary to win games and make a title run. They went 43-12 before the All-Star break, and that was without Westbrook for a majority of those games and without the addition of Caron Butler.
Just like the last three years, the Thunder have a championship-caliber team. But until all players get on the same page to reach their ultimate goal, they will continue to see a rise in the loss column, and their hopes for a title will surely dwindle away.
For more Thunder news and analysis, follow @JaredPorter_BR on Twitter.