Over the course of his career, LeBron James has put up 8.6 free-throw attempts per game.
Only 13 players in NBA history have averaged more—Dwight Howard is the only active player above LeBron on that list.
So the fact that the Miami Heat superstar has now gone two games without shooting a single free throw is like this week's version of the NBA Twilight Zone.
According to Bleacher Report's Ethan Skolnick, it's something that hasn't happened in over a decade:
LeBron hasn't gone consecutive games without a free throw attempt since December 2003. 56 seconds away.

— Ethan J. Skolnick (@EthanJSkolnick) March 11, 2014
During Monday's game against the Washington Wizards, Skolnick told us that James hadn't been to the stripe since Thursday:
LeBron James' last free throw was a technical w/ 7:22 left in the game... on Thursday.

— Ethan J. Skolnick (@EthanJSkolnick) March 11, 2014
LeBron's strange trip to the unfamiliar land of non-calls hasn't happened due to a lack of effort or a change in his game.
He's still creating contact with opponents:
John Wall drew a charge on LeBron James. In Miami. I've just about seen it all. #wizards

— Michael Lee (@MrMichaelLee) March 11, 2014
And of his 38 field-goal attempts in the last two games, 22 have come right at the rim: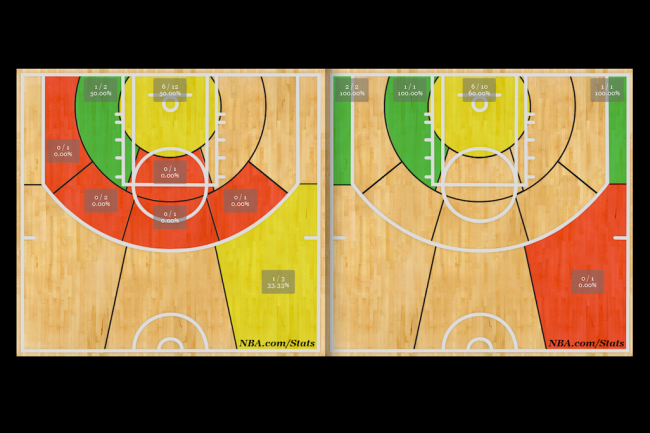 NBA.com
Because he's still attacking, it's tough to put a finger on exactly why LeBron hasn't been able to get to the line. Head coach Erik Spoelstra wants him to continue driving to the basket and seems confident the drought will end if he does so, according to Skolnick:
Spoelstra on LeBron FTs: "I just want him to continue to attack, & eventually the results will come..... It's not my job to campaign."

— Ethan J. Skolnick (@EthanJSkolnick) March 11, 2014
Maybe it's a new defensive approach teams are taking against LeBron. Focusing on keeping him off the line helped the Bulls get a victory on Sunday. The same tactic didn't really pan out for the Wizards, as James went 10-of-15 from the field.
With LeBron, any approach is basically a game of pick your poison. He's going to hurt you 10 games out of 10, and you know he'll eventually start drawing fouls again soon enough.
Even if he's not getting to the free-throw line, he'll still make an impact through his passing, rebounding and defense.
Andy Bailey covers the NBA for Bleacher Report.