Khalil Mack is taking the 2014 NFL draft by storm. He has emerged as one of the elite prospects in this year's draft.
Mack—who is from the University oat Buffalo—will likely be the only player coming to the NFL from Buffalo. Says Bills beat reporter Joe Buscaglia via Twitter:
According to http://t.co/EQZapsZxLC, the only UB player to get invited to the NFL Combine was Khalil Mack.

— Joe Buscaglia (@JoeBuscaglia) February 6, 2014
Mack is a rare alumni of Buffalo, as he will become only the fourth player from the school to currently be in the NFL. He will almost certainly be the school's only NFL starter when next season starts.
One of the best traits about Khalil Mack is that he is an underdog. This kid came out of nowhere. Buffalo was, in fact, the only Division 1 football program to offer him a scholarship and now he is going to have NFL teams fighting to get him.
Mack has come very far. According to an article in The Spectrum written by Carey Breyer about Khalil Mack as a redshirt freshman, he had quit his high school football team in his first year. He rejoined the team his junior year after a coaching change and that coach's keen interest in Mack. He almost never went to Buffalo either, the school paper says,
Mack grew very close to Liberty coach Robert Wimberly. Wimberly had made such an impression, that Mack was all but ready to make his decision to attend Liberty and play football for the Flames. However, late in the process, Wimberly took a job coaching under former Bulls head coach Turner Gill. Mack was more concerned with the coach than the school, so he decided that Buffalo was the place for him.
He went from barely making it to Division I to becoming one of the best pass rushers in the country. His stats steadily increased throughout his college career, which shows that he is only getting better. He had career highs this past season in tackles, sacks, interceptions and forced fumbles.
You can just hop on Twitter to see the buzz around Khalil Mack.
Some are saying that Khalil Mack is even better than the famous Jadeveon Clowney.
A handful of evaluators have greater confidence re: Buffalo LB Khalil Mack than Jadeveon Clowney. Mack's skills, consistency & versatility

— Chris Mortensen (@mortreport) March 8, 2014
After his pro day, his athleticism was undeniable.
Moments ago at his Pro Day, Buffalo linebacker Khalil Mack clocked the 40 in a 4.54....

— Adam Schefter (@AdamSchefter) March 4, 2014
Who's Pro Day was that, Khalil Mack? Or Herschel Walker?

— Mark Kriegel (@MarkKriegel) March 5, 2014
Many people are expecting that Mack will not make it out of the top five picks of the draft.
#MattJEveningDraftMock 3.) JAC: Khalil Mack W/ TB, Clowney gone it's down to Mack. Love him in the 4-3 and continue to build JAC front-7

— Matt Johnson (@MattJ_eDraft) March 10, 2014
He is even already getting Pro Bowl player comparisons.
#HNNSports Which @NFL Draft prospect BEST compares to San Francisco 49ers LB Ahmad Brooks? http://t.co/Fo0dwBBEj0 says it's Khalil Mack

— IG: HNNAfrica (@HNNAfrica) March 8, 2014
I'm no football scout and what I'm about to say has very little value.. Khalil Mack was the best college football player I saw last season

— JQ (@JQuintNBA) March 7, 2014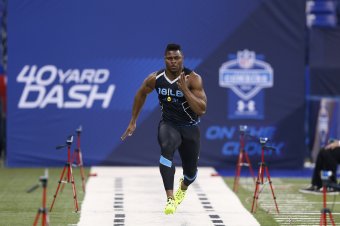 Joe Robbins/Getty Images
What you have to say is a bit more valuable than you might think JQ.