In the later part of his career, Barry Bonds had the build of a prolific slugger, but it looks like he has slimmed down quite a bit since his retirement in 2007.
Here's what the 49-year-old looked like when he showed up to San Francisco Giants spring training on Monday:
And here's what the former MLB star looked like in his final year with the Giants: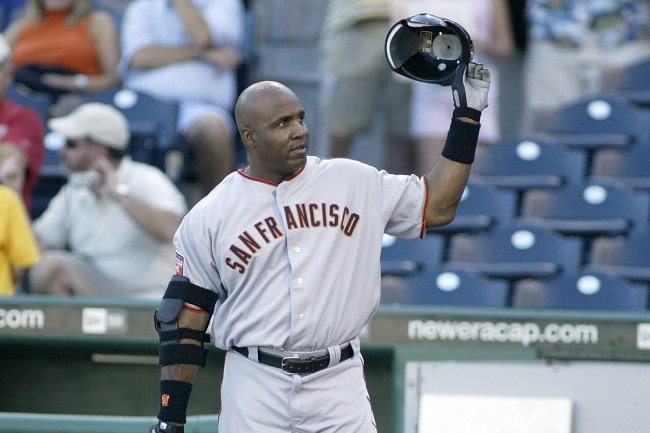 Rick Stewart/Getty Images
Bonds is in camp to serve as a spring training instructor, via ESPN.com. His final contract with San Francisco included a 10-year services deal, which included spring training visits after his playing days were over.
During his career, Bonds wasn't known for being friendly to the media. While that didn't stop him from talking to reporters at camp, he steered clear of addressing his performance-enhancing drugs controversy, via CSN Bay Area's Andrew Baggarly:
Bonds asked THE question if he'll admit to PED use as McGwire did: "I already went to court and that's where I'll leave it."

— Andrew Baggarly (@CSNBaggs) March 10, 2014
Bonds did talk about the home run record and Alex Rodriguez, via The Denver Post's Troy Renck and Baggarly:
Barry Bonds said "God will bless somebody else with" home run record Says he's a lot calmer. Says wish had better relationship w media

— Troy Renck (@TroyRenck) March 10, 2014
Bonds didn't comment on MLB's suspension of ARod but said "I respect him as an athlete and I always will." Says someone will break HR record

— Andrew Baggarly (@CSNBaggs) March 10, 2014
The San Jose Mercury News' Alex Pavlovic shared Bonds' thoughts on how his career ended and whether or not he belongs in Cooperstown:
Does Bonds think he was blackballed at end of career? "I don't know. I don't know what blackballed really means. That's ok. I'm fine."

— Alex Pavlovic (@AlexPavlovic) March 10, 2014
Bonds said he should "without a doubt" be in Hall of Fame. His message to voters: "You guys are all adults, I have no advice for you."

— Alex Pavlovic (@AlexPavlovic) March 10, 2014
Bonds is more than willing to give players advice in his new role, via the San Francisco Chronicle's John Shea:
Bonds to players: "Please do not hesitate. From the younger guys to veteran players, pick my brain. Wear me down for seven days."

— John Shea (@JohnSheaHey) March 10, 2014
Considering his career stats, one can only assume the home run king will be of major assistance to the Giants' offense.
[Ahmed Fareed, h/t Busted Coverage]