Kris Medlen removed himself from a game against the Mets Sunday afternoon in the fourth inning with a strained forearm.
In a worst-case scenario, Medlen needs Tommy John surgery again.
Fans and reporters took to social media to express their thoughts about Medlen's early exit.
Kris Medlen looks like has suffered major arm injury, threw a pitch and immediately took himself out of game. Bad, bad news for #Braves

— Kevin Kernan (@WheresKernan) March 9, 2014
However, it may not be as bad as it originally appeared. The Mets' physician, Dr. Struan Coleman, has a more optimistic outlook after examining the pitcher's arm. Medlen will undergo an MRI on Monday to determine the official diagnosis.
"I feel a lot better talking to our medical people that we might be OK," Braves manager Fredi Gonzalez said to MLB.com after speaking to the medical staff following the game.
If the Braves lose Medlen before the season begins, it wouldn't be the end of the world. Their replacements aren't quite the same quality as Medlen, but they are still strong pitchers.
If Coleman is correct, and Medlen doesn't need Tommy John surgery for the second time in four years, then Medlen may not miss much of the season.
Atlanta has two days off built into its schedule in the first two weeks, so it is able to have a four-man rotation until April 12th.
Unfortunately, left-hander Mike Minor is still recovering from a urinary tract procedure he had on December 31st. The Braves manager has recently talked to the AP about Minor potentially returning at the start of the regular season. "It would be close," Gonzalez said. "We could bump him into the back (of the rotation)."
As of now, the projected starting rotation without Medlen or Minor consists of Brandon Beachy, Julio Teheran, Alex Wood and Freddy Garcia.
The first three have been in the projected rotation for a while at this point.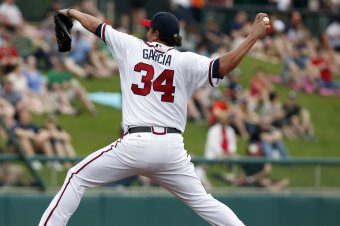 Alex Brandon/Associated Press
Garcia held an 8.71 ERA in six spring starts for the Padres in 2013. He doesn't have stellar numbers and seems to be on a different team almost every season. However, for what it's worth, he has been in the major leagues since 1999 and brings experience.
Garcia would only need to be in the rotation until the early portion of May if everything stays on schedule with Minor and Gavin Floyd.
Floyd was acquired in December and is recovering from Tommy John surgery. The Braves gambled with Floyd since there's never a sure sign a pitcher will be the same after the surgery.
Since Floyd only had five starts in 2013 before being out for the remainder of the season, let's look at his numbers from the 2012 season. Floyd had a 4.29 ERA. He debuted in 2004 and brings experience to the young rotation. Floyd is clearly the better option between him and Garcia.
The Braves will still miss Medlen's presence in the rotation, and they will be filling his position with someone slightly less qualified for the role. However, they certainly aren't doomed if Medlen needs to undergo surgery and miss the season.
All stats courtesy of MLB.com.