The deal is done, but for Carl Froch and George Groves, the talking has just started. Fresh on the back of agreeing to a Wembley rematch, the pair provided plenty of taunting jabs during their first press conference.
Many believe the initial bout was unfairly settled after referee Howard Foster appeared to step in early during a moment of Froch dominance—despite Groves previously knocking his opponent down. As reported by Ben Jefferson of the Express, Groves believes there is only one outcome during the rematch:
We're back here - we've got the rematch. We've got it at Wembley. Carl Froch has been mandated for a fight he doesn't want to take, a fight he knows he can't possibly win. It was a stonewall robbery first time - everyone knows it.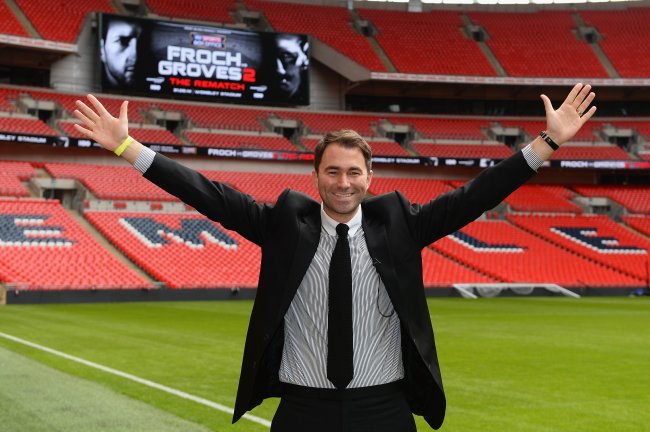 Mike Hewitt/Getty Images
Froch appeared less intense than his rival, often deliberately avoiding eye contact during the faceoff for the press, conjuring the sense that he believes Groves is nothing but a pest on the road to bigger things.
Groves is determined to ensure this isn't the case and worked non-stop to earn another shot at the fighter from Nottingham. Now that the opportunity has been granted, he is ready to ensure Froch will receive a constant tirade of abuse until the battle is over on May 31.
As reported by ESPN, Groves believes Froch can take no positives from the first contest:
Carl Froch knows there's nothing he can take from the first fight, absolutely nothing, apart from the gift that he was given in the ninth round by Howard Foster. He had nothing, he knew he was totally spent.
Froch revealed he was mentally affected by Groves' constant abuse prior to the opening fight and suggests he won't fall into the same trap again. He is also playing down Groves' chances of coming out on top, per Sky Sports:
Whatever he says, he's trying to antagonise me and get under my skin and provoke a response. He's talking about winning round one... pffft.

[...] I'll pay no attention to his stupidity. I did in the build-up to the first fight and mentally I wasn't at the races. That was my own fault, I made a mistake and I won't make it again. I'm not interested. I did underestimate him. I almost paid dearly. But I still found a way to win, and that's important.
Scott Heavey/Getty Images
Despite suffering a knockdown in the opening round, Froch noted that he still managed to gain the victory.
"Lightning doesn't strike twice. It couldn't have gone any better for George Groves in the first fight and it couldn't have gone any worse for me. And I still won," said Froch, via Sky Sports.
As Groves left the conference he bumped into Lee Froch, his opponent's brother, and a small exchange of words took place. Eddie Hearn retweeted footage of the pair coming head to head shortly afterwards:
@EddieHearn Head to head footage @Carl_Froch v @StGeorgeGroves today at Wembley http://t.co/pU7IFrU3gl #MustWatch

— Kugan Cassius iFL TV (@KuganCassius) March 10, 2014
This opening press conference perhaps highlights exactly how the build-up to the rematch will go. Groves was undoubtedly the underdog before the first fight, but he is now seeking revenge. As such, he is sure to gain many extra fans during the Wembley bout, especially considering he was born locally in Hammersmith.
Groves continued to ironically wish his opponent good luck, as noted by Wembley Stadium's Twitter account:
. @StGeorgeGroves "I wish Carl Froch all the best, he's going to need it" #FrochGroves2 #Wembley

— Wembley Stadium (@wembleystadium) March 10, 2014
Froch originally suggested he would prefer to fight Julio Cesar Chavez Jr. in a Las Vegas encounter, per Sky Sports, but he now appears focused on the task ahead. He is likely to remain professional throughout and will be looking to maintain his dignity without entering petty verbal wars with Groves, who excels in such a situation.
The second fight is likely to come down to small margins once more, but unlike the initial contest, let's hope the finish is conclusive.