The New York Jets have released cornerback Antonio Cromartie after four years with the team.
Ian Rapoport of NFL.com reported the news Sunday:
Antonio Cromartie will be released by the #Jets, source confirms. Was just informed.

— Ian Rapoport (@RapSheet) March 9, 2014
There was an attempt to salvage the relationship, according to Fox Sports' Mike Garafolo, but an agreement couldn't be reached, leading to the Jets making their move:
The Jets and Cromartie did try to find a solution on a pay cut from the $9m-plus he was offered. No dice. He'll be officially released soon.

— Mike Garafolo (@MikeGarafolo) March 9, 2014
The solution, according to Rapoport, was to lower Cromartie's rapidly escalating salary-cap number:
Antonio Cromartie had a $5M bonus coming and he was to have a nearly $15M cap charge. There was an attempted solution, didn't work. FA to be

— Ian Rapoport (@RapSheet) March 9, 2014
Despite having some attitude issues in the past, including calling himself "a jackass," Cromartie was very respectful and thankful for his time in New York on Twitter:
I would also like to give a big up to The Jets Fan base. Thank you for all the support thru my 4 yr career with you. Thank you again.

— ANTONIO CROMARTIE (@CRO31) March 9, 2014
Cromartie later discussed his departure on Monday (via Manish Mehta of the New York Daily News):
Antonio Cromartie (@CRO31) via ESPN radio says he's unaware of Jets giving him a pay cut option/restructure option. #nyj

— Manish Mehta (@MMehtaNYDN) March 10, 2014
Antonio Cromartie says the "door's still open" for a possible return to Jets, but he will explore options with other teams. #nyj

— Manish Mehta (@MMehtaNYDN) March 10, 2014
He also talked about next season and what fans can expect from him (via Brian Costello of the New York Post):
Cromartie says he's healthy on 98.7. "You're going to see the Antonio Cromartie of old."

— Brian Costello (@BrianCoz) March 10, 2014
The Jets later confirmed Cromartie's release on the team website, with head coach Rex Ryan praising the cornerback:
Cro is one of the finest athletes I've ever coached. He was willing to contribute wherever the team needed him to win games, be it defense, special teams or offense. He has a passion and enthusiasm for the game and I wish him and his family the best.
Even though Cromartie sounds somber, Seth Walder of the New York Daily News brought up a fair point before the news of the release broke:
Remember: if Cromartie is cut today, he could return at a cheaper price.

— Seth Walder (@SethWalderNYDN) March 9, 2014
The San Diego Chargers drafted Cromartie with the 19th pick in 2006 but traded him to the Jets prior to the 2010 season for a conditional pick. He was an All-Pro in 2007 and has 28 career interceptions.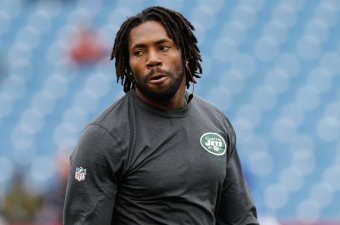 Kevin Hoffman-USA TODAY Sports
Cromartie will turn 30 in April and still covers well, ranking 11th among B/R's Top 100 Cornerbacks last year, but he also seems like the kind of player who has to be with the right coach to maximize his ability.
Ryan is fantastic because he allows players to be themselves, which is something Cromartie needed in his career. The door may not be closed on a return to New York, but with a deep cornerback market in free agency, finding the right deal may be difficult for him.