The quarterfinals of the 2014 FA Cup are over, and four teams remain in the running to win England's most prestigious cup tournament.
Saturday saw Arsenal easily dispatch of Everton, and the Gunners were joined by Wigan Athletic, Hull City and League One's Sheffield United as the remaining semifinalists.
FA Cup Quarterfinal Results

| | | |
| --- | --- | --- |
| Home | Result | Away |
| Arsenal | 4-1 | Everton |
| Sheffield United | 2-0 | Charlton Athletic |
| Hull City | 3-0 | Sunderland |
| Manchester City | 1-2 | Wigan Athletic |
bbc.co.uk
Arsenal got back to their winning ways on Saturday, recording a convincing 4-1 victory over Everton. Mesut Ozil returned to the starting XI and put together perhaps his finest performance since the turn of the year. Sir Jenkinson noticed as well:
Arsene Wenger 2 weeks back - "You'll see a different Özil from now." 1st start after Bayern - 1 goal, 1 assist today. Long way to go, Mesut.

— Sir Jenkinson (@theEpicGooner) March 8, 2014
The German midfielder conducted play from the centre of the park and was aided greatly by the movement from Santi Cazorla and Mikel Arteta, putting pressure on the Everton back line from the very first minute.
Olivier Giroud was forced to start from the bench, and the move seemed to motivate him into play an excellent game, scoring twice. Arsenal's official Twitter account shared Wenger's comments on the performance of his compatriot:
Wenger: "Giroud was important today. He showed he can score goals when he has come off the bench." #AFCvEFC

— Arsenal FC (@Arsenal) March 8, 2014
The big win should have the Gunners feeling confident going into the semifinal stages, as Arsenal are getting closer to their first major trophy in over a decade.
Sheffield United recorded the upset of the day, as they became the first League One team to make it all the way to the semifinal of the FA Cup in 13 years.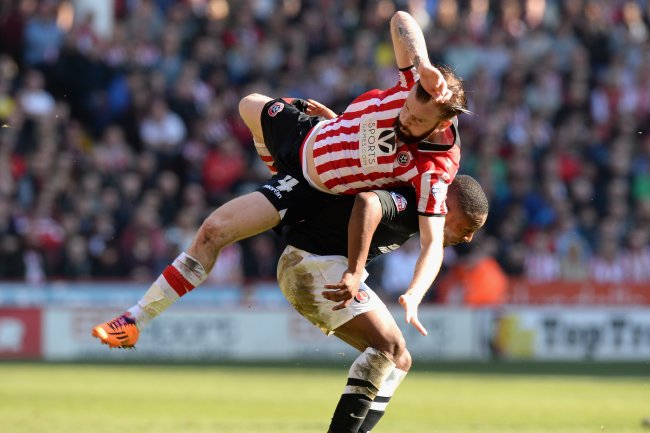 Tony Marshall/Getty Images
Two quick goals in the second half would prove to be the difference in their tie with Charlton Athletic, as they will now prepare to face Hull City with a chance to make club history.
Ryan Flynn scored the opener for his club before John Brayford's shot deflected into the back of the net. Charlton saw a golden opportunity go to waste just minutes before Flynn broke the deadlock, but the winners were never threatened after that.
Infostrada Sports explained exactly how big of a feat Sheffield's qualification is:
Sheffield Utd beat Charlton 2-0 to become the first THIRD level club to reach the FA Cup semifinals since Wycombe Wanderers in 2001.

— Infostrada Sports (@InfostradaLive) March 9, 2014
The Cinderella run continues for the League One club, with the remaining three teams all no doubt hoping to see their names when the semifinal draw takes place.
Hull City emerged victorious from their match against Sunderland, recording a simple 3-0 victory.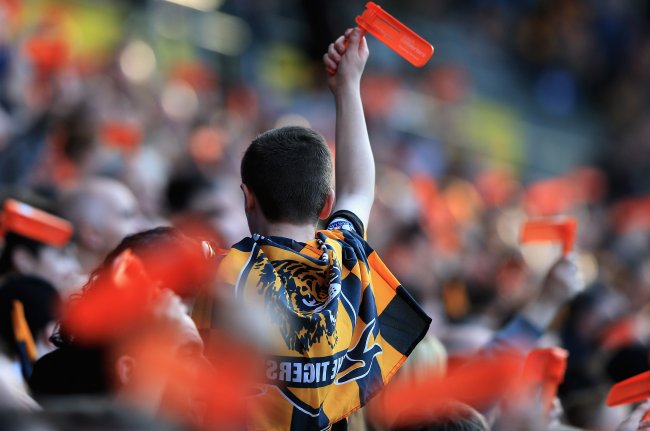 Matthew Lewis/Getty Images
For Sunderland, it was the second consecutive cup loss, as the team lost the Capital One Cup final to Manchester City just a week ago. As valiant as their effort had been in taking on the highly rated Citizens, their performance against Hull was as flat as it gets.
With the win, The Tigers have qualified for the first FA Cup semifinal for the first time since 1930. David Meyler scored against his former club and found more joy in butting heads with the corner flag than he did with Alan Pardew last week.
Football_Tweet has the Vine:
VINE: David Meyler headbutts the corner flag in celebration. Pardew-esque. >> https://t.co/vcc4QYgvQ2

— Football__Tweet (@Football__Tweet) March 9, 2014
It was a special moment for Meyler that capped off an excellent match, and along with captain Curtis Davies and Tom Huddlestone, Meyler played a big part in his team's qualification.
Like Sheffield, Hull City made history on Sunday, and both hope to continue that run when they travel to Wembley.
In the last game of the day, Wigan beat Manchester City in another major upset, the visitors leaving Manchester with a 1-2 win.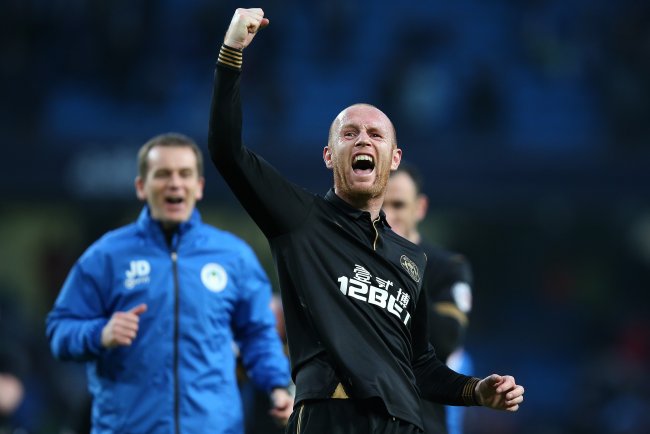 Jan Kruger/Getty Images
Jordi Gomez converted from the spot, and James Perch put Wigan ahead for good early in the second half. Samir Nasri gave the Citizens hope when he was able to score with 20 minutes left on the clock, but a late push from the Capital One Cup winners wasn't enough to find an equaliser. For the second season in a row, City bow out of the FA Cup at the hands of Wigan.
Unlike last week, when the team beat Sunderland in similar circumstances, City were unable to fully convince with their play, failing to dominate their opponents as we've come to expect. Nasri's goal wasn't even fully legal, as EPL Stuff points out:
Tiote's screamer a few weeks back was disallowed despite Remy not blocking the GK's view. Lescott was blocking the view during Nasri's goal.

— EPL Stuff (@EPLStuff) March 9, 2014
But it was as much a City loss as it was a win for Wigan.
ESPN's Tommy Smyth lauded Wigan's determination:
What a performance by Wigan they showed so much guts and spirit. City missed very easy chances.

— Tommy Smyth (@TommySmythESPN) March 9, 2014
The game capped off a mad day of cup football, and Anthony Lopopolo reminded us all why we love the FA Cup so much:
What a last stand. Wigan beat City again. We've got sides from the first, second and third tier in the #FACup semis. The romance!

— Anthony Lopopolo (@sportscaddy) March 9, 2014
Emmerson Boyce played a game for the ages, leading the Wigan defense and coming up with timely stops wherever needed. His game-saving tackle on what looked to be a sure goal for Edin Dzeko is an early favourite for defensive play of the year:
Matchday memories agreed:
After that clearence Wigan should give the freedom of the city to Emmerson Boyce. Never seen anything like it. #wigan #FACup

— Matchday Memories (@matchdaymemory) March 9, 2014
The Latics' captain can look back on the performance of a lifetime, and now his team will have a date with Arsenal to look forward to, while Hull City will face off against Sheffield United in the other semifinal.