The NFL rumor mill is in full swing with free agency on the horizon, but the smarest teams around the league are those that remain the most quiet.
It goes without saying that the smart teams do not rely upon free agency to craft a roster, and they instead lean on the draft to field a competitive team. These teams go into the draft with one goal in mind: to build the foundation for a competitive roster that can be supplemented through free agency.
While it is never wise to place bets on how teams will act in the first round of any draft, there are always a few selections that are far too obvious—smoke screens or not. Here is a full rundown of how the first round of the 2014 NFL draft should shake out this May.
Note: Italics denote the surest bets to occur on draft day.
1. Houston Texans: Teddy Bridgewater, QB, Louisville
Case in point.
The Houston Texans are doing a heck of a smoke-screen job at this point in the offseason, with the latest news suggesting that the team was interested in trading for New England Patriots backup Ryan Mallett—a rumor that has since been discredited:
Texans won't be trading for Ryan Mallett, per @McClain_on_NFL http://t.co/NmAKllnwUq

— NFL: AroundTheLeague (@NFL_ATL) March 9, 2014
In reality, the Texans have surely settled on Bridgewater. The Louisville product is far and away the best quarterback in the class, and Houston is not in a position where it would want to grab a developmental player to groom for a few seasons.
2. St. Louis Rams (via Washington): Greg Robinson, OT, Auburn
Offensive linemen can be hit or miss so high in the draft, but Greg Robinson has the look of a future star based off his film from Auburn and the stunning athleticism he showcased at the combine.
St. Louis is desperate for help and more than willing to take the risk here thanks to a forward-thinking move two years ago—trading away the No. 2 overall pick in the 2012 NFL draft, which landed Robert Griffin III with the Redskins—that has them sitting with two picks in the first round this year.
While the appeal may be strong for another top player, Jeff Fisher has to win now. To do so, Sam Bradford has to actually stay healthy.
3. Jacksonville Jaguars: Jadeveon Clowney, DE, South Carolina
Believe it or not, Jacksonville's signing of defensive end Red Bryant over the weekend does not prohibit the team from taking another end. Bryant is a massive upgrade against the run, but Gus Bradley's defense could still use a more consistent rusher.
Jadeveon Clowney is the obvious choice here, with Bridgewater off the board. Jacksonville will obviously grab a quarterback in the second round, but barring a trade down, selecting a signal-caller would not be the best move for the franchise so early in the first round.
4. Cleveland Browns: Sammy Watkins, WR, Clemson
The same can be said for Cleveland.
Like St. Louis, the Browns have two first-round picks to play with and do not have to hit on a quarterback early in the round if the front office is not sold on the talent available.
With the propensity for a prospect they like to fall down the board—closer to their pick at No. 26 overall—the Browns can grab the draft's top offensive weapon here. Sammy Watkins not only contributes on special teams, but he will combine with Josh Gordon to create one of the league's scariest wideout duos.
5. Oakland Raiders: Blake Bortles, QB, UCF
Jaguars head into free agency with some momentum: reached agreement with former Seahawks DT Red Bryant on a 4-yr deal.

— Adam Schefter (@AdamSchefter) March 8, 2014
Oakland is a lock to take a quarterback early in the round if one it likes takes a dive and no team bites on a trade.
The best possible thing the Raiders could do is trade down, but taking Blake Bortles is not a bad way to go in the first round, either. As NFL Network's Albert Breer points out, Bortles has the upside worthy of the pick:
Bortles is certainly a work in progress, but that is the key word for Oakland: "progress." Also, anything is a step up from Terrelle Pryor and Matt McGloin.
6. Atlanta Falcons: Khalil Mack, OLB, Buffalo
3) Most common comparison I heard for Blake Bortles was Andrew Luck, though Bortles is not quite the athlete, and not nearly as developed.

— Albert Breer (@AlbertBreer) March 3, 2014
Rather than spend more cash on a pass-rusher in free agency, the Atlanta Falcons should instead grab a big-time talent near the top of the first round.
It's not that free agency did not work out well for Atlanta last year, but the Falcons have a rare opportunity here to grab a franchise player rather than a stop-gap solution. As long as the team finds a few upgrades along the offensive line, Khalil Mack is the easy pick.
Mack fits well in Atlanta and has the potential to play every down as a rookie. His upside is frightening, and the hybrid-rusher need in Atlanta gets filled for quite some time upon his arrival.
7. Tampa Bay Buccaneers: Jake Matthews, OT, Texas A&M
It is a good thing the Tampa Bay Buccaneers and coach Lovie Smith are hot on the heels of top defensive ends in free agency, according to Brad Biggs of the Chicago Tribune:
Mack was never going to make it to this point, so Smith grabbing a veteran rusher in free agency would open things up in regards to their first-round pick. This would allow the Bucs to grab a franchise tackle to protect quarterback Mike Glennon and replace Donald Penn.
8. Minnesota Vikings: Johnny Manziel, QB, Texas A&M
As long as free agency goes as desired, quarterback is a smart pick here for Minnesota.
The framework for a rookie to succeed is already in place thanks to Cordarrelle Patterson, Adrian Peterson and a strong defense led by new coach Mike Zimmer.
So it would make sense for the Vikings to be comfortable taking the risk on Johnny Manziel. His freestyle game, which involves the use of his legs to extend plays, has the propensity to create a rough rookie campaign, but it is something the franchise can live with as it develops its roster.
9. Buffalo Bills: Eric Ebron, TE, North Carolina
Buffalo is in a nice spot near the top with few major needs to address, so what will surely be labeled as a reach by some here is actually a realistic scenario.
The definition of a reach is simply opinion, and in the minds of those who run things in Buffalo's front office, their opinion is surely to do whatever it takes to make sure EJ Manuel succeeds so they are not stuck in quarterback purgatory for years.
Taking Ebron would be a great way to start off. He is a rare athlete who uses his size and sure hands to absorb most balls thrown his way. He has no equal in the class.
10. Detroit Lions: Mike Evans, WR, Texas A&M
#Buccaneers and Lovie Smith making a hard push to sign #Bengals DE Michael Johnson. Makes sense. Smith wanted a DE 1st thing he got to CHI.

— Brad Biggs (@BradBiggs) March 9, 2014
For the Detroit offense to remain playing at a high level, a dependable wideout across from Calvin Johnson is sorely needed.
Mike Evans is the perfect candidate and makes the decision to pass on a defensive back easy for the Lions front office. He is a huge target who can play multiple spots on the field and capitalize on the soft coverage he will see with defenses focused on Megatron.
Further helping Detroit's cause here is the impressive depth of the cornerback class this year. Receiver is also deep, but Evans is the last of the elite prospects, and the drop off after him is much more significant than that of the top corners.
11. Tennessee Titans: C.J. Mosley, LB, Alabama
When Dick Butkus raves about a linebacker prospect, NFL teams better pay attention. He did just that recently, according to Andrew Gribble of AL.com:
While it is a widely held notion by experts that Tennessee may want to grab a pass-rusher here, another strong bet is on the Titans grabbing a leader in the middle to effectively shut down the run.
Effective rotational rushers can be found in a wealth of ways, but an elite inside linebacker with great anticipation and range is not as simple to find.
12. New York Giants: Taylor Lewan, OT, Michigan
The Eli Manning problem in New York is real.
To be fair, the Giants' offensive line last year was far from perfect, but it seemed as though Manning simply took a step back in terms of decision-making as well.
A top offensive lineman will not fix that problem, but the presence of an elite athlete like Taylor Lewan in front of Manning will at least help to mitigate the issues, as the latter will have more time to make his reads before tossing it up.
13. St. Louis Rams: Ha Ha Clinton-Dix, S, Alabama
This pick is absolutely subject to change with Fisher and the Rams seemingly ready to open up the checkbook in free agency in order to upgrade the defense, as mentioned by Nick Wagoner of ESPN.com. But for now, the top safety is the best choice.
Besides, given how bad the safety play was in St. Louis last year, free agency may not be enough.
As the second of two first-round selections, Ha Ha Clinton-Dix is a great move. He is a natural against the run and has enough athleticism to do well against the pass once he adjusts to the speed of the pros.
14. Chicago Bears: Aaron Donald, DT, Pittsburgh
Dick Butkus raves about Alabama's C.J. Mosley; Team that drafts him will be 'really happy' (link) http://t.co/Mz8z1MpMf4

— Andrew Gribble (@Andrew_Gribble) March 3, 2014
Here is another easy one.
Aaron Donald is one of the more interesting prospects this year thanks to his ability to consistently generate unorthodox interior pressure.
Chicago is all too familiar with this type of ability thanks to Henry Melton, but Melton is on his way toward free agency after an ACL tear. Rather than let the market set the price on an injury risk, the Bears will surely be content to grab Donald instead.
But do not be fooled; Donald is great in all facets, which would explain why he is NFL Network's Mike Mayock's No. 1-rated tackle in the class.
15. Pittsburgh Steelers: Louis Nix III, DT, Notre Dame
Not far behind Donald is Louis Nix, the surefire top 3-4 nose tackle in the draft. Nix will start from Day 1, experience a relatively simple adjustment period and make the lives of those around him easier.
If that sounds like the makings of a great pick at No. 15 overall, well, it is.
Pittsburgh can go in a multitude of ways at the spot, but a starting-caliber nose tackle is hard to pass on, especially with the Steelers having such a glaring need at the position. The ripple effect of a quality war horse in the trenches of a 3-4 scheme should not be underestimated.
16. Dallas Cowboys: Kony Ealy, DE, Missouri
While just for fun, this comparison by Bleacher Report's Matt Miller says a lot:
Dallas cannot expect Kony Ealy to morph into The Kraken, but it sure does not hurt to grab a prospect who compares favorably to him.
Ealy was at star a Missouri and clearly has the athleticism necessary to compete at the pro level. He can ease his way in as a situational player and help to apply an ample pass rush that will help keep some pressure off of a mediocre secondary.
17. Baltimore Ravens: Allen Robinson, WR, Penn State
Fun comparison: Greg Hardy: 6'4", 281. 4.82-40, 7.25s 3 cone drill, 1.75s 10yd Kony Ealy: 6'4", 273. 4.92-40, 6.83s 3 cone, 1.66s 10yd

— Matt Miller (@nfldraftscout) March 6, 2014
Count on the Baltimore Ravens grabbing a wide receiver in the first round.
Offensive line is also an issue, but it is an area that can be hit in a variety of ways. A more immediate need is properly rounding out the group of receivers who surround Joe Flacco.
If Allen Robinson is truly the pick here, Flacco would get a big, dependable receiver across from Torrey Smith—something he has not had since Anquan Boldin was in town.
18. New York Jets: Jace Amaro, TE, Texas Tech
The New York Jets are another candidate to be stuck in quarterback purgatory if the team does not adequately surround Geno Smith with weapons.
Jace Amaro makes sense thanks to his versatility to line up at multiple spots. Smith had few consistent weapons to count on last year, but he would get a major boost with Amaro as a chain-moving tight end who can also make plays after the catch and create mismatches in the red zone.
19. Miami Dolphins: Zack Martin, OL, Notre Dame
Is it unfair to label this as a sure bet?
Probably, but Miami is what it is at the moment. Four of the five spots in the offensive trenches arguably need an upgrade, and that is not up for debate, as Ryan Tannehill was the most-sacked quarterback in the league last season.
Zack Martin is the obvious choice here out of the remaining offensive line talent, especially thanks to his versatility that sees him as a strong prospect both on the outside and inside of the line. This versatility gives the Dolphins options, which is a major plus given the situation.
20. Arizona Cardinals: Cyrus Kouandjio, OT, Alabama
Bruce Arians would have loved to see Amaro fall to this point, but the team has already prepared for this exact scenario with the signing of John Carlson in free agency.
This frees up Arizona to grab the top tackle on the board in an effort to better protect the immobile and aging Carson Palmer.
As an added bonus, Cyrus Kouandjio is a mauler in the running game and will help to widen the running lanes for Andre Ellington.
21. Green Bay Packers: Ra'Shede Hageman, DT, Minnesota
Tom Silverstein and Bob McGinn of the Milwaukee Journal Sentinel report that the Green Bay Packers and defensive tackle B.J. Raji are unlikely to come to terms on a new deal:
The Packers offered Raji the options of one- and two-year contracts, a source told the Journal Sentinel. For one year, their offer was for about $4 million.

ESPN's Adam Schefter reported Thursday that Raji was close to a one-year deal, but sources told the Journal Sentinel the deal is not imminent and there are indications Raji isn't interested in the Packers' offer.
This is simply the latest in the saga, which once again suggests the Packers will be on the hunt for a new tackle in the draft. Also, Ra'Shede Hageman just so happens to be the perfect fit for the team's scheme and can start right away.
While a defensive back would make a lot of sense here, the trenches are more important, and one of the better front offices in the league surely understands this.
22. Philadelphia Eagles: Calvin Pryor, FS, Louisville
A defensive back has been slotted for the Philadelphia Eagles in the first round of many mock drafts for quite some time, and even the addition of one in free agency would not change the pick.
Like St. Louis, the Eagles need as much help as they can get at safety. Calvin Pryor is arguably the best in the class thanks to his elite athleticism and highlight reel of mega hits that suggest his body will hold up against the run in the pros.
Pryor will start right away in Philadelphia as the unit continues its makeover.
23. Kansas City Chiefs: Marqise Lee, WR, USC
For Andy Reid to continue getting the most out of quarterback Alex Smith, the offense needs more reliable weapons other than Dwayne Bowe and Jamaal Charles.
Despite a smaller frame, Marqise Lee is one of the more dependable wideouts in the class and falls down the board thanks to a wild last collegiate ride marred by injuries and an inept program.
Lee can likely be penciled in as a starter right away and will find success in the multifaceted Kansas City attack.
24. Cincinnati Bengals: Darqueze Dennard, CB, Michigan State
Cincinnati will have its pick of the top corners late in the round, so it only makes sense the team would pass on a top tackle for the time being.
Darqueze Dennard is the best fit for the Bengals defense, and even though he has what it takes to contribute right away, he will not be asked to do so thanks to a wealth of veterans and another former high selection in Dre Kirkpatrick in front of him on the depth chart.
25. San Diego Chargers: Justin Gilbert, CB, Oklahoma State
For as great as the offensive turnaround was in San Diego last year, the pass defense was a major disappointment.
Injuries marred the entire unit, but the back end is in clear need of an upgrade. Justin Gilbert is arguably the best corner in the class, so the Chargers luck out here and get an immediate fix and long-term solution balled into one.
NFL.com's Buck Brooks even compared Gilbert to Patrick Peterson. He would be quite a bargain near the end of the round.
26. Cleveland Browns (via Indianapolis): Derek Carr, QB, Fresno State
Believe the hype surrounding Derek Carr.
Carr's game is similar to Manziel in the way he escapes pressure, but he simply needed strong interviews at the combine to cement his status as one of the top signal-callers in the class. According to CBS Sports' Rob Rang, Carr did just that:
Perhaps the biggest winner of the interviews conducted at the combine will prove to be Fresno State quarterback Derek Carr. He entered the week in Indianapolis with momentum after a strong performance on and off the field at the Senior Bowl and carried that over in meetings with teams, impressing scouts and coaches alike with his intelligence, humility and leadership.
While it is still hard to see Carr come off the board within the top 10, his stock continues to soar, and the Browns are sure to grab him late in the round to further help create what has the makings of an elite offense.
27. New Orleans Saints: Anthony Barr, OLB/DE, UCLA
Anthony Barr has quickly morphed into one of the draft's more polarizing prospects.
A talent who can consistently get to quarterbacks is a nice commodity, but the pros have to be sold on the fact it will translate well to the next level.
This far down the board, the questions turn into a safe risk—especially in New Orleans, with coordinator Rob Ryan, who will put Barr in a position to succeed. It is a symbiotic pairing that will work out well for both parties.
28. Carolina Panthers: Brandin Cooks, WR, Oregon State
After a trip to the playoffs and with a sound defense still in place, now is the time for the Carolina Panthers to get serious about giving Cam Newton more weapons on offense.
Brandin Cooks is seemingly a carbon copy of Steve Smith. Given the fact that the veteran is getting up there in age, the Panthers would be wise to grab a similar player like Cooks so that he could learn under Smith for a season or so.
At the same time, the Carolina passing attack will become much more potent.
29. New England Patriots: Troy Niklas, TE, Notre Dame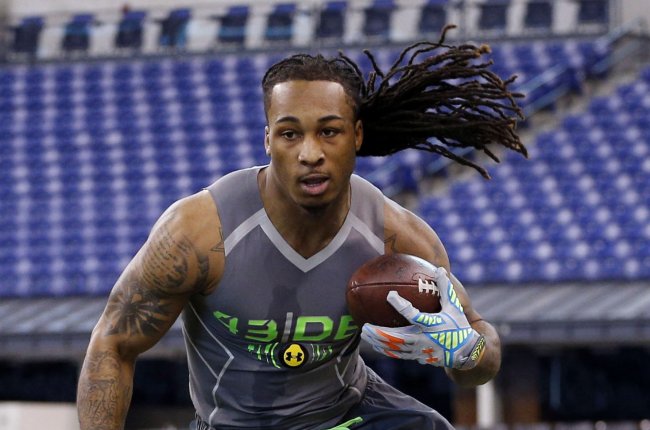 Brian Spurlock-USA TODAY Sports
The tighe end position has been widely projected as the position the Patriots will address in the first round by most experts for a long time now.
Simply put, it may be one of the bigger surprises of the draft if the Patriots do not select a tight end. With Rob Gronkowski getting hurt on an annual basis, New England has to give Tom Brady more big weapons.
Troy Niklas is great option, with the top-two at the position already off the board. Unlike the rookie wideouts last year, he will not struggle with drops and will be in Rookie of the Year talks thanks to his ability to snag touchdowns out of the air in the red zone.
30. San Francisco 49ers: Jordan Matthews, WR, Vanderbilt
Boldin is back in the fold with the San Francisco 49ers, which makes sense considering he was so important to the offense, as highlighted by this tweet from ESPN Stats & Info: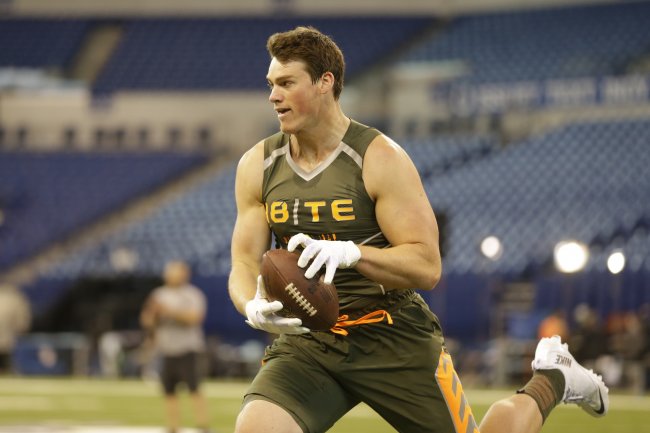 Michael Conroy/Associated Press
Boldin was a great re-signing to be sure, but he does little to impact the team's draft plans. The team still needs an insurance policy should the veteran get hurt, although an option with deep speed may be on the table, too.
That said, Jordan Matthews is the pick here, with the thought being that the 49ers can still grab a cheap deep threat later, if they so desire. Matthews is a top talent who can learn from Boldin while still contributing and eventually taking over.
31. Denver Broncos: Jason Verrett, CB, TCU
Jason Verrett is another name who should be in consideration for the title of top corner in the class, but his smaller stature (5'9") makes some shy away from the label.
Verrett is a slot corner, which is a very important commodity to have in today's NFL. He also happens to be extremely physical against the run, so the Denver Broncos will get great value late in the round and have a corner to pair with Chris Harris.
32. Seattle Seahawks: Timmy Jernigan, DT, Florida State
Luxury is the name of the game for Seattle to close the round, with no major needs that pop off the page upon first glance.
A versatile defensive lineman like Jernigan only makes the Seahawks better, and he would also help to offset some of the losses the team is expected to incur via free agency this offseason. This ability to continue to build on an already sound roster is what has the Seahawks picking last in the first place.