The NFL free agency period doesn't officially begin until Tuesday but a buffer zone that began on Saturday allows teams to contact and begin negotiations with players who will hit the open market.
That has led to some hot buzz already surfacing, as insiders around the league are consulting their sources and getting a feel for what interest levels are in some of the biggest names who will likely play elsewhere in 2014. Most of the latest news is about marquee defensive players, with defensive backs in particular being the focus.
Strong secondaries can make all the difference in the league today, evident in how well the Seattle Seahawks played en route to a Super Bowl XLVIII triumph. A ton of teams should be interested in the best cornerbacks and safeties as a result.
Let's take a look at the latest chatter as the commencement of free agency approaches, along with analysis regarding what all the rumors could mean.
Alterraun Verner, Aqib Talib Headline CB Market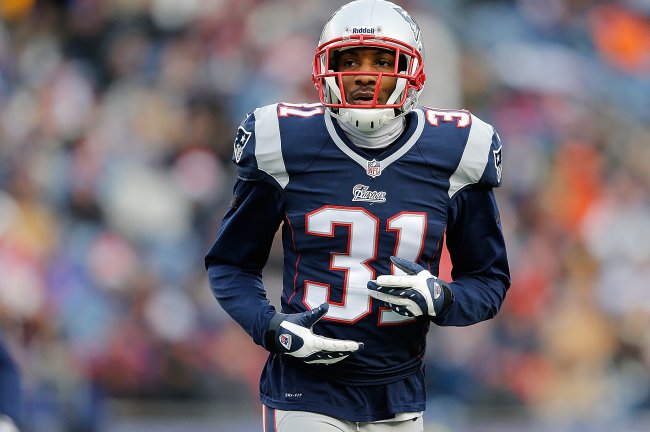 Jim Rogash/Getty Images
With how important lockdown corners are these days, it is wise for teams seeking players such as Verner of the Tennessee Titans and New England Patriots star Talib to tread with caution. A bad contract at the cornerback position can be devastating to an entire defense if the performance level isn't there, because the lucrative deal will try to be justified.
Unfortunately, the Green Bay Packers' re-signing of Sam Shields for four years and $39 million may force front offices to move faster and drive up the cost for both Verner and Talib. ESPN's Adam Schefter reported on Shields' deal:
Packers gave CB Sam Shields a 4-year deal for $39 million, including a signing bonus $12.5 million, per source.

— Adam Schefter (@AdamSchefter) March 9, 2014
ProFootballTalk.com's Mike Florio has the latest on Verner in a Sunday report, in which he asserts six teams have contacted his camp:
On the first day of the legal tampering period, the agent representing Titans cornerback Alterraun Verner received plenty of phone calls from teams. At last count, there were six. And unless those six teams independently leaked to the media that interest is being expressed, the Verner camp becomes the primary suspect for the source of the leaks.
At least one of those teams is reportedly the Minnesota Vikings, according to Darren Wolfson of 1500ESPN.com:
Count the #Vikings as officially interested in CB Alterraun Verner, per source. Vikings DB coach Jerry Gray had him in Tennessee.

— Darren Wolfson (@DarrenWolfson) March 8, 2014
Wolfson's connection makes sense, and Verner could help mentor 2013 first-round corner Xavier Rhodes in Minnesota. That unit could use depth in the defensive backfield, especially with All-Pro defensive end Jared Allen set to perhaps leave town.
Ralph Vacchiano of the New York Daily News reports that the New York Giants are another interested party, per a source in the know. The G-Men were hoping to bid on Shields before he re-signed with the Pack, too, so they're clearly searching for a corner.
As for Talib, Bleacher Report's Chris Simms is hearing that the Washington Redskins will make a big play for him. Simms cites Talib's previous association with Washington secondary coach Raheem Morris in Tampa Bay as the reason behind the fit:
Something needs to happen in the nation's capital, that's for sure. With quarterback Robert Griffin III still a bit of a question mark, coach Jay Gruden must have a strong defense to help him along in his first year at the helm.
There is some hesitancy in Talib's particular case, though, given his history of injuries and off-field issues from earlier in his career that have been well documented. Florio discussed Sunday what some believe is general manager Bruce Allen's strategy, which could cost the Redskins a shot at landing Talib:
Some think Allen intends to wait and shop for bargains, and to resist signing anyone to a big-money contract right out of the gates. If that's the case, Talib becomes a player they won't be pursuing — unless no one else signs him and he becomes a de facto bargain.

For now, it's hard to know which teams are interested, because Talib's camp isn't leaking the phone logs to the media. Even without that info, it's safe to say that plenty of interest exists.
Both Verner and Talib are among the best cover corners in the game when they are 100 percent. Each should be among the most coveted and even the apparent front-runner for Talib in Washington may not be willing to spend too much on him.
It will be interesting to see where this pair lands to say the least, but the general feeling is that Verner—who's just 25 years old—is the safer bet to secure a long-term contract sooner.
Pro-Bowl Safeties To Be Difference-Makers for Borderline Teams?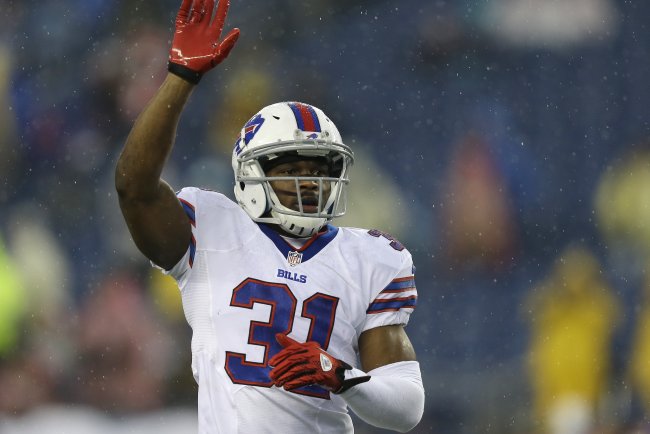 Steven Senne/Associated Press
As hinted at before regarding the situation in Seattle, the Cleveland Browns could get their own Earl Thomas-Kam Chancellor-esque safety tandem by re-signing T.J. Ward and bringing in Buffalo Bills All-Pro Jairus Byrd.
Although there is no specific intel to support his opinion, ESPNCleveland.com's Tony Grossi feels that's all but impossible:
"@DerrickEbersole: chances Byrd and Ward are the starting safety tandem next year ?"// Zero to 1%.

— Tony Grossi (@TonyGrossi) March 8, 2014
With that possibility virtually out the window, there are other teams chasing both impact players already—and for good reason. Byrd is more of a ball hawk with 22 interceptions in five seasons while Ward can lay the boom and is improving in coverage.
NFL Network's Ian Rapoport reports Sunday that the St. Louis Rams—even with T.J. McDonald and Rodney McLeod as returning, young safeties—are in the running for Byrd's services:
The #Rams were among the teams that inquired today on #Bills S Jairus Byrd, per source. That was a bit unexpected and interesting.

— Ian Rapoport (@RapSheet) March 9, 2014
Matt Bowen of Bleacher Report hinted that defensive coordinator Gregg Williams would welcome someone of Byrd's caliber to plug into his schemes:
FS is a key spot in Gregg Williams' scheme. MT @RapSheet: #Rams were among the teams that inquired today on #Bills S Jairus Byrd.

— Matt Bowen (@MattBowen41) March 9, 2014
Williams is relentless in pressuring the opposing quarterback and could use a savvy center fielder to direct traffic in the defensive backfield and attack the ball downfield.
Moving onto Ward, one team intrigued by his skills is the Detroit Lions, per Rapoport:
Among the teams inquiring about #Browns free agent S T.J. Ward? The #Lions. Detroit hopes to create cap space with a Suh deal, can spend

— Ian Rapoport (@RapSheet) March 9, 2014
Detroit has had a strong offense for several years but has suffered from a rather woeful secondary that can't match up with some of the prolific offenses in the NFC North. Adding Ward to the fold would give that part of the defense some swagger and someone who could hit rival opposing running backs such as Chicago's Matt Forte, Green Bay youngster Eddie Lacy and Vikings superstar Adrian Peterson.
Simms has predicted Byrd to land in Cleveland and Ward to go to the Denver Broncos, where ex-Browns GM Tom Heckert is in the front office:
But if Pettine, the Bills' most recent defensive coordinator, can manage to recruit Byrd to Cleveland and somehow retain Ward, the Browns would have one of the better safety tandems in the NFL.
It's a recipe for greatness in the Seahawks' case, and Cleveland might do well to take notes from the current Lombardi Trophy bearers.
CJ2K Too Lazy to Risk Free-Agent Investment?
Bleacher Report's Mike Freeman is reporting that the market for Johnson, who turns 29 in May and is approaching the unenviable 30-year-old threshold, is drying up.
To be clear: Johnson hasn't been released yet, but he will be cut in all likelihood since new contract negotiations haven't budged according to the man himself:
My agent and titans front office had a talk yesterday and everything is still at a stand still so it's a ... http://t.co/4hqvo95RDE

— Chris Johnson (@ChrisJohnson28) March 5, 2014
Johnson went on to say that "it's a waiting game while I continue to grind." He should be grinding as he awaits his offseason fate, because a major reason for Johnson's sinking stock is his apparent underwhelming work ethic. Given his inability to live up to the hype generated by his first few seasons in the league, that makes quite a bit of sense.
Then there were the explosive comments made by ex-Titans star linebacker Keith Bulluck about Johnson, per ESPN.com's Paul Kuharsky:
He's a friend of mine but when it comes to athlete, he's a "me" person. He's a "me" person when it comes to the athlete. For the years that he's been there, it's never been his fault why he didn't have a good running game or why he didn't have a good game. It was always somebody else's fault. I'm not surprised that CJ hasn't come in to even meet coach or see what's going on in general. I'm not surprised by that."
Who's to blame for Chris Johnson's disappointing recent play in Tennessee?
Johnson has a lot to prove to any team that might be interested in him. It's possible that others available such as Ben Tate and Maurice Jones-Drew will garner far more attention—and money—if these assertions by Bulluck are true.
It's no secret that the Titans have been unsettled under center, though. The starting QBs in Tennessee since Johnson arrived in 2008? Vince Young, Kerry Collins, Rusty Smith, Matt Hasselbeck, Jake Locker and Ryan Fitzpatrick.
Wow.
So maybe we can commiserate a little bit with Johnson's situation—even if he has come off as a bit cold, standoffish and selfish over the years. A change of scenery, a better offensive line and a good signal-caller to go with his top-flight speed could see Johnson explode in 2014.
Premier Defensive Ends in High Demand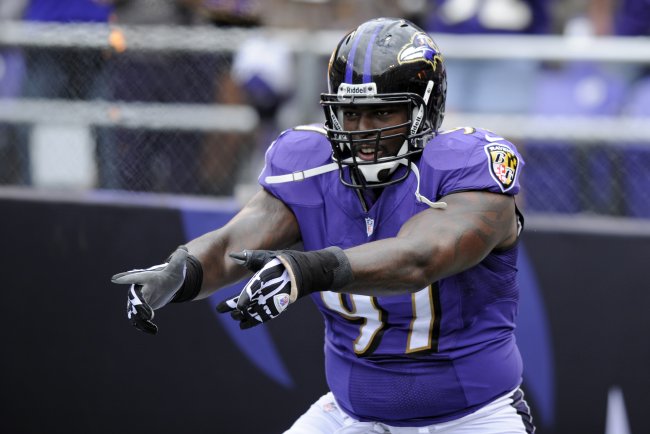 Nick Wass/Associated Press
Arthur Jones isn't exactly a household name, but the Baltimore Ravens defensive end is a stout 3-4 player who can generate some push as a pass-rusher but is best against the run.
That may give way to his departure from Baltimore. Aaron Wilson of the Baltimore Sun reports Sunday that the Titans—an involved team in this batch of free-agent buzz—along with the Redskins are looking at Jones:
In addition to the Titans, the Redskins are among the other NFL teams interested in Ravens free agent Arthur Jones, according to a source

— Aaron Wilson (@RavensInsider) March 9, 2014
Per Vacchiano's prior report, the Giants can be added to the mix for Jones as well as they seek to plug the potential loss of Justin Tuck.
Despite regressing from his 2012 production and seeing his sack total diminish from 11.5 to 3.5, Cincinnati Bengals standout Michael Johnson is still fielding a ton of calls, per Florio.
"Michael Johnson, who has seven teams calling his agents," writes Florio. "As one league source remarked regarding Johnson: 'I would have thought 20 teams would call. Maybe more. Anyone can place a call.'"
That news was originally reported by ESPN.com's Ben Goessling, as ESPN Chicago's Jeff Dickerson notes in citing the Bears as a specific team coveting Johnson:
#Bears called about free agent DE Michael Johnson on Saturday, per sources. @GoesslingESPN reported 7 teams so far interested in Johnson.

— Jeff Dickerson (@ESPNChiBears) March 9, 2014
NFL.com's Marc Sessler cites the Vikings as a possible landing spot, given Johnson's prior association with ex-Bengals defensive coordinator Mike Zimmer, now the Minnesota coach.
The ongoing dilemma the Dallas Cowboys face with DeMarcus Ware revolves around him restructuring his contract or taking less money than his $16 million 2014 cap figure, per Spotrac.com.
ESPNDallas.com's Calvin Watkins reports that Ware feels he can land a big contract with another team:
The issue with Cowboys and Ware is he believes he can get a payday in free agency if he's free. Is it worth for Ware to find another team?

— Calvin Watkins (@calvinwatkins) March 7, 2014
With how bad the Cowboys defense was in 2013, losing a player of Ware's caliber is a big risk if they can't adequately compensate for his absence. Doing so would be a taller task than keeping him around—even at a heavy cost.
Finally, the Seahawks had to part ways with two strong defensive linemen in Red Bryant and Michael Bennett following their Super Bowl run. Bryant has already reunited with ex-Seattle DC Gus Bradley in Jacksonville, and Bennett is also being hunted by the Bears, per Rapoport:
They'll be a player for Michael Bennett RT @aWESome311: @RapSheet What major defensive free agent(s) do you think DA BEARS will sign?

— Ian Rapoport (@RapSheet) March 9, 2014
But Brad Biggs of the Chicago Tribune reports that Bennett could be swooped up by previous Bears coach Lovie Smith and return to Tampa Bay, where he played his first four NFL seasons:
#Buccaneers and Lovie Smith making a hard push to sign #Bengals DE Michael Johnson. Makes sense. Smith wanted a DE 1st thing he got to CHI.

— Brad Biggs (@BradBiggs) March 9, 2014
All of this is probably the least of the free-agent buzz that should surface in the coming days, but it's plenty for NFL fans to sink their teeth into. With the draft still approximately two months away, free agency offers the first dose of optimism for all 32 fanbases that their teams can improve—and in a more immediate fashion.
The notion that defense wins championships was fortified by the Seahawks in the most recent playoffs, so it comes as little surprise that that side of the ball is the primary focus early on. There is plenty of talent to go around on offense, however, and Johnson's circumstances in particular will be one of the most compelling to monitor, given his poor supporting cast in Tennessee throughout his tenure there.
Look for a lot of movement in the first couple days, because there is a lot of star power that must be accounted for in this 2014 free-agent class. But with such a deep draft on the horizon, don't expect too many front offices to be big spenders if they have a stockpile of draft picks.