Football is a remarkably cyclical sport and just a short study of history can reveal how everything connected to the game can fall in and out of favour and in and out of fashion.
Positions, player types, management techniques—even clubs!—move in and out of the spotlight and formations are chief among those rising and falling in individual estimations.
Footballing dynasties are created by forming an identity and more often than not that identity is sourced from a playing style, a philosophy or a systematic shape.
Pep Guardiola's Barcelona was founded upon tiki-taka, 4-3-3-themed goodness; Jose Mourinho's Internazionale showed everyone just how effective the 4-2-3-1 can be; Jupp Heynckes' Bayern Munich then capitalised on the popularity of the system, tweaked it to control space and prospered.
The combination of utilising a new/revamped formation and achieving outlandish success with it—as Pep, Mourinho and Heynckes did—often results in a very predictable outcome: everyone else copies.
They say the NFL is a copycat league, but that sentiment can be translated across almost every sport in existence: If you see someone doing something that's working, you'd be mad not to try and emulate it, right?
Success, or rather, heavily broadcasted success is the key to a formation catching on in football in 2014. That means the UEFA Champions League latter stages, European Championships or the FIFA World Cup finals are the breeding grounds for the next "big thing."
But for the odd exception or anomaly, the 4-2-3-1 formation has reigned supreme for four years. With the World Cup in Brazil less than 100 days away and several UCL sides using different formations, though, it's viable to expect a shift in power.
What will the next de facto "best" system be?
4-3-3 Appeals
There's a lot to like about the 4-3-3 in 2014, with Mourinho laying the seeds for its success the year before at Real Madrid.
It may go unsung as the years go by, but the Portuguese's seismic purchase of Luka Modric for Real Madrid from Tottenham Hotspur in 2012 kick-started a movement toward greater mobility in central midfield and a movement away from static double-pivots.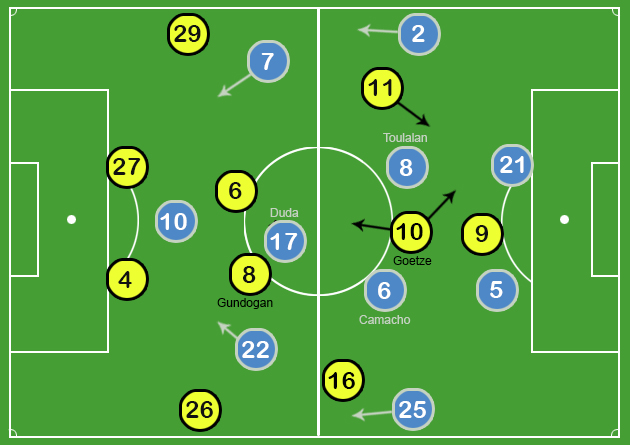 Tighe B/R
The 2012-13 Champions League knockout stages featured multiple 4-2-3-1 vs. 4-2-3-1 showdowns with a "suffoco" No. 10 involved. That meant the traditional playmaking role was revamped to an advanced destroyer, with the player deployed specifically to halt the influence of deep-lying playmakers like Xabi Alonso and Ilkay Gundogan.
Bayern used Toni Kroos and Thomas Mueller to nullify Andrea Pirlo, Malaga used Duda on Gundogan and Manchester United used Danny Welbeck on Alonso.
The only deep-lying/flat playmaker that was able to escape the shackling—using agility, mobility and physical "spark"—was Modric, who famously sidestepped his marker to fire home a golazo at Old Trafford.
Such cautious treatment of deep-lying creators, in addition to the resultant converting of No. 10s to defenders, served as fuel for the fire that would destabilise the 4-2-3-1's hold on football; Modric's ability to escape markers and create compounded it.
Modric is a traditional, flatter player. He's at home in a 4-4-2 and played superbly on a consistent basis for Harry Redknapp at Spurs, while he's also proven to be extremely strong in a 4-3-3.
Carlo Ancelotti's 4-3-3 with Madrid this season has incorporated vertical drive (Angel Di Maria), deep-lying dual prowess (Alonso) and playmaking mediation (Modric). It's a formula for the middle three that marries and balances extremely well.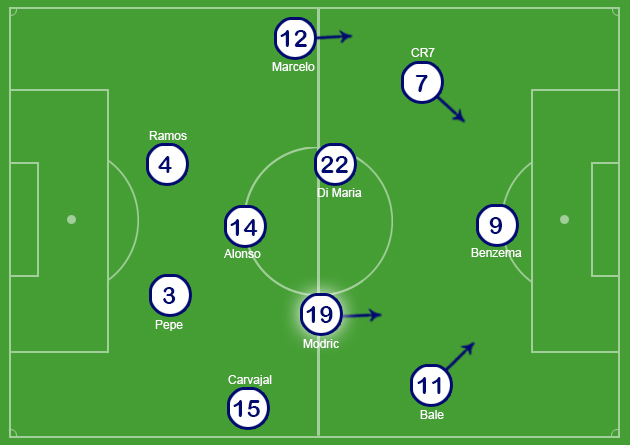 B/R Tighe
Paris Saint-Germain have a Thiago Motta, Blaise Matuidi and Yohan Cabaye/Marco Verratti combination that achieves the same thing, while Juventus' PVP triumvirate of Pirlo, Arturo Vidal and Paul Pogba is one of the finest in world football.
Los Blancos and PSG are expected to make waves in the Champions League, while Barcelona utilise a similar shape but with a rather different style. On the back of this, there's every chance the 4-3-3 assumes the 4-2-3-1's mantle.
4-4-2 Resurgence
The rise of physical, direct players over the last few years have lit the path to a return to a 4-4-2 in some parts of Europe.
Arturo Vidal is in many ways the beacon for central midfielders to follow, and his ability at both ends of the pitch—and, critically, his immense athletic ability to get to and from each box consistently—has seen an onus placed on physical preparations.
Again, much how big-bodied wide receivers and physical safeties are on the rise in the NFL, dominant, strong, powerful midfielders are highly sought in football.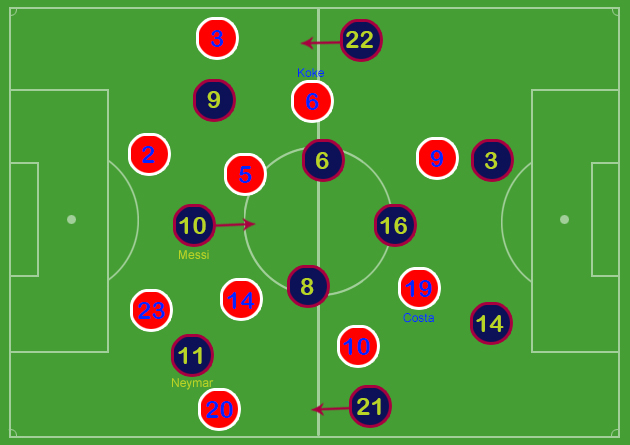 B/R Tighe
Having that physical factor to your game can now negate a third midfielder and allow a team to run with two in the centre. Manchester City are prime examples of this, with Yaya Toure and Fernandinho's all-round ability supplemented by a very balanced, interchanging gameplan.
City's 4-4-2 is not regular and nor is any 4-4-2 that will succeed in 2014. Clever adjustments made by clever coaches such as Manuel Pellegrini and Diego Simeone, though, have allowed new-breed 4-4-2s to prosper.
Man City's players interchange frequently, with strikers dropping wide, midfielders filtering forward and wingers falling in; Simeone's is rigid and gives up the width in midfield by forming a narrow shell and controlling the centre of the park.
The 4-2-3-1 always had a very "zonal" feel to it; wingers were wingers, the holding pivot did what it had to in the centre and the distances between the lines very set in concrete.
The 4-3-3's fluid approach and the new 4-4-2's outlook are both pulling away from the clear defining of "roles" on the pitch the 4-2-3-1 is built on, and the approach is gaining more and more steam.
PSG have also tried a 4-4-2 this season, Atletico are one of the finest teams in Spain as a result of the system and City—bar one encounter with Barca—have smashed all in their path this year.
4-2-3-1 Defiance?
An intriguing tug-of-war between Champions League and World Cup influence will play out before European sides return for their 2014-15 preseason campaigns, and there's every chance the latter could come out on top.
We've discussed the merits of the 4-3-3 and the 4-4-2, but it's still feasible to suggest the 4-2-3-1 hangs onto its mantle for a little while longer.
That could happen so long as the World Cup trumps the UEFA Champions League and, critically, a team wins or excels at the showpiece event using the formation.
Hosts and favourites Brazil just happen to use a near-prototypical 4-2-3-1, with an attacking No. 10, a true double-pivot, an inside forward from the left, a complete forward and marauding full-backs.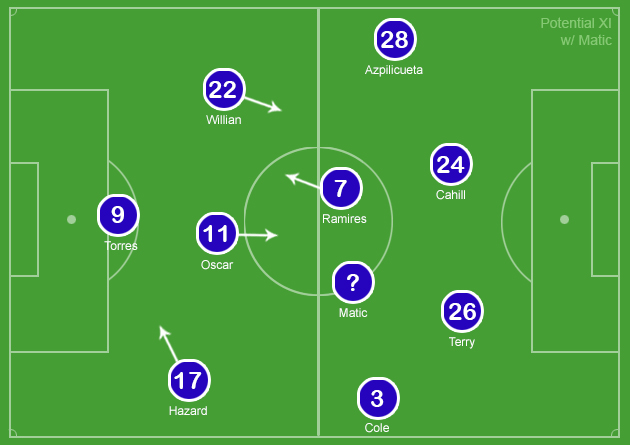 B/R Tighe
Belgium are fancied to go far and they use a very solid version of it, while Colombia will likely show up in some variation of it after excelling throughout qualification.
The formation is extremely popular among African nations too, with Ivory Coast and Nigeria—aside from mad Stephen Keshi experiments—leading the charge and Algeria conforming too.
Enough deficiencies and player progressions have been made at club level to poke holes in the dominance of the 4-2-3-1 so any swansong would remain short, but the finals have a way of swaying managers all the same.
Whatever the shape, several intricacies will be developed in Brazil that will also take over if given the chance.