After taking the loss against undefeated Floyd Mayweather in September, Saul "Canelo" Alvarez (43-1-1, 31 KOs) bounced back on Saturday night at the MGM Grand Garden Arena to destroy Alfredo Angulo (22-4, 18 KOs) via a 10th-round TKO.
Mayweather's speed and defensive prowess had outclassed Alvarez, but with Angulo making his living off his power and willingness to trade blows, this bout was the perfect opportunity for Canelo to regain his elite form.
Canelo Alvarez impressive in controversial technical knockout over Alfredo Angulo. http://t.co/UlJKb1aNyG … pic.twitter.com/N9jTDEbqw7

— LaceUpBoxing (@LaceUpBoxing) March 9, 2014
Using his fearless approach and unique mixture of power and speed, Alvarez was clearly on a mission from the opening bell. While many boxers spend the first several minutes getting a feeling for the game plan of their opponent, Canelo did not care what approach Angulo was using in the ring.
All Alvarez cared about was beating his opponent down.
ESPN's Todd Grisham talked about the early stages of the fight on Twitter:
First round CLEARLY to Alvarez. Angulo looks like he's fighting underwater. So slow. No energy. No urgency.

— Todd Grisham (@GrishamESPN) March 9, 2014
Great round 3!!!! Angulo is absorbing some hellish shots. May go down here in the 4th. Alvarez up 3-0

— Todd Grisham (@GrishamESPN) March 9, 2014
The first round set the tone for the remainder of the fight, as Canelo landed 37 of 62 punches and had his challenger on his heels with strong combinations and a good mixture of punches to the head and body.
The first three rounds were much of the same—Alvarez would land a flurry of punches, keep Angulo off balance by moving his feet and then land several more shots—and it became clear that Canelo was taking out his frustration from the Mayweather bout.
Alvarez knew he was the better fighter on Saturday and spoke to ESPN.com's Dan Rafael after the fight: "Tonight I was the best fighter. I definitely rebounded from the Mayweather fight with a strong performance. I'm very happy. I came here and did my job."
Not only did Canelo use his straight right and hooks to make a mark on Angulo early in the bout (something Yahoo! Sports' Kevin Iole noted), but he also mixed in every punch in his arsenal and almost looked to be honing each of his approaches for future fights:
Canelo's team clearly saw something on film. He's landing that straight right again. He's busting Angulo with it regularly

— Kevin Iole (@KevinI) March 9, 2014
That's not good news for his next opponent.
The one-sided nature of the fight continued through the fourth and fifth rounds, and the damage started to take its toll as Angulo's left eye began swelling. The eye became a major issue as the fight progressed and gave Alvarez an even more decisive edge.
Angulo's best flurry of offense came in the eighth round as the two men stood toe-to-toe in the center of the ring and began exchanging blows. The moments of nonstop action were appreciated by the fans in attendance, who jumped to their feet in support.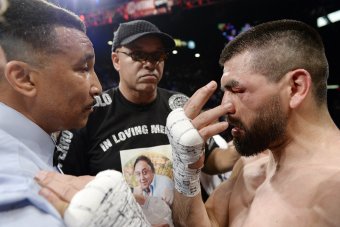 Kevork Djansezian/Getty Images
Canelo quickly quelled "El Perro's" short-lived offensive explosion, though, as he stunned the challenger and pushed him back on his heels once again.
Alvarez came out and continued his brutal assault in the ninth round as well. A clean left hook clearly rocked Angulo and had referee Tony Weeks and ringside doctors worried about the challenger.
After just 47 seconds into the 10th round—all of which were filled with Alvarez hitting Angulo at will with almost no defense from his opponent—Weeks stepped in and finally stopped the fight.
While many felt the referee made the correct decision stopping this brutal one-sided fight, Sports Illustrated boxing insider Chris Mannix did not agree:
Early--too early, in my opinion--stoppage by referee Tony Weekes. Canelo wins. Angulo was way behind, but he didn't look hurt

— Chris Mannix (@ChrisMannixSI) March 9, 2014
Mannix can argue that the stoppage was premature, but the numbers do not lie. According to ShoStats (via ESPN.com), Angulo landed just 21 percent of his power punches (78 of 377), as opposed to the 64 percent that Alvarez landed (197 of 309).
With such a vast difference in the punches landed, the referee saw the damage taking its toll on the challenger and Angulo's hands slowly dropping with each round. Given that, the stoppage came at the perfect time, regardless of what the crowd in Las Vegas thought.
Did Saturday's bout prove to you that Canelo Alvarez is a truly elite fighter?
Despite what many boxing fans viewed as a controversial ending, there is no doubt that Alvarez was the clear winner of this bout and deserves credit for the bounce-back performance he needed after the loss to Mayweather.
The key now for him will be finding a major name to square off against in his next bout, and the answer to his problem should be the winner of the Sergio Martinez vs. Miguel Cotto bout in June.
Alvarez would have to make the jump to 160 pounds for the bout, but the potential payday from a bout with a mainstream star like Cotto would be worth the physical toll it would take to move weight classes.
Regardless of which fighter is next for Canelo, Saturday's dominant performance was exactly what his career needed.
*Stats via Compuboxonline.com, unless otherwise stated.