My Top 8 Draft "Busts" in Carolina Panthers History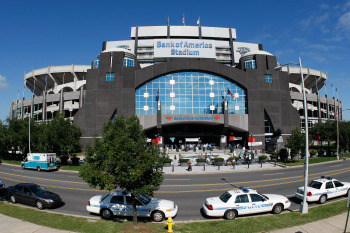 The Carolina Panthers have had good success drafting players in the short history of the franchise. The success of the draft every season is key to the organization's consistancy especially during the Coach Fox era.
However, there is always a pick or two in every draft that just does not fulfill expectations.
It was very hard to put together a top 8 Draft Bust list because of three reasons:
1...he team has only been in existence 14 years.
2...Most of the guys listed were ineffective due to injury.
3...The Panthers, especially recently, have had a very good draft record.
8:.Atiyyah Ellison DT, Missouri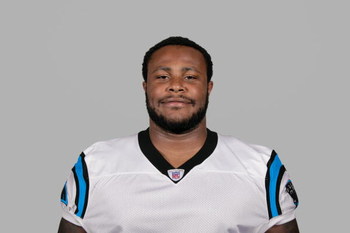 Attiyah Ellison was drafted in the third round of the 2005 NFL Draft with the No. 89 pick.
Ellison had a brilliant college career at Missouri. He was a two-time All Big-12.
Ellison was on the Carolina roster for one season and never played a down for the Panthers. He is currently on the Jacksonville Jaguars roster.
7. J.C. Price, DT, VaTech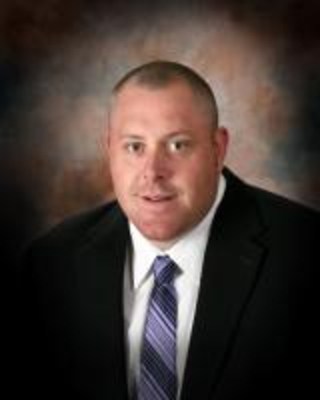 J.C. Price was a four-year letterman and starter for Virginia Tech University. In 1995 he was selected to the All-American team.
The Carolina Panthers drafted Price in 1996 in the third round with the No. 88 pick. Price never played a down in the NFL, and is now an Assistant Coach for James Madison University.
6. Mitch Marrow, DE, Pennsylvania
Since I could not find a pic of Marrow anywhere, you have to settle for the Penn logo.
In the third round of the 1998 NFL Draft, Carolina picked Mitch Marrow with their No. 73 overall pick.
Marrow was to be Coach Capers' pass-rushing specialist, but after rupturing a disc in his back, he never played a down in the NFL.
Since his non-NFL playing days, Marrow has tried doing some acting.
5. Bruce Nelson, C, Iowa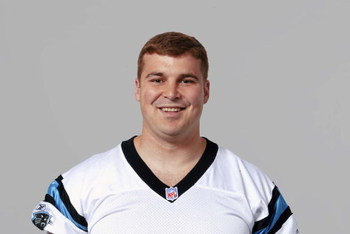 Bruce Nelson was a beast for the University of Iowa. He was a three-year All Big-10 selection, and in 2002 was a first team All-American.
In the 2003 NFL Draft Carolina used their second round No. 50 pick on Nelson. Due to hip injuries, Nelson played sparingly for two years with the Panthers.
4. Rashard Anderson, DB, Jackson State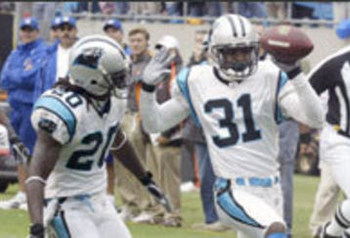 In 2000, the Carolina Panthers drafted Rashard Anderson with their first round pick No. 23 overall.
In two seasons with Carolina, Anderson played 27 games and recorded one interception.
In 2002, Anderson was suspended by the NFL for one year for substance abuse and never returned to football.
3. Eric Shelton, RB, Louisville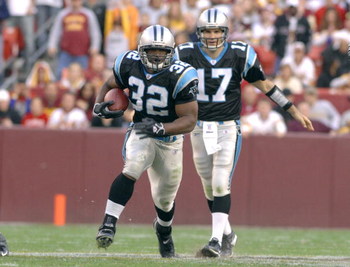 In 2004, Eric Shelton rushed for 20 TDs for Louisville, and was branded by many draft analysts as a steal if he goes past the first round.
Shelton dropped to the second round and at No. 54, he fell right into Carolina's hands. Sports radio around the Charlotte area blew up with excitement.
Shelton rushed for 23 yards in eight carries for the Panthers.
2. Jason Peter, DT, Nebraska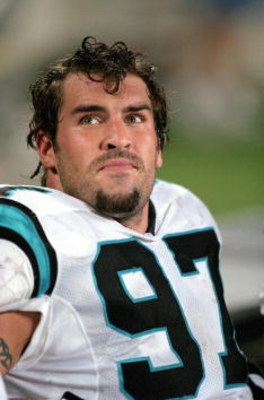 Jason Peter was named by many as the future of the Panthers D-Line when he was drafted in the first round with the No. 14 pick.
I still remember to this day the joy of many fans when they saw Peter fall right into Carolina's lap.
After a stinger to the neck in 2000, Peter was unable to play football again. He finished his three-year career with seven sacks.
#1: Rae Carruth, WR Colorado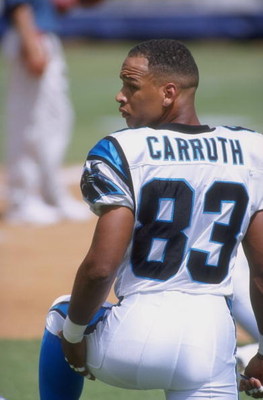 In the 1997 NFL Draft the Carolina Panthers selected Rae Carruth with their first round pick #27 overall. Carruth came into Carolina and as an NFL Rookie had some big catches. Carruth's next 2 seasons he lingered in and out of the lineup due to various injuries. On Nov. 16th, 1999 Carruth's girlfriend Cherika Adams was gunned down during a drive-by shooting in Charlotte. The gunmen left the scene, not knowing Adams was still alive. Adams was able to get to a house and called for help. She explained to the dispatcher that Carruth was in the car in front of her and stopped his car forcing her to stop hers. Another car approached the driver side and a gunman leaned out the passenger window and shot her 4 times. Adams later died at the hospital. After being arrested, Carruth posted bail and fled town as a fugitive. Carruth was later found hiding in the trunk of a car in Parkers Crossroads Tenn. with $3900 cash, a cell phone, bottles to hold his urine, and candy bars. Carruth was sentenced to serve 18-24 years in prison and is scheduled for outright release in 9 years. Carruth's career totals include 62 receptions, 804 yards, and 4 TD's.
Keep Reading

Carolina Panthers: Like this team?