An English Premier League weekend that was short on games wasn't short on action. There were only five matches on the schedule thanks to FA Cup commitments, which meant that some of the league's top teams (Liverpool, Arsenal, Manchester City and Everton) weren't playing league games. Nevertheless, Matchday 29 featured plenty of highlights, and here's a recap of some of the day's best games and performances.
First, we'll look at the day's results, highlight the top goalscorers and finish with a recap of some of the weekend's best games.
Matchday 29 Results

| | | |
| --- | --- | --- |
| Home Team | Score | Away Team |
| West Bromwich Albion | 0-3 | Manchester United |
| Norwich City | 1-1 | Stoke City |
| Crystal Palace | 0-1 | Southampton |
| Cardiff City | 3-1 | Fulham |
| Chelsea | 4-0 | Tottenham |
| Manchester City | Postponed | Aston Villa |
| Arsenal | Postponed | Swansea City |
| West Ham | Postponed | Hull City |
| Newcastle United | Postponed | Everton |
| Liverpool | Postponed | Sunderland |
PremierLeague.com
Top Goalscorers

| | | |
| --- | --- | --- |
| Player | Goals | Team |
| Steven Caulker | 2 | Cardiff City |
| Demba Ba | 2 | Chelsea |
| Lewis Holtby | 1 | Fulham |
| Jay Rodriguez | 1 | Southampton |
| Bradley Johnson | 1 | Norwich City |
| Jonathan Walters | 1 | Stoke City |
| Phil Jones | 1 | Manchester United |
| Wayne Rooney | 1 | Manchester United |
| Danny Welbeck | 1 | Manchester United |
| Samuel Eto'o | 1 | Chelsea |
| Eden Hazard | 1 | Chelsea |
PremierLeague.com
Manchester United Return to Winning Ways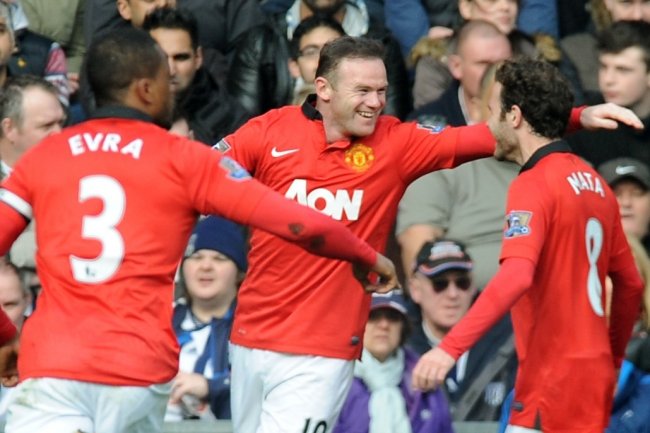 Rui Vieira/Associated Press
Manchester United 3, West Bromwich Albion 0
The Red Devils are starting to hit their stride, losing only once in their last six league matches. Despite that, it's still not the dominant Manchester United side that we're used to seeing—as we saw against West Bromwich Albion.
The gap between the two sides at opposite ends of the EPL spectrum was much smaller than the three-goal difference suggests, as West Brom—Victor Anichebe in particular—frequently created problems for United's back line but couldn't take advantage of their chances.
Match Stats

| | | |
| --- | --- | --- |
| Team | Manchester United | West Bromwich Albion |
| Shots | 14 | 14 |
| Shots on Goal | 5 | 3 |
| Possession | 55% | 45% |
ESPN FC
Ultimately, United's class and talent won out.
Defender Phil Jones opened the scoring when he got his head on the end of Robin van Persie's free kick and found the back of the net for the first time this season in the 34th minute.
West Brom had their chances, with Claudio Yacob, Victor Anichebe and Zoltan Gera all missing opportunities to put pressure on United's goal. None of them could capitalize.
That left the door open for United to grab hold of the game, and Wayne Rooney was more than happy to oblige by putting a simple header into the net.
Substitute Danny Welbeck put the game away in the 82nd minute, taking advantage of a perfect through-ball from Rooney and displaying his clinical finishing ability.
The good news for manager David Moyes is that his world-class attackers (Rooney, van Persie, Juan Mata and Adnan Januzaj) looked in sync—something he highlighted in his post-game press conference, per PremierLeague.com:
Robin van Persie and Wayne Rooney were excellent. Juan Mata and Adnan Januzaj too, but we also needed a good defensive performance as well so, all round, I'm pleased… we looked much more potent going forward and looked more likely to score than we have in other games. I made the point about us trying to attack more and have better play going forward and we did that.
It's asking too much from United to actually get back in the hunt at the top of the table, but Moyes would happily take his side ending the year well and carrying some momentum (and goodwill from the fans) into the summer.
For West Brom, the loss keeps them firmly entrenched in the relegation discussion, and it will be a desperate end to the season for the Baggies.
Cardiff City Earns Some Needed Points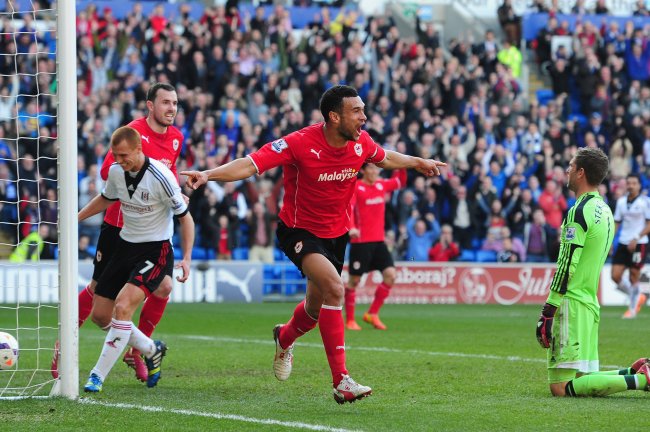 Stu Forster/Getty Images
Cardiff City 3, Fulham 1
The big teams at the top of the table grab most of the headlines, but sometimes the most intense battles come at the bottom of the table, as the league's bottom-feeders are clawing and fighting for at least one more year in the Premier League.
That was the case on Matchday 29, as Cardiff City and Fulham entered this game in the relegation zone. Unfortunately for Fulham, this loss almost ends any hope they had of climbing out of the bottom three.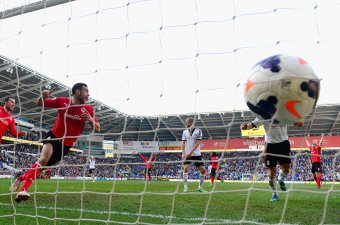 Stu Forster/Getty Images
Cardiff centre-back Steven Caulker gave his side the lead in extra time of the first half, but Fulham showed resilience and leveled the playing field thanks to a Lewis Holtby goal just before the hour mark.
Caulker wasn't done, however, as he scored his second of the game off a header in the 67th minute to give Cardiff the advantage. Just four minutes later, a Sascha Riether own goal sealed the deal.
The enormity of the result wasn't lost on Cardiff manager Ole Gunnar Solskjaer, who had this to say in his post-game presser, per PremierLeague.com:
We couldn't even consider losing this one. Both teams knew they would be adrift if they lost. The response after they scored was the biggest thing for me. There is fight in this team. They are fighting and desperate to stay up. It is an experience playing in the Premier League.
Moving forward, Cardiff City will face an uphill battle to stay in the top division, but this win gives them a large boost. Solskjaer also talked about the upcoming schedule in his press conference:
We've looked at the games. Nine to go and if we get another four wins I think that'll be it. We've had a bad run but are still in with a shout. One more win in the next couple of games will be important. I believe in these lads. When you do work with them every day you do believe.
The result is a crushing blow for Fulham, who are three points behind second-last Sunderland and will need to quickly find their form to avoid relegation.
Chelsea Find Breathing Room at the Top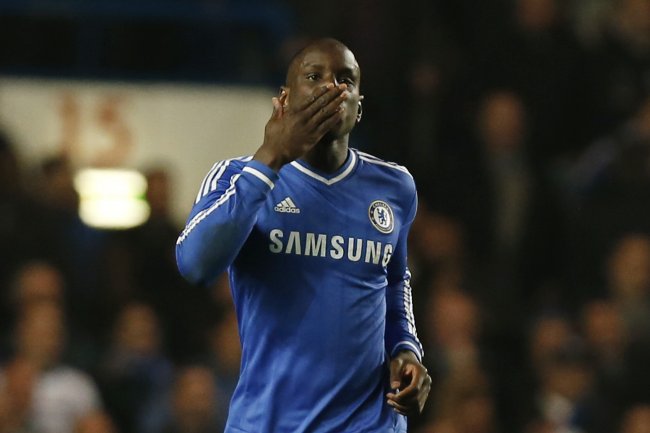 Sang Tan/Associated Press
Chelsea 4, Tottenham 0
Chelsea entered the day with the chance to stretch their lead at the top of the table thanks to the inactivity of the three teams directly behind them (Liverpool, Arsenal and Manchester City).
That's exactly what they did thanks to a 4-0 home win over Tottenham Hotspur that transformed from a competitive first-half encounter into an ugly, lopsided affair in the last 45 minutes.
Tottenham went toe-to-toe with Chelsea for the first half, entering half-time with plenty of confidence in their ability to leave Stamford Bridge with points.
Those hopes were dashed thanks to a couple of terrible mistakes by the Spurs defense and the might of the Chelsea attack. The Mirror perfectly captured the comedy of errors:
Spurs were the architects of their own downfall after the break, gifting Chelsea the opening goal. Jan Vertonghen slipped in possession and hacked the ball back in the vague direction of Lloris, only to watch in horror as Eto'o stole in to collect the ball. The Cameroonian made no mistake, tucking his finish into the corner.

Things soon went from bad to worse for the away side, referee Michael Oliver awarding a penalty for Younes Kaboul's challenge on Eto'o. The defender was dismissed and Hazard converted coolly from the spot.

Chelsea substitute Demba Ba gave the scoreline sheen in the dying minutes, twice pouncing on Tottenham errors—Sandro and Walker the respective culprits—to plunder two goals in as many minutes.

The onslaught started in the 56th minute, when Spurs left-back Jan Vertonghen slipped trying to clear the ball and frantically kicked the ball backwards in his attempts to keep it away from the Blues. Unfortunately, his "pass" went right to Samuel Eto'o, who put it through the keeper's legs and gave Chelsea the lead.
Ian Darke of BT Sport and ESPN commented on Tottenham's defending and the club's hopes of finishing in a Champions League place:
Spurs are simply not top 4 material on evidence of errors in this game and the display at Norwich

— Ian Darke (@IanDarke) March 8, 2014
Eto'o poked some fun at manager Jose Mourinho after his goal, playing on the manager's recent comments regarding the striker's advanced age:
Old man Samuel Eto'o celebrates his goal for Chelsea against Spurs. pic.twitter.com/S78Udddjw1

— ESPN FC (@ESPNFC) March 8, 2014
The game was pretty much settled at that point, but supersub Demba Ba scored two goals within 75 seconds of each other to complete the humiliation—including one that was the result of a terrible decision by another Spurs defender.
Tottenham gave yet another underwhelming performance, and they have struggled against the league's best teams—especially on defense.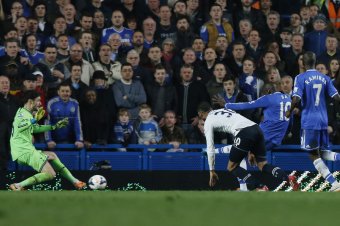 Sang Tan/Associated Press
Chelsea, on the other hand, are in spectacular form. The Blues move seven points clear at the top of the table as they push closer to capturing the league crown.