The Top 10 Greatest Draft Picks in Panther History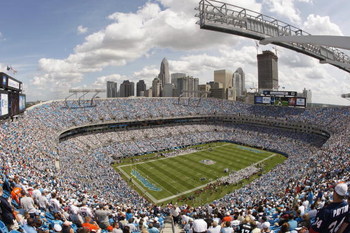 The success of the Carolina Panthers franchise has cruised high and low like a roller coaster throughout its short history.
These draft picks are an example of the roller coaster ride. This is a slideshow dedicated to my favorite draft picks in team history.
It is important to note that this is an opinionated slideshow, and that in no way by leaving someone out do I think that they were not a important to the Panthers organization, I just simply list my favorites here.
10: Mike Rucker, DE Nebraska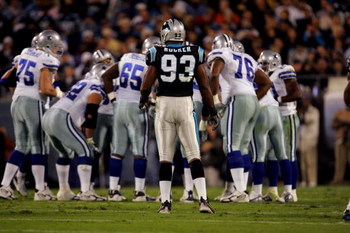 In 1999 Carolina used its second round draft pick (No. 38 overall) on a beast of a defensive end.
Mike Rucker along side Kris Jenkins, Brentson Buckner, and Julius Peppers made up what many believe to be one of the best defensive lines in NFL history.
Rucker played nine seasons with Carolina before announcing his retirement on April 22, 2008. After Rucker recorded 12 sacks in 2003, he was voted into his only Pro Bowl appearance.
His career stats include 421 tackles and 55.5 sacks.
9: Jon Beason, LB Miami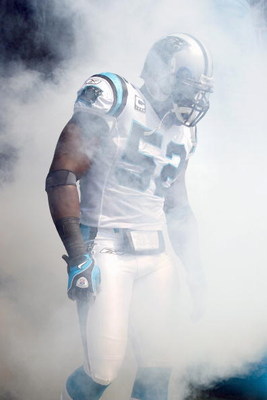 With the 25th pick in the first round of the 2007 Draft the Carolina Panthers picked Jon Beason out of Miami.
Beason follows a long line of NFL linebacker greats that hailed for the University of Miami, including another player you will see later in this slideshow.
He has a motor that is non stop on the field, and his leadership abilities are what drive him to excel as the team captain on defense. Beason should explode in 2009, as Carolina tries to repeat as NFC South Champs.
In Beason's short two year career with the Panthers, he has recorded an amazing 278 tackles, and went to the 2008 Pro Bowl.
8: Kris Jenkins, DT Maryland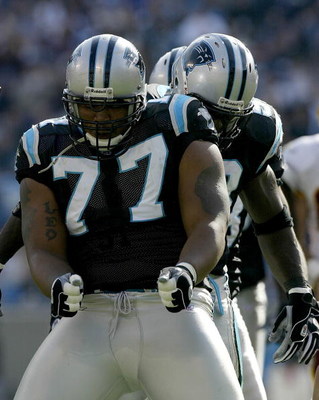 Many Panther fans consider 2001 as the best draft the team ever had, and in the second round that year, Carolina drafted Kris Jenkins with the No. 44 pick.
Jenkins is regarded by many as the best defensive tackle to ever wear a Panther helmet. This four-time Pro Bowl DT clogged up the middle and created a ton of opportunities for Julius Peppers and Mike Rucker to record sacks.
In February 2008 Carolina traded Jenkins to the New York Jets for third and fifth round picks after Jenkins had trouble fighting off injuries.
As a Panther Jenkins recorded 215 tackles and 20.5 sacks.
7: Dan Morgan, LB Miami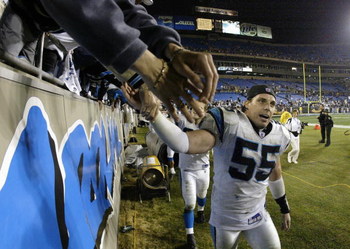 In the 2001 draft, Carolina used the No. 11 pick overall to select Dan Morgan.
Morgan had a brilliant career at Miami, and when on the field, was one of the best college linebackers.
In his seven seasons with Carolina, Morgan missed as many games as he played, suffering from multiple ankle injuries and concussions. He reached his peak during the 2003 season, and was a major part of the teams only visit to the Super Bowl.
Carolina's patience with Morgan ended on February 11, 2008 when Carolina released him.
As a Panther Morgan tallied 386 tackles, seven sacks, and five INTs. He also played in the 2004 Pro Bowl.
6: DeAngelo Williams, RB Memphis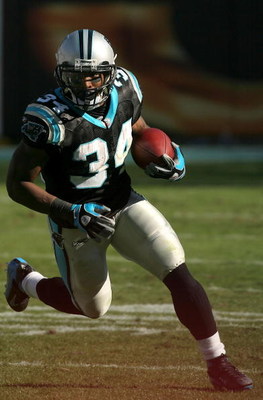 At Memphis DeAngelo Williams became the all-time yardage leader in NCAA FBS history. Today Williams is looked at as one of the top-four running backs in the NFL.
In 2006, the Panthers drafted Williams in the first round with their 27th overall pick. In 2008, Williams shattered all of the Carolina Panthers rushing records, running for 1,515 yards, 5.5 yards per carry, and 18 rushing TDs. Somehow Williams was snubbed for the 2009 Pro Bowl in favor of Turner, Peterson, and Portis.
5: Jordan Gross, OT Utah
With the 8th overall pick in the 2003 draft Carolina picked OT Jordan Gross. In his rookie season in the NFL, Gross started all 16 games, did not miss a single offensive play from scrimage, and only allowed three sacks.
Gross was vital in 2008 with Carolina's dominating rushing attack, and was voted to the Pro Bowl. In the 2009 offseason Carolina signed Gross to a six-year deal, making him the highest paid offensive lineman in the NFL.
4: Mike Minter, S Nebraska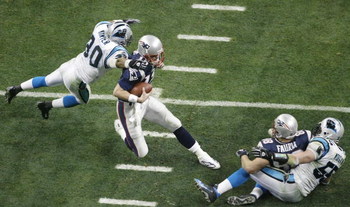 In the 1997 draft Carolina used its second round pick on Mike Minter. In the sixth game of Carolina's 1997 season Minter was slated as the starter and until his retirement he never gave up that roll.
Minter developed a reputation as an excellent study of the game, as well as a solid tackler at the safety position. His vocal leadership skills was instrumental in making the 2003-04 run to the Super Bowl. Minter announced an immediate retirement in August 2007 due to constant knee and back pain.
Minter's resume includes recording 790 tackles, 9.5 sacks, 15 forced fumbles, eight fumble recoveries, 15 INTs, and four touchdowns.
3: Muhsin Muhammad, WR Michigan State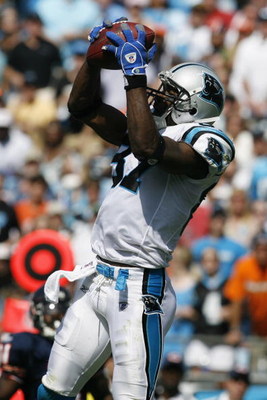 Muhammad was drafted by Carolina in 1996, in the second round with the No. 43 overall pick. Muhammad's breakout season came in 1999 when he had 96 rec., 1,253 yards, and eight touchdowns, earning him a trip to the Pro Bowl.
He followed that up with 102 catches in 2000. Muhsin is also a current record-holder of the longest pass play in Super Bowl history when he caught an 85 yard pass for a TD in SB XXXVIII. In 2004 Muhammad had his best season to date, catching 93 passes for 1,405 yards and 16 TD earning him his second trip to the Pro Bowl.
Muhammad left for Chicago in 2005 after the Panthers decided to opt out of paying him the 10 million dollar baloon contract, allowing him to become a free agent.
Muhammad was never utilized in Chicago as he should have been, as Chicago bounced around QBs throughout the lineup. In 2008, Muhammad returned to Carolina and was instrumental in helping Carolina win the NFC South division.
2: Julius Peppers, DE North Carolina
In 2002 Coach John Fox used his first ever draft pick as a head coach on Julius Peppers with Carolina's second overall pick.
Julius was given the roll as starting defensive end as a rookie, and never lost that position. At the 2002 NFL Combine, Peppers became the talk of the workout sessions when he reportedly "wowed" the entire stadium by running a 4.45 40-yd dash, an unbelievable feat for a 6'8" 285 pound man. It was even reported that Peppers repeatedly challenged defensive backs to races during the combine. He also can bench press 400+, and has a vertical jump of 37".
Another example of his athleticism is the fact that Peppers is the only person ever to start a Super Bowl and a Final Four game.
In his career with Carolina, Julius has put together a very impressive stat sheet. He has compilled 339 tackles and 70.5 sacks, and is a four-time Pro Bowl selection. After a 12 sack season in 2008, Peppers could be at the peak of his career. After the team's loss to Arizona in the 2009 Divisional Round Playoff game, Peppers made headlines voicing frustration with the Panthers organization and his desire to play in a 3-4 defensive scheme.
The Panthers placed the franchise tag on Peppers, preventing him from entering the off-season as a free agent. It is expected that Peppers will be in Carolina's 2009 Training Camp, and many would be surprised if he decided to skip it.
1: Steve Smith, WR Utah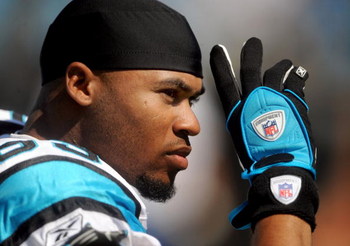 Is there any doubt about this slide? I hope not.
Steve Smith was drafted by the Panthers in 2001 in the third round, (No. 74 overall). It is believed that Smith is the best thing George Seifert ever did for the Carolina Panthers.
As a rookie in the NFL, Smith was primarily used as a kick/punt returner. The first time he ever touched a football in an NFL regular season game it went for a TD as he returned the opening kickoff in the only victory for Carolina in 2002, in Minnesota. As a rookie return specialist, Smith made the 2002 Pro Bowl.
He made headlines in 2002 when a fight broke out between Smith and Anthony Bright during a film study session. Bright was hospitalized for two days and Smith was arrested and charged with misdemeanor assault.
In 2002 Smith earned a starting WR spot for Carolina and excelled at the role, starting opposite of Muhsin Muhammad. In the 2004 Divisional playoff game in St. Louis, Smith became the talk of the league when he caught the winning pass in 2OT to propel Carolina into the NFC Championship game, and then into the Super Bowl.
Steve Smith is today viewed as one of the league's best WRs, and went through a stint as one of the most entertaining players in the NFL when he competed against Cincinatti's Chad Ocho Cinco, a former teammate of Smith in college, for TD celebrations.
Smith is also well known for verbal arguments with fans of opposing teams while he is on the sidelines. The release of a youtube video caught alot of attention when Smith was video taped on the sidelines sparring verbal assaults with Eagles fans in Philadelphia. Some of the Eagles fans later stated that Smith was "amazingly entertaining" and that he was one of the funnest in the league to spar with.
In 2008 Smith once again gained national attention when he was suspended the first two games of the 2008 season after physically assaulting Panther DB Ken Lucas during training camp. The two have reportedly mended fences, and Smith's first TD in 2009 he gave the ball to Lucas.
In Smith's career with Carolina, he has caught 509 passes, has 7,348 receiving yards, and 43 TD rec. Smith also has rushed 42 times for 273 yards and has two rushing TDs. As a kick/returner, Smith has two kicks returned for TDs, and four punt returns for TDs.
Honorable Mentions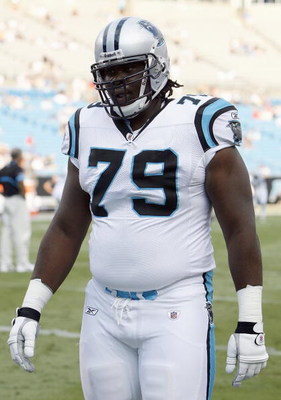 This slide will list the players that I felt just missed the top 10 list. Frank Garcia (C), Chad Cota (S), Kerry Collins (QB), Jeff Otah (OT), Travelle Wharton (OG), Thomas Davis (LB), Jonathan Stewart (RB), Chris Gamble (DB), Will Witherspoon (LB).
Keep Reading

Carolina Panthers: Like this team?